Undersea oil pipeline to save Tk 800 crore a year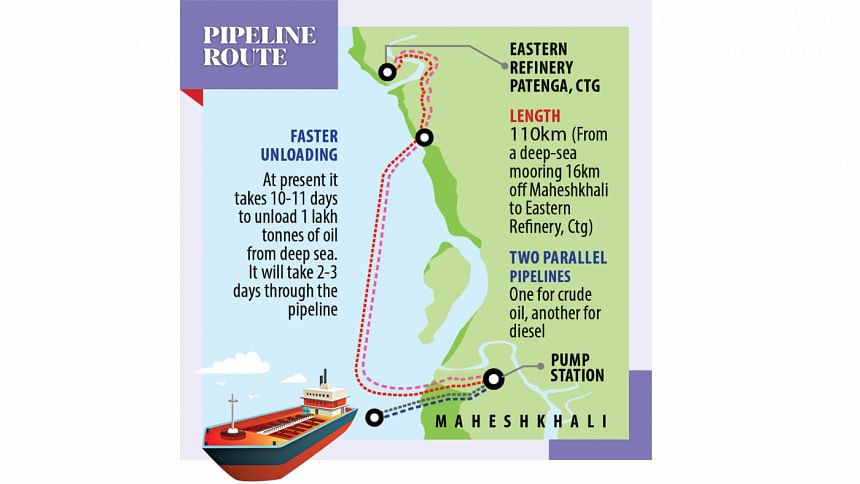 A 110km pipeline to transport crude oil and diesel from a deep-sea mooring, 16km off the Maheshkhali coast, to Eastern Refinery Ltd in Chattogram's Patenga is all set to be commissioned tomorrow. 
Once the first-ever undersea pipeline in Bangladesh is in service, lighter vessels will no longer be required to unload petroleum products from large tankers and carry those to the refinery. This will save time and about Tk 800 crore a year, according to Bangladesh Petroleum Corporation.
Under the Single Point Mooring (SPM) project, two parallel pipelines have been installed -- one for crude oil and the other for diesel. There is a floating mooring point in the deep sea and a storage tank terminal in Maheshkhali.
As part of a trial run, crude oil will be unloaded at the floating mooring from an oil tanker and then pumped to the storage terminal through a 16km pipeline, said BPC officials.
If the test is successful, crude will then be pumped to the Eastern Refinery depot through the 94km section of the pipeline, they said.
Khaled Ahmed, BPC director (operations and planning), said an oil tanker carrying 90,000 tonnes of crude from the Middle East would be the first to offload oil at the mooring point.
"This pipeline is going to open a new horizon in transportation of fuel in the country," he told The Daily Star.
"It takes 10-11 days to unload 1 lakh tonnes of oil from the deep sea using small lighter vessels. Once the pipelines are ready, it will take only two to three days," Khaled said.
BPC officials said all imported crude and around 96 percent of diesel would go through this pipeline when it is operational.
Between 10 lakh and 14 lakh tonnes of crude and around 50 lakh tonnes of diesel were imported in this fiscal year, said a BPC official.
BPC, with the funding of Exim Bank of China, is implementing the project at a cost of Tk 7,124 crore. The project's initial cost was Tk 4,935 crore and the completion deadline was December 2018.
Project Director Engineer Sharif Hasnat told this newspaper that 97 percent of the work is done and that the current deadline is on June 30.
He said the pipes between the mooring point and Maheshkhali are 36 inches in diameter. Between the floating mooring point and the storage terminal, 9km of pipes are have already been laid under the seabed and 7km on the seabed.
The Maheshkhali terminal has six storage tanks -- three each for diesel and crude oil. About 1.15 lakh tonnes of crude oil and 75,000 tonnes of diesel can be stored there.
The pipes from the storage facility to the Eastern Refinery are 18 inches in diameter. About 65km of these are under the sea, he added.
Meanwhile, Bangladesh Power Development Board officials said the government is also working on a 250km Chattogram-Dhaka Fuel (diesel) Supply Pipeline project at a cost of Tk 3,171.85 crore and a pipeline from Pitalganj (Purbachal) in Dhaka to Kurmitola Aviation Depot to save transportation costs and stop waste of fuel.
Contacted, Col Jahangir Hossain, project director of Chattogram-Dhaka Fuel Supply Pipeline Project, said 230km of the pipeline has already been set up.
Terminal construction work in Narayanganj's Godanail is pending, he said, adding that 60 percent work of the project has been completed.
Jahangir said around 27-30 lakh tonnes of fuel can be transported annually through the 16-inch diameter pipeline.
Under this project, a new depot will be built in Cumilla's Barura, he said, adding that a proposal for extending the project deadline to December 2024 has been sent to the ministry concerned. The initial deadline was in December 2022.
BPC has formed Pipeline Company Ltd for maintenance and management of the pipelines.