POLLS TO 5 CITY CORPORATIONS
Uncle-nephew conflict likely to end in Barishal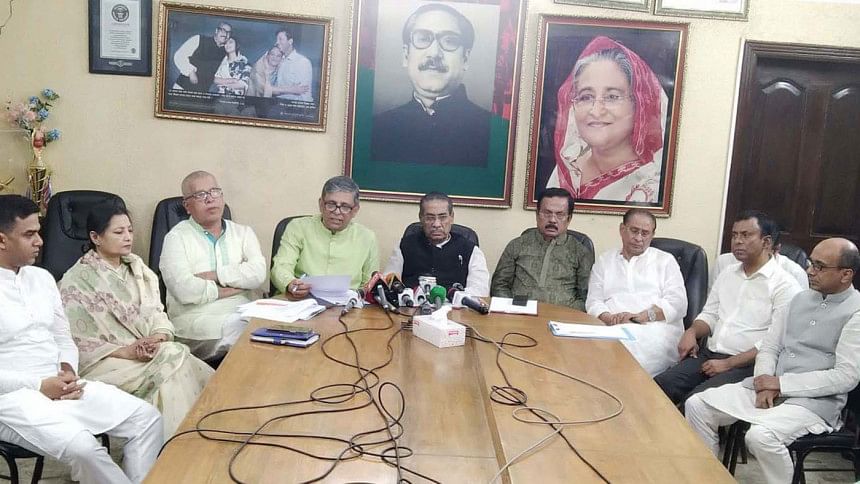 The long-awaited meeting, aimed at resolving the internal conflict between Awami League's Barishal mayoral candidate Abul Khair Abdullah and his nephew Serniabat Sadiq Abdullah, has been scheduled to take place on May 26.
Local leaders are hopeful that this meeting will heal the divide that developed after Abul Khair earned the AL ticket for the next mayoral election, over the incumbent mayor Sadiq Abdullah.
This possible conflict resolution is expected to have positive outcomes for the ruling party in the Barishal City Corporation (BCC) polls, scheduled to be held on June 12.
The decision to hold the meeting between the two factions was made during the party's election-conducting committee meeting at AL President Sheikh Hasina's Dhanmondi political office yesterday.
The meeting was attended by senior AL leaders, including Abul Hasan Abdullah, chief of AL's BCC election-conducting committee, and also a member of the AL central committee. He is also the father of Sadiq Abdullah and elder brother of Khair Abdullah.
All members of the Barishal City unit AL, all presidents and secretaries of the Barishal ward units AL, all members of the Barishal district units AL, all presidents and secretaries of the Barishal upazila units AL, and all AL-backed public representatives in the Barishal municipality,  will attend the special meeting on May 26, according to AL sources.
The meeting will be held at 3:00pm at the premises of Gouronadi municipality. Besides, another significant meeting has been scheduled for June 1 at the same location, which  will bring together the presidents and secretaries of all the districts under the Barishal division, along with the presidents and secretaries of the upazila units under the Barishal division (excluding the Barishal district).
Furthermore, the meeting will be attended by the chairman and members of the zilla parishads from the Barishal division (excluding the Barishal district).
Contacted, Advocate Talukdar Md Yunus, general secretary of the Barishal district unit of AL and a Sadiq Abdullah  loyalist, said they were hopeful that all internal conflicts within the Barishal AL will be resolved following the meeting. "We are committed to working together in unity for the betterment of Awami League."
The conflict between the two groups intensified when AL-nominated mayoral candidate Khair Abdullah formed two electioneering committees excluding the incumbent mayor and Barishal City AL General Secretary Serniabat Sadiq Abdullah and his followers.
According to party insiders, individuals from the anti-Sadiq camp who had been denied positions during the past few years have been added to the committees.
Sadiq's father Abul Hasnat Abdullah, on the other hand, was made the chief of one of the committees -- a 31-member advisory committee. He is also the lawmaker for Barishal-1 constituency.