Turning plastic perils into a prize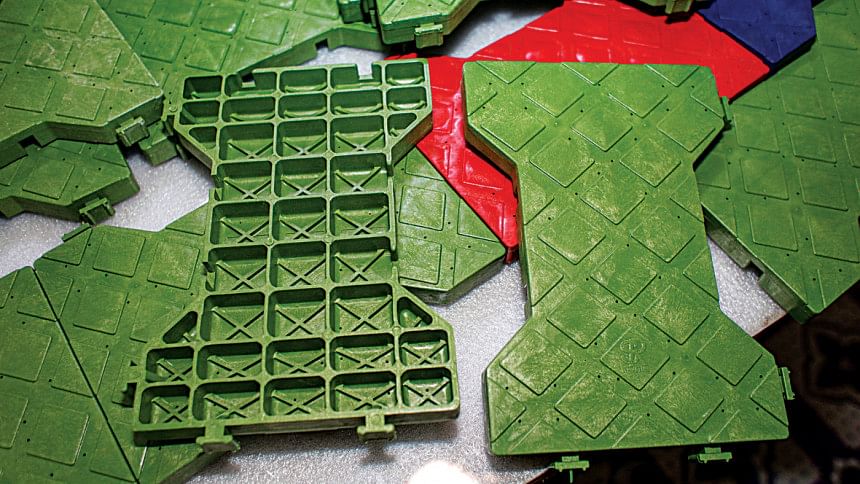 The country has been seeing a worsening plastic waste problem over the last decade and a half, and recently, a small step has been taken towards possible mitigation.
For the last one year, Nazir Hossain, around 50 years old, has been turning plastic waste -- which causes harm to the environment when left in landfills or allowed to pollute lakes, rivers and oceans -- into low-cost tiles for pavements, rooftops and bathrooms.
His working life has been dominated by plastic. He worked in a plastic factory for nearly 20 years since the early 1990s. In 2012, he became an entrepreneur making pattern moulds for plastic items at his own Hossain Engineering Workshop in Kamrangirchar.
Then one day, inspiration struck.
"I noticed that the pavement in front of my workshop was made with earthen tiles. I then wondered if we could use discarded plastic on this mould to make tiles," he said.
But he was not sure of how the process would turn out, and so communicated with a local NGO named Resource Integration Centre (RIC) about his idea.
RIC facilitated this innovation with the support from Palli Karma-Sahayak Foundation's Sustainable Enterprise Project.
"Then I created a mould and started making plastic tiles. I did not face any problem collecting raw materials as I have been preparing moulds for plastic products since 2012," he said.
The plastic tiles would be lighter and cost much less than earthen or ceramic ones, he added.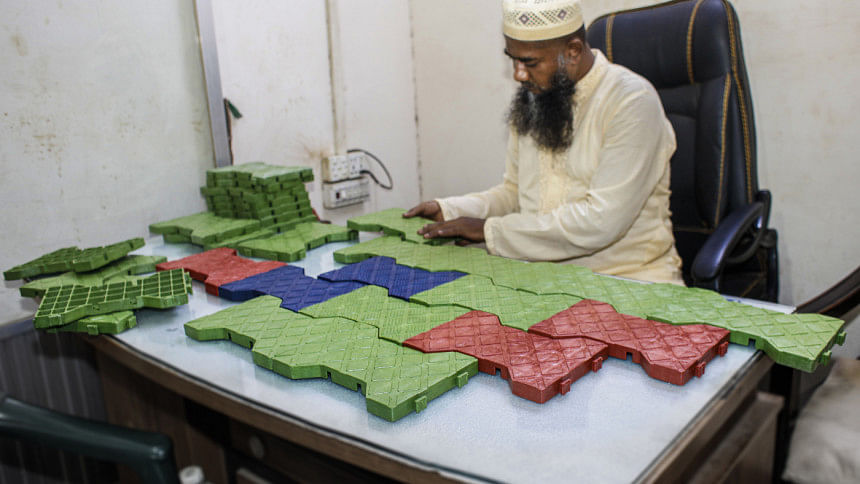 He has so far made over 1,000 tiles on an experimental basis, and those would be on display at a fair starting today at the Bangabandhu International Conference Center on the occasion of World Environment Day.
According to a World Bank report, Bangladesh saw a sharp increase in both plastic use and pollution. The country's annual per capita plastic consumption in urban areas rose to 9kg in 2020 from 3.0 kg in 2005 -- a threefold increase in just 15 years.
It said that of the 9,77,000 tonnes of plastic consumed in Bangladesh in 2020, only 31 percent were recycled. The most mismanaged plastic waste were single-use like shopping bags, packing material, and wrappers.
The National Action Plan for Sustainable Plastic Management sets a target of recycling 50 percent of plastics by 2025, phasing out 90 percent of single-use plastic by 2026, and reducing plastic waste generation by 30 percent by 2030.
After Nazir's plastic tiles were made, some were tested at the Bangladesh University of Engineering and Technology laboratory to assess the quality.
Abdus Salam Akanda, professor of mechanical engineering at Buet, said the first impression was good, but there was room for improvement.
"But one thing we must keep in mind is that plastic tiles cannot be a substitute for ceramic tiles as both have their advantages and disadvantages. Plastic tiles have better durability than ceramic or earthen tiles," he said, adding that use of plastic tiles would obviously help reduce plastic pollution.
The use of plastic tiles is nothing new as some countries have already started using this as a way of mitigating plastic pollution.
India, Egypt, Kenya, and some other countries have already started using this commercially as the tiles are more durable, lighter, and easier to transport and install than ceramic or clay tiles. They are also thought to be safer during rainfall.
Nafizur Rahman, principal research officer at the House Building Research Institute, said he had high hopes for plastic tiles as those are made from plastic waste, and usually such products have much more longevity than ceramic or earthen tiles.
"We have seen the product. Now we are planning to test these tiles in our lab," he said, adding that once it passed it would be a great way to deal with plastic pollution.
Nazir Hossain said each tile weighed 280-300 grams and was 11 inches by 7.5 inches in dimension.
One piece of the tile could be sold at Tk 42-45, he said.
"The biggest benefit of the tile is that it can either be cemented or interlocked with other tiles."