Traditional Hand Fans: A relief for users and makers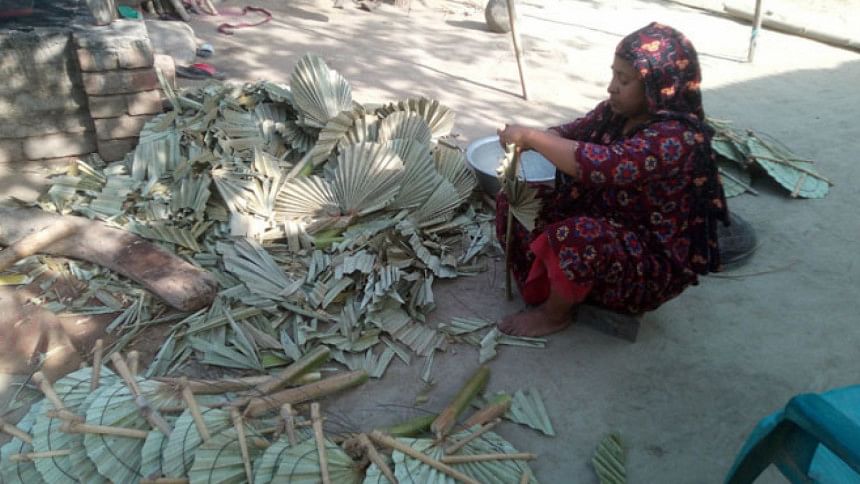 With the country having witnessed its highest temperature in the last 58 years this Baishakh, hand fan makers at a village in Jashore's Jhikargacha upazila are busy catering to the rising demand. Crafted with palm leaves and bamboo, each worker at Sheordah Dakshinpara village manages to make about 50-60 hand fans every day, said Jannat Khatun, a 30-year-old hand fan artist.
"It costs us about Tk 13-14 to make each fan which we sell at a wholesale price of Tk 18-20 per piece," added Jannat who sells around 50-60 fans every day to wholesalers.
According to the workers, hand fans are the most in demand from mid-February till the end of October.
But this year, the need for hand fans has increased in the last month or so because of the relentless heat.
According to the Met office, a severe heatwave is sweeping over the districts of Rajshahi, Pabna, Bogura, Dinajpur, Nilphamari and Chuadanga and mild to moderate heat wave is sweeping elsewhere over the country.
The mercury has soared to 39 degrees Celsius in Dhaka yesterday. The country's highest temperature of 40.8 degree Celsius was recorded in Chuadanga.
"We usually make fans after the winter ends and the demand falls when the temperature cools down. I work as a seasonal labourer, mostly as a farmer, to support my family when fans are not in demand," said Shahana Khatun.
Akhi Khatun and her husband Rustam Ali also make fans during the peak season.
Akhi said, "The price of bamboo ranges from Tk 80 to Tk 120 per piece and around 300 fans can be made from one piece."
Akhi's husband Rustam takes up carpentry to provide for his family when the fan-making season ends.
"We purchase each hand fan (regular ones) for Tk 20-30 which we sell for Tk 40-50. There is a huge demand for these fans in villages and the product is very profitable. The fans can be sold for higher prices in the cities but the transportation cost is high. That's why we only sell these fans locally," said Abul Kalam, a trader.
Jhikargacha UNO Mahbubul Haque said, "Fan makers of this region usually hail from marginalised households and they have to struggle a lot to make ends meet. However, they can reach out to the Upazila BRDB, Department of Youth Development, and Department of Women Affairs, to develop small and medium-sized enterprises (SMEs), which in the longer run, will help the artisans."