Trade with neighbours to soar come 2029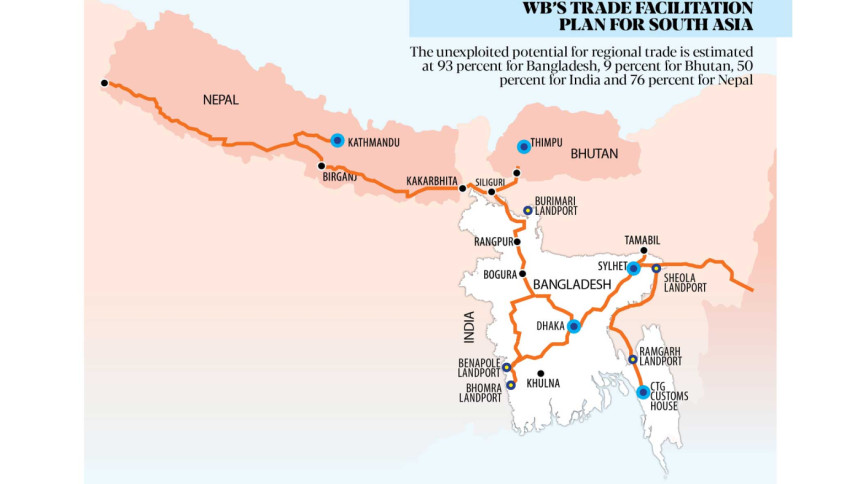 Bangladesh's regional trade can increase by a staggering 93 percent thanks to the $1.4 billion project the World Bank has set in motion to accelerate trade and transport connectivity in Eastern South Asia -- a development that can cushion the country from the anticipated export losses from LDC graduation.
The phasing-out of preferential market access in key markets upon graduation from the least-developed country bracket in 2026 could lead to an annual reduction in exports by as much as 11 percent (approximately $6 billion).
This can be offset by trade with Bhutan, India and Nepal, said the Washington-based multilateral lender in its project document. In fiscal 2021-22, exports to the three South Asian countries accounted for about 4.1 percent of total receipts of $52.1 billion, according to data from the Export Promotion Bureau.
In South Asia, regional trade is about 5 percent of total trade, which compares poorly with East Asia and Sub-Saharan Africa, where regional trade accounts for 50 percent and 22 percent of total trade respectively, according to the WB.
And the reason for low regional trade is the high cost of connectivity.
Several countries in the region trade on better terms with distant economies than with their neighbours, according to the WB.
For instance, it is about 15–20 percent less expensive for a company in India to trade with a company in Brazil or Germany than with a company in Bangladesh, found the WB's 2021 Connecting to Thrive report.
Were there a free trade agreement between the two neighbours, Bangladesh's exports to India could increase by 182 percent from the current levels and India's exports to Bangladesh by 126 percent, according to the WB's estimates.
And improving transport connectivity between the two countries, which share a 4,100-kilometre border, could increase exports even further, yielding a 297 percent increase in Bangladesh's exports to India and a 172 percent increase in India's exports to Bangladesh.
Last fiscal year, Bangladesh's exports to India stood at $1.99 billion, up 55.6 percent year-on-year. 
The unexploited potential for regional trade is estimated at 93 percent for Bangladesh, 9 percent for Bhutan, 50 percent for India and 76 percent for Nepal.
With the view to increasing the efficiency and resilience of trade and transport along selected corridors in Bangladesh, Nepal and Bhutan, the WB has taken up the project involving $1.4 billion initially.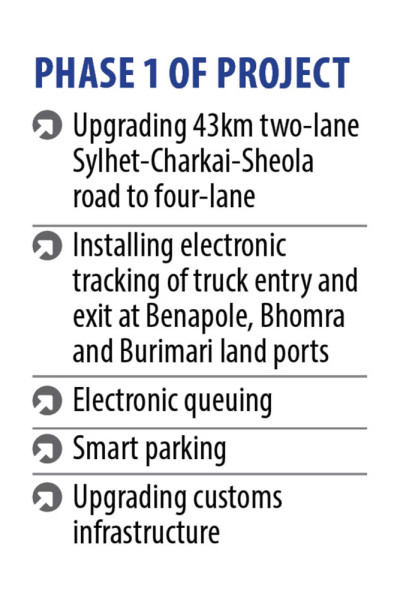 India will be brought on board in phase 2 of the programme; the financing amount would be decided as per the country's needs. Bhutan will be given $100 million in phase 2.
"Such investments are necessary for Bangladesh," said Mustafizur Rahman, a distinguished fellow at the Centre for Policy Dialogue.
Of the $1.4 billion,  the WB will provide $1.03 billion, with the rest coming in from the governments of Bangladesh and Nepal. Of the $1.03 billion that the multilateral lender is allocating to the phase 1 of the programme, Bangladesh will get $753.45 million and Nepal $275 million. Both the loans have been sanctioned by the WB board in June.
The $753.45 million given to Bangladesh will go towards projects to be implemented by the Bangladesh Land Port Authority, the National Board of Revenue and the Road and Highways Department for completion by 2029.
One of the components involves upgrading the 43-kilometre two-lane Sylhet-Charkai-Sheola road to a climate-resilient four-lane road, connecting the Sheola land port with the Dhaka-Sylhet Highway and in so doing, cutting down the travel time by 30 percent.
The programme will support digital systems, infrastructure and more streamlined processes at Benapole, Bhomra, and Burimari land ports, the three largest land ports in Bangladesh handling approximately 80 percent of land-based trade.
There is little communication (electronic or otherwise) between the customs and the Bangladesh Land Port Authority on what goods are present at any given time at the land ports.
Arriving goods for import are normally discharged from trucks and unless they are perishable, are stored in warehouses under the jurisdiction of the BLPA before customs clearance begins.
This has created a system of "border men" that collect documents from truck drivers on the Indian side of the border before arrival, and "proxy" customs and freight (C&F) agents standing in line to ensure that the slot is kept while the C&F agents interact with the NBR or other government agencies elsewhere.
Such human facilitation highlights the need for improved processes, which the project will address.
The project will support the development and improvement of IT-enabled services for trade, to reduce touch points and human interaction, enhance transparency and reduce congestion and truck idling, resulting in faster border clearance time and greater cargo throughput.
Electronic tracking of truck entry and exit, electronic queuing and smart parking would be installed.
It will also support the modernisation of the Chattogram customs house, which handles 90 percent of all import/export declarations in Bangladesh and services more than 45,700 unique traders per year.
The rapidly growing trade volumes have overburdened the Custom House, Chattogram, which was initially constructed in 1920.
Subsequently, the project will entail constructing a state-of-the-art green-building certified, resilient Custom House Chattogram with enhanced capacity to process rapidly growing trade volumes with required infrastructure, collaborative laboratory and other facilities including facilities for women.
It will also support the country's implementation of the World Trade Organisation's Trade Facilitation Agreement and Customs Modernisation Strategic Action Plan and preparation for the Motor Vehicles Agreement (MVA) implementation.
The MVA was signed on June 15, 2015 by the transport ministers of Bangladesh, Bhutan, India and Nepal. The agreement will permit the member states to ply their vehicles in each other's territory for transportation of cargo and passengers, including third country transport and personal vehicles.
But due to the lack of necessary infrastructure, MVA is yet to take off.
Bangladesh's export competitiveness will increase and importers will be helped, too, Rahman said.
"Both the consumers and producers would be benefited."
The WB programme will not only lead to trade facilitation but will also help in drawing in investment from abroad.
"The government has dedicated special economic zones for Indian and Chinese investors but those are not attracting the expected investment. It is because the border-crossing infrastructure and logistics facilitation are missing. If I have to pay 1.5 times more to send the products to Nepal, why should I come here? So it is a very important project."