Towards a breaking point?
Fuel price surge and spillover effects weigh down low-income groups further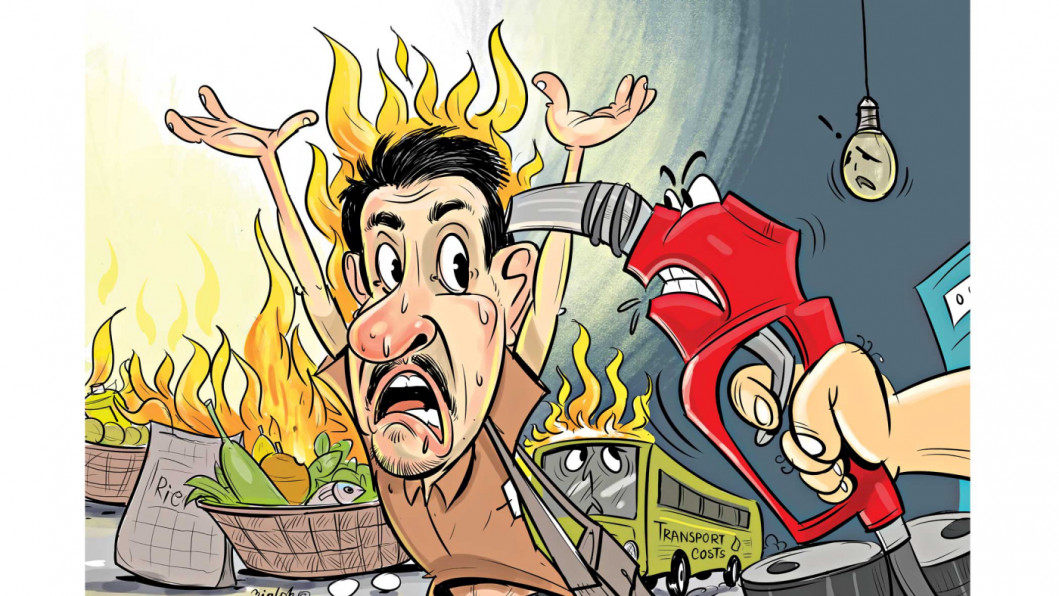 The burden of the arbitrary, overnight leap in fuel prices will be borne by the people, and the low-income group and the middle class will feel it in their bones.
As food prices will soar further because of the 42 percent hike in diesel price, many fear they will no longer be able to afford the food they used to have.
Diesel accounts for 70 percent of the country's fuel market, and it is used mostly by the transport and agriculture sectors.
Mariam Begum, who was shopping at Karwanbazar yesterday evening, said she runs her family on Tk 27,000, nearly half of which goes into paying the rent. "We eat tiny portions of whatever we can afford, and supplement that with more rice."
From today, the value of her husband's salary went down, since food will cost more. Mariam walked 40 minutes each way from her home in Nakhalpara to Karwanbazar yesterday.
"It is easy to eat less. Nobody sees what we are eating. People see what house you live in and what clothes you wear."
In June, food inflation was already a staggering 8.37 percent, according to Bangladesh Bureau of Statistics.
A study by the Centre for Policy Dialogue (CPD) published two weeks ago found that prices of food items like rice, flour, broiler chicken, soybean oil, lentils, and eggs had risen between 11.8 percent and 51.7 percent.
The prices may rise again by 20-30 percent or even more, said Fahmida Khatun, executive director of the CPD.
"However much the price hike in fuels is, the real cost will be lot more. The price hike will have a multiplier effect," she added.
The price of rice -- the staple has seen an 11.2 percent rise from last year's -- will see a further jump, the expert worries.
As Bangladesh saw the lowest rainfall in July in 41 years, many Aman farmers have been using diesel-run pumps to irrigate. But diesel is now almost one and a half times more expensive, she said.
"Some farmers may choose reducing their production, which could jeopardise food security. We may even have to import rice."
Traders in Karwanbazar are already feeling the pinch.
Mohammad Sabuj, owner of Bikrampur Alu Bhandar, said he used to pay Tk 15,000 as fare for a truck of potatoes. But he had to hire each truck for Tk 21,000 yesterday morning.
The potato prices today will reflect the new transport cost, he explained.
Yesterday, bus fares also went up.
For the regular middle class office-goer, the 50 percent rise in petrol and octane prices will deliver the final nail. These are the commuters who had pinched pennies to afford a motorcycle -- 35 lakh of these vehicles are on the roads, and considered the primary vehicle for many.
The hikes come at a time when wage growth in Bangladesh declined to a seven-year low, according to BBS.
Saiful Islam, a shopkeeper at a kitchen market in the capital's Sheorapara, said broiler chicken has been the main source of protein for his two secondary-school children as fish is too expensive for him.
"The rising costs might make me stop eating chicken too," he lamented yesterday.