Tough times for port city residents
With price of daily essentials spiraling, many middle-income families struggling to get by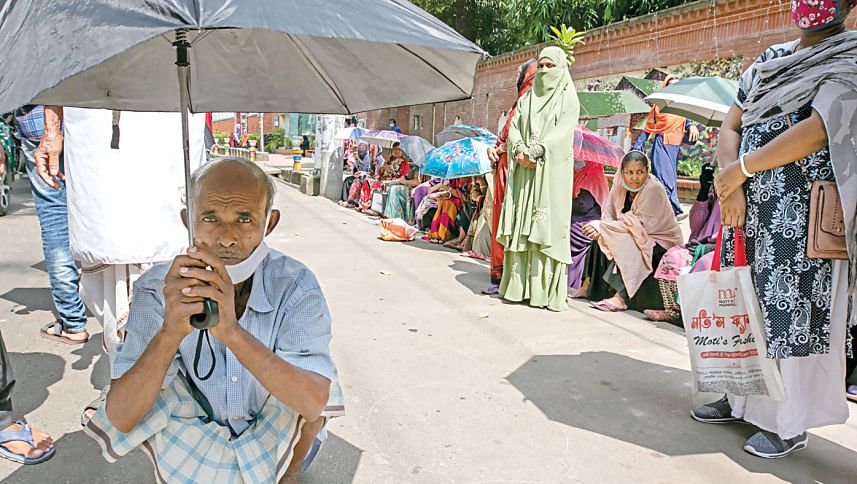 With prices of daily essentials rapidly increasing, even people from the middle-income group in the port city can now be seen standing in front of Trading Corporation of Bangladesh (TCB) trucks to buy daily essentials at cheaper rates.
These people are not usually seen in the long lines the trucks create. They would not have to stand in the middle of the road under the scorching sun just to get groceries. But times are such that they too are struggling alongside residents from low and lower-middle income groups.
TCB started its latest session of open market sale (OMS) operation at 23 points of Chattogram on October 6, and it will continue till October 28, said TCB officials.
In the city, OMS operation is ongoing at 13 points, and in upazilas, TCB is providing the service at 10 points, they said.
TCB is selling lentils, sugar, edible oil and onions for much cheaper -- at almost half the market price -- and that is why people swarm the trucks as soon as possible.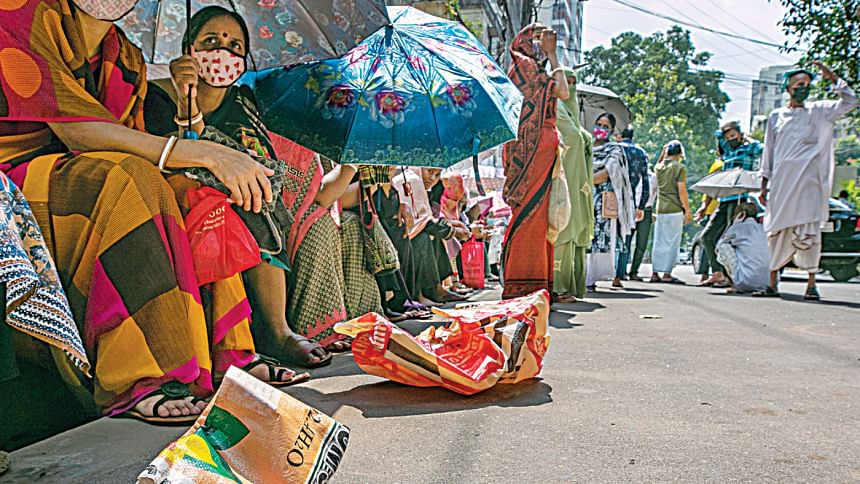 On Jamal Khan Road, around a hundred people were seen standing in the queue before a truck around 12:30pm yesterday.
Tushar Kanti Hawlader, a retired schoolteacher, was one of them. He told The Daily Star that right now, he cannot maintain her family with his retirement pension, due to the unusual price hike of daily essentials.
"I never thought I'd have to stand in front of a TCB truck, but now, I don't have an option," he said.
Nabila Akter, a resident at Jamal Khan area, was also seen standing in line. She said her husband is a private-job holder, and the price hike forced her to get groceries from the truck.
"It's very difficult to maintain a family with my husband's little income, and so, we have to buy stuff through OMS," she said.
Amid all this, many also claimed that they have to stand in line for hours, as the trucks, which are scheduled to be at each point around 10am, don't arrive on time, they alleged.
Right now, a litre of edible oil in regular markets goes for around Tk 150, but TCB sells it for Tk 100. A kilogramme of sugar, which has a market price of Tk 80, is sold for Tk 55. Similarly, per kilo of onions goes for Tk 30, while it's around Tk 70 in the markets, and a kilo of lentils can be bought for Tk 55, while that rate is Tk 90 to 120 at other places.
However, a person is not allowed to buy more than two-kg of sugar, two-kg of lentils, two-kg of edible oil and four-kg of onion.
Despite this rule, people were demanding to buy more, but the salespersons refused to comply.
Idris Ali, a salesperson for the truck, said TCB officials set the limit, so more people who need the food can get it. "If a person buys 10 kg of each item, then what would remain for the others, who have been standing in line for such a long time?"
Contacted, Jamal Uddin Ahmed, TCB regional head at Chattogram, said an OMS truck is stocked with 700 kg of onions, 400 kg of edible oil, 300 kg of lentils, and 300kg of sugar.
"On average, around 200 people can buy daily essentials from any one point," he said.
Asked about increasing the number of sales points, he said they would increase it in the next session.
He, however, could not mention when the next session would begin.
Meanwhile, people demanded that TCB continue its OMS operation without any disruption, and double the number of sales points.