Topsoil removal from cropland goes unabated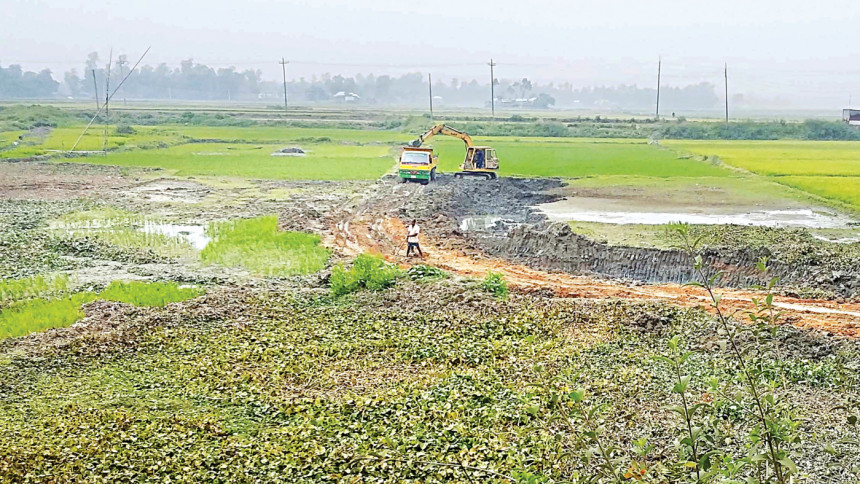 Cutting of topsoil from croplands is still going on unabatedly at different places in Tangail, leaving a harmful impact on fertility of land.
A section of greedy earth traders is cutting off the topsoil from the farmlands after buying the top layer from the land owners.
The syndicate has been selling the earth mostly to the brick kiln owners and also to others for different purposes, including filling of low lands and constructing earthen roads.
The ill practice is damaging the fertility of the lands as well as destroying environment and ecological balance.
Fertility of cropland is reduced to a great extent and production declines due to cutting the top layer, agriculturists said.
Shakil Ahmed Shuvo, an agriculture entrepreneur and also a masters' student at Bangladesh Agriculture University, said usually our crops root depth is 15cm where all essential nutrition elements remain.
"Once the topsoil is removed from the cropland, it puts adverse effect on productivity of the land," Shuvo said.
However, the illegal activity is going on in all the 12 upazilas of the district, defying the law.
Moreover, the earth traders are also flattening hillocks of red soil at many places in Ghatail, Mirzapur and Sakhipur upazilas and destroying the precious natural asset.
They are also cutting off soil from the banks of different rivers, increasing risk of erosion during the monsoon.
Alongside decline in crop production, local environment is being polluted by the dust.
Meanwhile, rampant movement of earth-laden heavy vehicles is also causing damages to the rural roads.
Local people cannot resist the ill practice fearing consequence from the earth traders as most of them are influential people having political clout.
A section of public representatives is also involved with them, locals alleged.
During a recent visit, this correspondent saw labourers were cutting off topsoil using excavator from a cropland at Badda village in Kalihati upazila to send the earth to local brick kilns.
Moreover, workers were cutting off earth from a hillock in Moricha Paikpara area in the upazila, changing class of the land.
Locals informed that earth traders, backed by a member of local union parishad, cutting off the highlands.
Sources at Agriculture Department Office said the district has 2, 43,647 hectares of croplands. Of the land, several hundred acres are being damaged every year due to removal of topsoil.
Besides, more than 250 brick kilns are currently running operations in the district and most of those are at Mirzapur and Ghatail upazilas.
Cutting earth from the croplands and hillocks for producing bricks is prohibited in Burning of Bricks Control Act 1989 (Revised in 2013).
In order to get the license, brick kiln owners have to submit an affidavit to the Deputy Commissioner (DC), mentioning the places from where they would collect earth. But, due to lack of proper monitoring, earth is being collected from different places, including croplands.
Agriculturist Abu Adnan, also a training officer at Agriculture Department, said the surface soil layer, up to 15cm, contains organic materials, while the high fertile land contains microorganism.
Deputy Director at Tangail Directorate of Environment (DoE) Jamir Uddin said permission from the local administration is a must for cutting earth for brick kilns.
Mirzapur Assistant Commissioner (Land) Jubayer Hossain said there are 258 villages in the upazila and it is very difficult to monitor the illegal practice.
Shoyeb Mahmud, an upazila agriculture officer, said after the topsoil is removed from croplands it took about 20 years to get the fertility back.
Firoz Haider Khan, president of Tangail brick kiln owners' association, said they face various problems for collecting earth and they need a good solution for it.