'Too precious to lose'
Proposed safari park at Lathitila forest can prove counterproductive, fear experts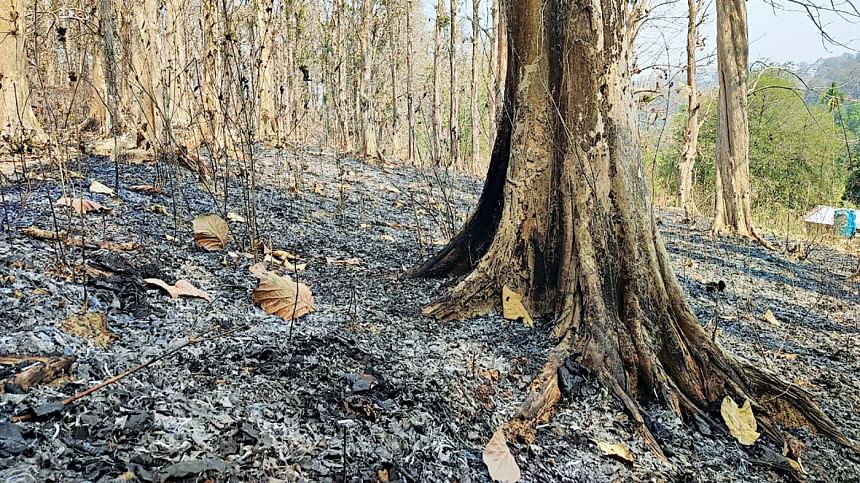 After Gazipur and Dulahazra, the forest department has finalised plans to build the country's third safari park in Lathitila forest, located in Moulvibazar's Juri upazila.
But experts said projects like this can prove counterproductive in protecting the biodiversity of the evergreen tropical forest, home to numerous animal species.
The prospect is particularly troubling given the recent heart-wrenching death spree of animals at Bangabandhu Sheikh Mujib Safari Park in Gazipur. Between January 2 and February 3, 11 zebras died at the park, along with a tiger and a lioness. Following this, two top officials of the park were removed over negligence in carrying out their duties.
Amidst all this, the master-plan for Lathitila's safari park project, which has a budget of Tk 846.25 crore, awaits government approval. Out of the total budget, Tk 203 crore is allocated for animal management and Tk 182 crore for purchasing animals for the park.
Despite protests from environmentalists, the Ministry of Environment, Forest and Climate Change has finalised the project. According to its feasibility report, around 8-10 lakh visitors are expected to come to the park every year.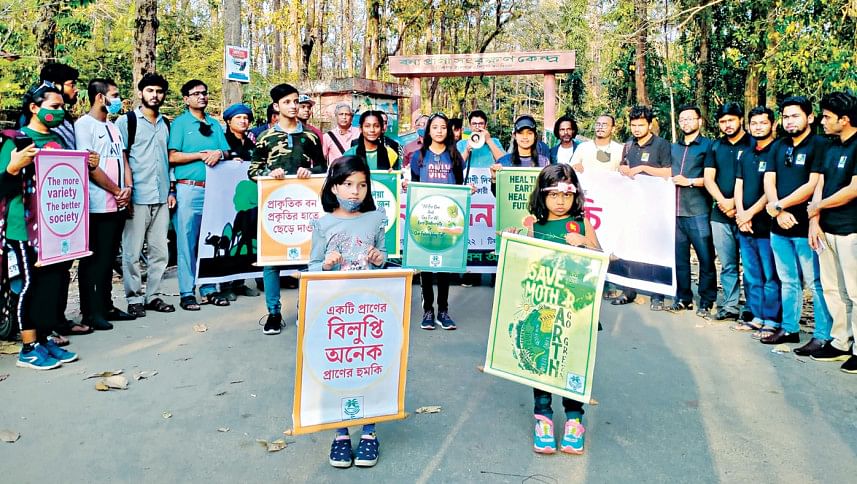 Lathitila is not only home to numerous animals, it is also home to a few endangered species as well, its elephant species being the most talked about among them.
This correspondent talked to several residents of the area during a recent visit.
In the depths of the 5,631 acres of Lathitila forest, five female elephants still survive. But according to experts, there are no male elephants left in the forest to save the species from extinction. But their troubles don't just end there.
Activist Khorshed Alam said various species of trees and bamboo have been felled, resulting in a food crisis for the remaining elephants.
"And when the forest becomes a safari park, they will face shelter crisis too. This will drive them further towards extinction," he added.
Asked if there would be any damage to the elephants' habitat because of the proposed safari park, Rezaul Karim Chowdhury, divisional forest officer, said there is no possibility of danger.
FOREST DEPARTMENT'S STAFF SHORTAGE
Asked about how they are going to manage the workforce for the third safari park, as they do not even have skilled workforce for the existing two (in Gazipur and Dulahazara), Amir Hossain Chowdhury, chief conservator of forests, said, "Once the project is okayed by the government, we will recruit people."
Abdul Karim Kim, general secretary of Bangladesh Poribesh Andolon's Sylhet chapter, said various infrastructures, power transmission lines, substations and heavy infrastructure will be constructed for tourists, destroying the natural habitat of the wildlife.
"Without focusing on more safari parks, the government should focus on conservation of local species, which are already endangered and on the verge of extinction," said Ishtiaq Uddin Ahmed, former chief conservator of forests, who also served as country representative of IUCN.
BLAZE IN LATHITILA
Meanwhile, more than one km of forest area has been burnt to ashes in Dilkush and Shuknachhara areas of the forest sometime around this Wednesday and Thursday. However, the forest department does not seem to know anything about the incident.
Environmentalists suspect a vested group may have started the fire intentionally.
When this correspondent visited the spot, he found that the main gate of the proposed safari park, the entrance of Jarichhara Road and more than one-km area of ​​Shuknachhara have been burnt to ashes.
But Juri Range Officer Alauddin said he doesn't know how the fire started. "I haven't visited the place yet. The matter is being investigated."