After conquering Mount Kilimanjaro, Bangladeshi couple eyes seven summits
Conquering heights is an urge so prehistoric that many have taken the test of fate to assess their mortal limits. After Wasfia Nazreen, Nishat Majumdar and Musa Ibrahim – Bangladeshis who have already conquered the highest peaks -- the names of Julia Parvin and Mohammad Shahidul Alam (Shemon) have just been added to that list.
Julia and Shemon have been living as expats in Mombasa, Kenya since 2012. They run a car importing business together.
Little did they know that amid their busy schedules they would sign up for the feat of their lives -- conquering the Seven Summits, starting with their homeground, Mount Kilimanjaro.
They named their summit "U& Me -- First step on Seven Summit" to encourage couples to take up mountain exploring together.
"The journey started at the wake of the pandemic. I was going through pictures from our visit to Mount Kenya, the second highest peak in Africa a year back. Missing the view from the top, I was engrossed with the idea of going back there again," Julia told this correspondent over the phone.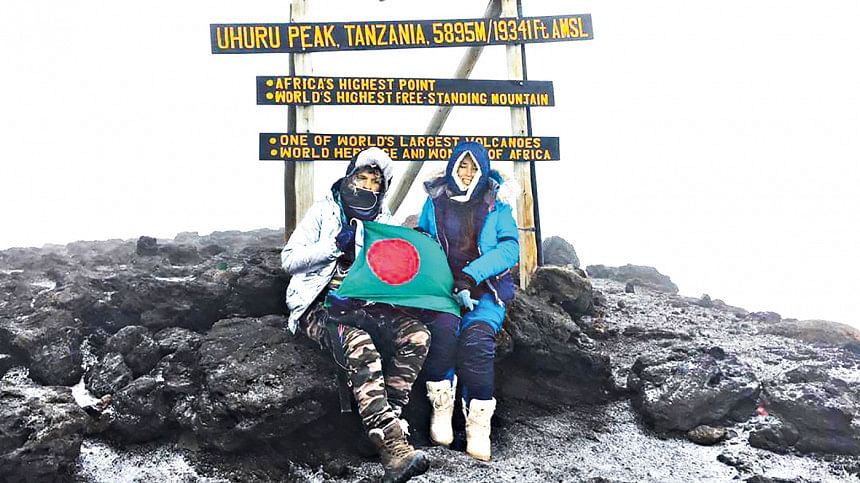 "When my husband pitched Mount Kilimanjaro for our expedition, I was even more excited. I started my research -- going through articles, vlogs and even talking to few local guides. I found that though reaching our destination wouldn't be that challenging, surviving the trek would be, since altitude sickness and lacking physical fitness are major barriers," she said.
Shemon chimed in, "At first, I treated it like a fever dream. But then, when I saw my wife looking up so many resources day and night, I couldn't help but join in and support her."
And thus, preparations for the ambitious feat began.
THE PREPARATION
The couple woke up early and went for their 5km power walk, which gradually increased to 10km a day and kept growing over time. They carried heavy backpacks on their walks so that their bodies could get adjusted to pulling weight.
Julia said they started training around the end of July, 2021.
"After 2-3 months of practice, we could walk around 35km without breaking a sweat. We camped around different mountain ranges in Kenya at least twice a month, in places where it was dangerous to camp due to the presence of wild animals. But thankfully, we didn't face any trouble," she added.
THE JOURNEY
Finally, the anticipated day arrived on January 31, 2022. After getting the technicalities cleared with a registered tour operator, Shemon and Julia set off with a pack of 11 -- including their guide, trekking crew and porters.
"We started facing natural challenges from the get go. While passing through the Lemosho route, we had to pass through a rainforest where we had to wade through thick mist and cold. Throughout the journey, the weather was gloomy and we hardly encountered the sun," said Julia.
"We had to double our energy as the path we were crossing was very slippery due to the mist. We wore raincoats, which was very uncomfortable to trek in," added Shemon.
"The first few days, till 10,000-13,000 feet, we didn't face a lot of issues. But then during the middle of the night, we started getting altitude sickness. Your head feels heavy, breathing gets difficult and your chest feels like you're being punched. By the time we reached the base camp, I felt far worse," said Julia.
"There was no medical crew 15,000ft above sea level and I was almost in the mindset to tell Shemon that we should turn back. But later, I thought, I couldn't let all of this effort go to waste. I got out of our tent at the Barafu campsite, put the snow on my face and head and did a few breathing exercises and went back to the tent to rest. The next day, I was ready to resume the journey," she said.
The next day they started their ascent at 5:00am. They reached Stella point, after a long 10-11 hours hike, where they could see the summit sign from a distance.
FROM STELLA POINT TO UHURU PEAK
"For the path from Stella point to Uhuru peak, we had to cross a crater rim. The last 250m of vertical ascent was quite challenging as our legs were sore and fatigue was catching up to us," said Shemon.
Despite the struggle, the couple pushed on, and finally, after seven days of hardship they reached Uhuru peak, the highest point of Kilimanjaro.
"Unfortunately, we could only spend about five minutes at the peak, since a snow storm was approaching," said Shemon.
"Within minutes the whole area turned white with snow, it was hauntingly beautiful, but it also made our descent difficult as it was hard to find a path to get down," added Julia.
Their daring feat finally came to an end. The title of being the first Bangladeshi couple to trek Mount Kilimanjaro, one of the highest peaks of the world, was now theirs.
So what's next for the couple?
Julia said the trek to Kilimanjaro made them confident and optimistic that they can conquer more peaks. The couple plans on trekking Mount Aconcagua in Argentina, with a summit elevation of 6,961 metres.