Toab Khan paid final tribute at Central Shaheed Minar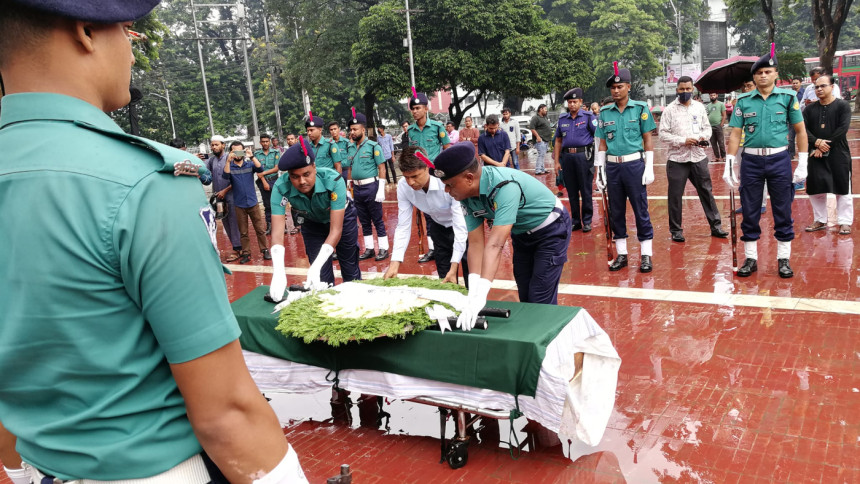 People from all walks of life are paying their final tributes to veteran journalist Toab Khan at Central Shaheed Minar amidst the inclement weather.
On behalf of President Abdul Hamid, his Assistant Defence Secretary Lt Col Syed Md Jahangir Alam, and on behalf of Prime Minister Sheikh Hasina, her Assistant Defence Secretary Lt Col GM Rajib Ahmed placed floral wreaths on the coffin.  
Awami League General Secretary Obaidul Quader said his demise has caused irreparable loss to the country.
Noted Journalist Abed Khan said Toab Khan fought throughout his life against the anti-liberation spirit.
Earlier, Deputy Commissioner of Dhaka Shahidul Islam gave guard of honour to the Ekushey Padak-winning journalist.
Veteran journalist Toab Khan passed away at a city hospital on Saturday (October 1, 2022).
Khan, who was suffering from old-age related diseases, breathed his last around 12:40pm.
Born on April 24, 1934, in Satkhira, Khan studied at Jagannath College (now a university). He started his career in journalism in 1953 at the weekly Janata. He joined the daily Sangbad in 1955 and became the news editor in 1961.
In 1964, Khan started working for the Dainik Pakistan which was renamed the Dainik Bangla after Bangladesh's independence in 1971. He was made the editor of the daily in 1972.
He also served as the press secretary to then prime minister Bangabandhu Sheikh Mujibur Rahman between 1973 and 1975.