Farmers get a raw deal
Diesel price hike adds to their plight as Boro irrigation cost to go up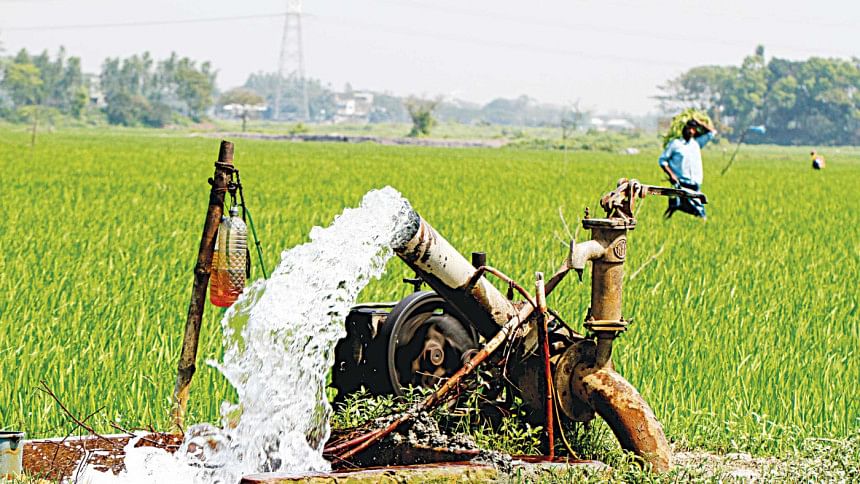 Floods, low rainfall and then fertiliser price hike -- the woes of farmers just won't stop. And now, they will have to bear the brunt of a sudden 42.5 percent rise in diesel cost, which is likely to make them spend an additional Tk 4,000 in irrigation for per hectare Boro production.
The average cost of Boro production on every hectare was Tk 64,862, excluding that for family labour and land rent, found a study by the International Food Policy Research Institute (IFPRI) two years back.
Of the total cost, Tk 14,075 or 21.7 percent goes to irrigation, according to the study, titled "Boro rice procurement in Bangladesh: implications for policy".
Diesel alone accounts for around 70 percent of the total irrigation cost -- which is Tk 9,852, said its co-author Akhter Ahmed, also country representative of IFPRI.
"We got the data from a household survey. And we found around 92 percent Boro crop is irrigation-fed, except for that in some low-lying haor areas," Akhter Ahmed told The Daily Star yesterday evening.
Based on the study, The Daily Star calculated that the additional cost for per hectare Boro irrigation would be Tk 4,187 as the government hiked the price of diesel.
Ahmed also supports the estimation but said the cost may vary from region to region.
In 2020, when the study was conducted, per litre diesel price was Tk 74, which has now gone up to Tk 114. And irrigation for Boro production in a hectare land requires over a hundred litres of the fuel.   
The country's farmers are highly dependent on diesel particularly for irrigating and tilling land and threshing their crops. Paddy farming burnt over 15 percent of total 46 lakh tonnes of diesel used in fiscal 2020-21, shows data of Bangladesh Petroleum Corporation.
Last week, the government raised the prices of urea fertiliser by 37.5 percent to Tk 22 per kg in yet another blow to farmers -- many of whom suffered losses and got low crop yields for repeated floods and then extreme heat with scanty rain.
Now the hike in diesel price will have a serious impact on the production of the Boro, a dry season crop that makes up 53 percent of the country's total rice production. It is planted from December to early February and harvested between April and June.
According to Bangladesh Agricultural Development Corporation (BADC), around 75 percent of all irrigation equipment is diesel-run and this year around seven lakh tonnes of diesel is required for Boro season.
Hasneen Jahan, head of Department of Agricultural Economics at Bangladesh Agricultural University, said the Boro production cost would increase due to the diesel price hike.
"If farmers give up the Boro cultivation considering the production cost, food security will be threatened. We have to see how the farmers react in Boro season," she said.
Mohammad Jahangir Alam, a professor of the Department of Agribusiness and Marketing at the university, said farmers will be under pressure as the cost of production will increase.
Small and marginalised farmers, who account for 84 percent of the total farmers in the country, will face the most severe consequence. "Consumers will surely have to pay more for buying rice. But if farmers don't get fair prices, they will be discouraged from growing rice," he said.
AMM Shawkat Ali, a former food adviser to a caretaker government, said this will increase the cost of production and subsequently the market price will go up. "Consumers, especially the lower-income groups, will be hit hard."
He recommended the government give subsidies for irrigation to ease the burden of farmers.
'DON'T KNOW WHAT TO DO'
Akhter Kazi from Noldanga in Natore spent Tk 6,000 for Boro irrigation per acre last year. This year he will have to spend over Tk 2,500 as additional irrigation cost, he said.
"We do not know what to do in this situation."
Even if a farmer irrigates his land by an electricity-run pump, he still has to bear additional cost in using diesel-fuelled farm equipment like tiller or threshing machine.
"Earlier, we were paying Tk 300 for using a power tiller to plough one bigha land. But after the diesel price hike, the cost has gone up to Tk 450," said Soybur Rahman, a farmer from Godagari upazila, Rajshahi. "We need to plough our land four times -- that means an additional Tk 600."
Yesterday, Agriculture Minister Muhammad Abdur Razzaque at a programme in Cumilla said that due to the fuel price rise, there will be an overall impact on the agricultural sector.
Talking to The Daily Star later, he said they were now observing the situation and will take steps considering the situation when the Boro cultivation will start.
Md Benojir Alam, director general at Department of Agricultural Extension, said the government has a budget of Tk 500 crore as stimulus package for the agricultural sector, but no decision has been made as to whether any amount will be given to the farmers.
Dhirendra Chandra Debnath, member director (minor irrigation), BADC, said they have long been campaigning to stop the waste of water during irrigation but could not make them aware.
"After the fuel price hike, farmers hopefully will use water judiciously."
[Our Natore correspondent contributed to the story]