Time for action, not words, rhetoric
Hasina tells global community over Rohingya crisis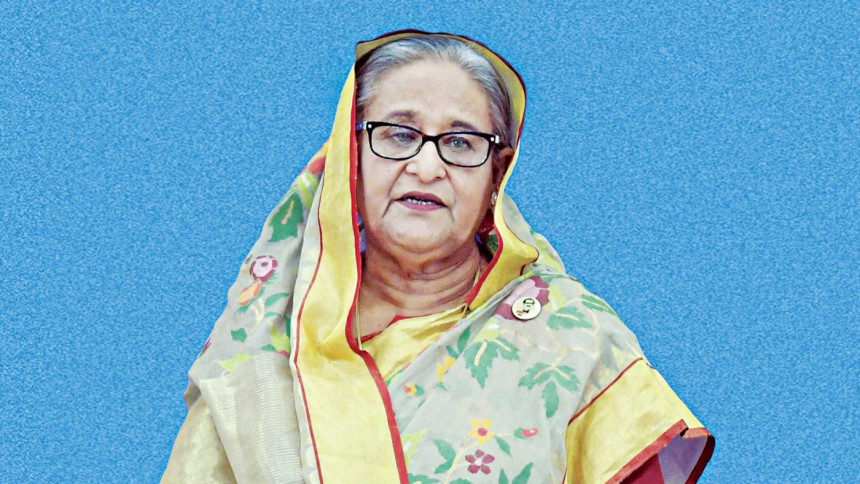 "Resolving this humanitarian crisis is a collective responsibility as its implication goes beyond borders. "
Prime Minister Sheikh Hasina has urged the global community to turn their "words and rhetoric" over the Rohingya crisis into actions to reach a desired solution to the protracted problem.
"We need to go beyond words and rhetoric to have tangible actions to reach a desired outcome which is also the cherished desire of the Rohingyas. Bangladesh will continue to work with all until this solution comes," she said.
The PM was addressing a high-level side event on "Forcibly Displaced Myanmar Nationals (Rohingya) Crisis: Imperatives for a Sustainable Solution" in New York on Wednesday.
Bangladesh arranged the event, while eight other countries, including the UK, Ireland, Turkey and Saudi Arabia, cosponsored it.
A total of 23 speakers from cross-regional countries spoke at the event, moderated by Bangladesh's permanent representative to the UN, Rabab Fatima.
All the speakers extended their solidarity with Bangladesh over the solution to the Rohingya crisis, Fatima said at a press briefing after the event.
Hasina mentioned that those displaced people are Myanmar nationals and they must go back to their homeland, Myanmar, in safety and dignity. "We all, especially the international community, must do everything possible to make this happen."
She reiterated her call to Bangladesh's international friends and development partners to support its efforts in this regard.
"The Rohingyas themselves also wish to return to their home. Resolving this humanitarian crisis is a collective responsibility as its implication goes beyond borders. Delaying this crucial problem jeopardises our collective security."
The premier said growing frustration over the lack of progress in repatriation entices many to get involved in criminal activities, and they are easy prey to extremist ideologies. "This could potentially destabilise the entire region. Therefore, we must act now and with real urgency."
FIVE PROPOSALS
Hasina put forward five proposals to solve the crisis.
The proposals are: Ensuring sustainable repatriation, finding a solution to the current crisis in Myanmar, ASEAN playing a role, taking tangible actions and projects by the UN in Myanmar to create an environment conducive to repatriation and ensuring accountability for the persecution committed against the Rohingyas.
"I'm encouraged to see the strong presence of our key partners today. I believe you all share our concerns and need urgent action to resolve this serious problem," the PM said.
She said Bangladesh held high hopes that these displaced people could go back to their homes in their motherland Myanmar in safety, security and dignity. "We reposed our trust in the global assembly and community for their repatriation. But Bangladesh's calls have gone unheeded and its hopes unfulfilled.
"We are now in the fifth year of the crisis. Yet, we still hold the hope for a durable solution to this crisis," she added.
Hasina said the government has maintained bilateral engagements with Myanmar. At the regional front, it has tried to take on board the major powers, including China and India.
She said Bangladesh has all along tried to have more active involvement of ASEAN.  At the multilateral front, it has kept the issue on the table by UN resolutions engaging important countries and the UN agencies.
"Sadly, our efforts for the hapless, uprooted Myanmar nationals returning home to Myanmar has not generated any tangible outcome yet. Till today, not a single one of them could go back to their homeland."
The PM said the government has ensured all necessary arrangements to make their temporary stay in Bangladesh safe and secure, despite its resource and land constraints.
She said Bangladesh haven't forgotten to ensure the safety and welfare of the Rohingyas even in the face of the Covid-19 pandemic challenges. "We have included this population in our national vaccination programme."
About the relocation of Rohingyas to Bhasan Char, Hasina said, "So far, we've relocated around 18,500 of these displaced people from the camps in Cox's Bazar to Bhashan Char. The relocation is being done on the principle of voluntariness. We expect to see the start of the UN's operation in Bhashan Char soon."
She made it clear that whatever Bangladesh is doing is purely on a temporary basis.
The speakers highly commended Hasina's bold leadership and said they would continue supporting Bangladesh over the issue.
Foreign Minister AK Abdul Momen, at the press briefing, said all the speakers agreed for an urgent solution to the Rohingya crisis, mentioning that the solution lies with their repatriation to Myanmar.
He said the Rohingya issue has not been sidetracked due to the Afghan issue.
Replying to a question, the minister said though Bangladesh has no direct connection with the new military regime of Myanmar, Myanmar publicly announced that its new government would honour the instruments and agreements signed with Bangladesh over the Rohingya issue and it wanted to solve the Rohingya problem through bilateral channels.
Foreign Senior Secretary Masud Bin Momen and PM's Press Secretary Ihsanul Karim were present at the briefing.
PM'S LEADERSHIP LAUDED
Jeffrey Sachs, director of the UN Sustainable Development Solutions Network, has highly appreciated Hasina for her leadership in securing "tremendous" gains on different development and human indicators set out under SDGs.
"You have been in the leadership position during this time of tremendous progress. So, we wanted to give you personal congratulations as well," said Jeffrey, a world renowned economist.
Lessons from Bangladesh's progress in UN Sustainable Development Goals (SDGs) are something that the whole world is interested to know, Jeffrey mentioned.
A video of his remarks made recently at a programme was shared on the Facebook page of Bangladesh foreign ministry.