'They'll never return home'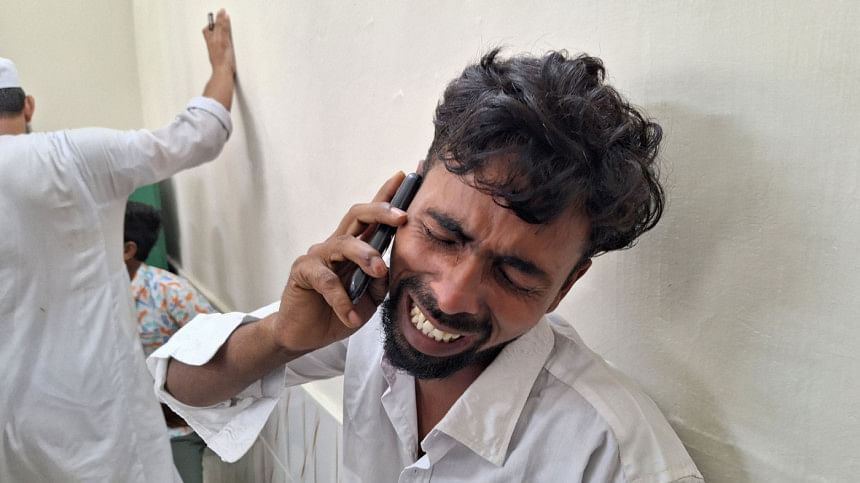 Irene, a 20-year-old mother, was happy, as she was returning home after the first nanubari (grandmother's home) visit of her one-month-old daughter, Ripa.
They were accompanied by Irene's younger brother, Nayan, and the journey was meant to end at their home in Barishal's Hizla area.
However, fate had other plans, as tragedy struck mid-road.
A bus accident claimed the lives of the three yesterday morning.
The once jubilant atmosphere turned into one of grief and sorrow, leaving their loved ones heartbroken.
"I cuddled my niece before they left this morning," said Irene's elder brother Rubel.
"Her smiling face is still fresh right in front of my eyes," he added.
Rubel burst into tears while talking to this correspondent at the Jhalakathi Sadar Hospital yesterday afternoon.
"Now their cold, lifeless bodies are lying at a hospital," Rubel said.
At least 17 people including Irene, Ripa, and Nayan were killed in the accident and 33 others injured as the bus fell in a roadside waterbody in Chhatrakanda area of Jhalakathi Sadar upazila around 9:45am.
Of the deceased, three were children, eight women, and six men. The injured include 21 men and 12 women.
Khadiza Begum, 40, and her daughter Khushbu Akter, 16, were in the same bus, heading towards Barishal for a doctor's visit.
The accident claimed their lives too.
"They will never return home. I cannot imagine they are no more," mourns Md Rahmat Ullah, the grieving son of Khadiza.
Tareq, 32, an owner of a pharmarcy in Pirojpur, was taking his seven-year-old son, Mahadi, to a doctor in Barishal.
Although Mahadi survived, Tareq died in the accident.
Talking to this newspaper at the hospital, Tareq's brother Abdul Khaleq said, "Tareq's death turned Mahadi's life upside down. He hasn't uttered a single word till now."