They finally woke up
Safety barriers being installed four days after Uttara tragedy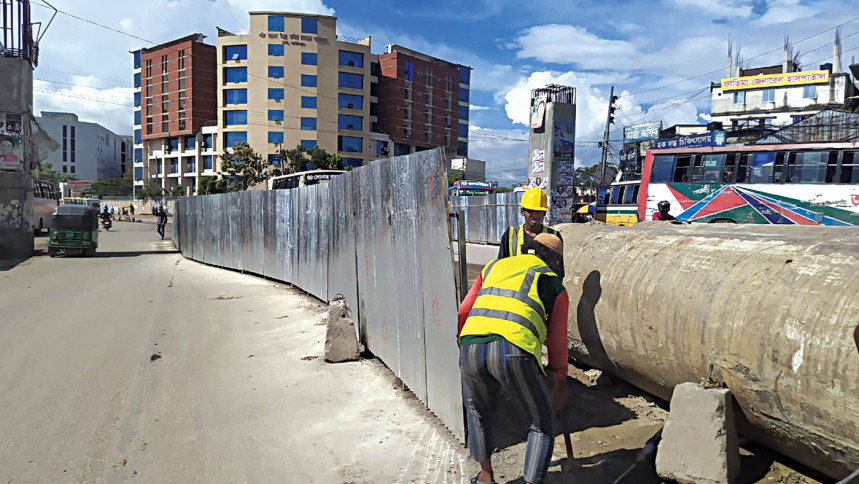 Four days after the tragedy that killed five of a family in Uttara, the Bus Rapid Transit (BRT) authority finally started setting up safety barriers along around 10 kilometres of the project area, from Uttara to Gazipur.
BRT workers were seen installing corrugated sheets on both sides of the road divider to demarcate danger zones, while construction work was halted at various points for safety.
Visiting the project area yesterday in Uttara and Gazipur, The Daily Star came across some cautionary sign-boards set up to warn people about safety, and workers were found busy readying the corrugated sheet for installation.
The signboards were seen at Tongi, Cherag Ali and Milgate of Gazipur, while installation of the sheets was ongoing in Uttara and Bata shoe factory area in Tongi.
Mohammad Shahin, a security guard of the BRT project at Cherag Ali, told this newspaper that construction work has been halted for two days after the accident.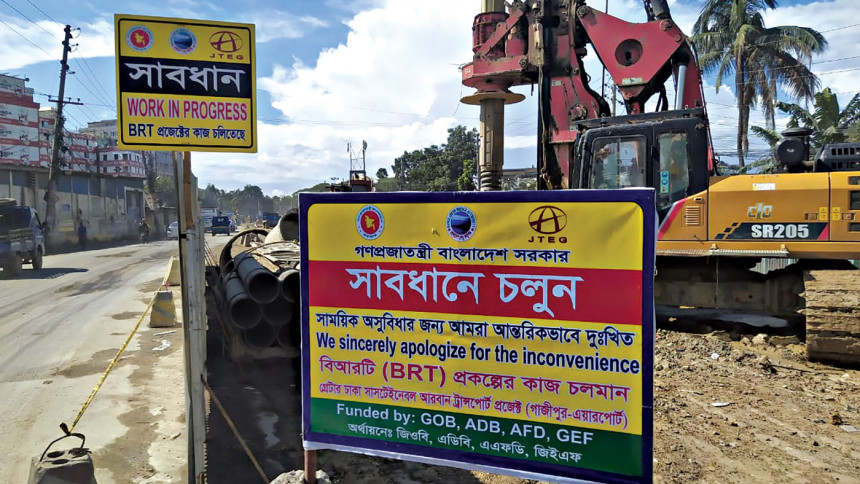 "We received metal support materials and corrugated sheets on Thursday. We were asked to ensure safety first before any construction work. In line with the instruction, the workers began to set up the sheets and signboards," he said.
In the area, few workers were seen working near the girders. Above the ground, nets have been put up to prevent metal chips from falling on pedestrians. Beneath, vehicles were seen plying.
Md Suman, a construction worker on Gazipur's main road, said some light work is going on apart from installing the barriers.
'We have remained very cautious in our work since the accident. The high-ups have been continuing to monitor construction to ensure maximum safety," he said.
On Tuesday, DNCC Mayor Atiqul Islam visited the site and asked officials to suspend the construction work, citing inadequate protective measures.
When a reporter on the spot asked why he was visiting the site only after the incident and what he had done to ensure safety at the project sites, the mayor claimed he had conveyed his concern to the project implementation authorities on several occasions, but they did not pay heed. After his visit, the DNCC called for a meeting on safety on Sunday.
Meanwhile, Bangladesh Bridge Authority (BBA), which is implementing several projects, including Dhaka Elevated Expressway and Dhaka-Ashulia Expressway, has issued directives to improve safety at all project sites.
Quazi Muhammad Ferdous, chief engineer of BBA, issued written directives to all project chiefs on Tuesday.
"We have asked them [the project authorities] to follow international safety standards," Ferdous told The Daily Star.