The trifecta of disaster
Garbage, ditches, stench ravage Nabinagar-Chandra highway in Savar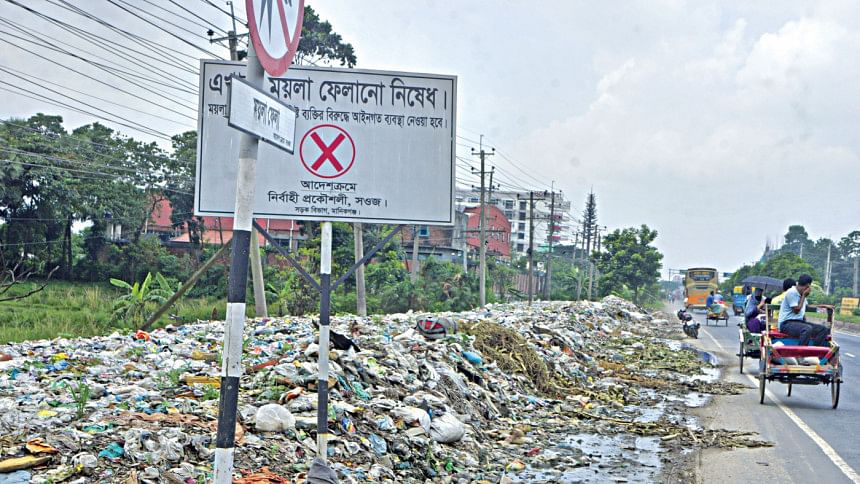 The Nabinagar-Chandra highway is one of the busiest highways in the country. But with result of indiscriminate garbage dumping along Ashulia's Palli Bidyut to Baroipara area, the area has become hazardous for both traffic movement, commuters, and locals.
It has become customary to dump garbage from households, kitchen markets, as well as industries in the areas. Despite several attempts by the Roads and Highways Department (RHD), the practise refuses to die down.
This means that the lakhs of passengers plying the area on thousands of vehicles have to sit through the stench and cope with the slow movement of traffic every day.
During a recent visit, this correspondent found garbage dumped on at least eight spots on both sides of the highway's Palli Bidyut to Balivadra area. Passengers were seen passing the area holding their nose, while an RHD signboard forbade garbage dumping in the area.
Along with garbage dumping, the road is also victim to land grabbing. In the rainy season, it basically turns unnavigable, as ditches are created all over.
Local Shumon Mia has to use the road to go to work every day. "I once got into an accident when my motorcycle slipped while moving along a pile of garbage," he told this correspondent recently.
Bus driver Abdul Jalal said passengers scold him to pass the area faster, because of the unbearable stench.
Salahuddin Khan Noyeem, general secretary of  Savar Nagorik Commitee, told The Daily Star that the problem is created as there is no permanent garbage dumping station in the area, though it houses a huge number of people, including factory workers.
Contacted, RHD Manikganj divisional executive engineer Gaus-ul-Hassan Maruf said they never authorised disposal of any garbage beside the highway.
He also said the highway's longevity is being reduced due to the garbage dumping.
The official maintaining the road is putting a strain on their coffers. "We had to spend an extra Tk 50 lakh on the highway," he said.
The Daily Star talked to Saiful Islam, chairperson of Swanirvar Dhamshona Union Parishad, the most populated UP in Ashulia Industrial area.
Saiful Islam said the situation is created from the lack of a permanent dumping station.
"The union parishad does not have the capability to build such a dumping station. We can only build it if the higher authorities come forward. We have contacted them several times in this regard," he said.
Contacted, UNO Majaharul Islam said he will look into the matter and write to higher authorities concerned.