The tale of a missing pond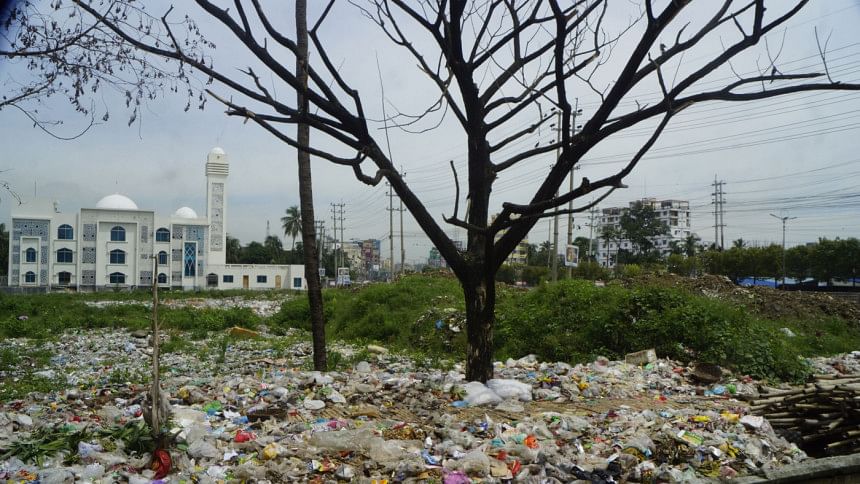 What looks like a garbage dumping ground near the Savar Bazar Bus Stand actually used to be a pond, though this might be hard to believe now.
On another 40 decimal land of the pond's embankment, an aesthetic "model mosque" has been constructed.
What's more, the upazila administration has also sent a proposal to the ministry concerned for constructing the Upazila Muktijoddha Complex on the pond's land.
Due to this sustained onslaught on the water body, the few trees that surrounded it have died.
Since 1972, the 2.52-acre pond was leased out to the Horticulture Center, but the lease expired and was not renewed in the last two years. The authorities of the centre constructed brick boundary walls on three sides of the pond except the eastern side.
Contacted, MMA Salam, deputy director of the  Horticulture wing of the Department of Agricultural Extension, told The Daily Star that the pond was being used by the Horticulture Center on lease from the district administration. But since that stopped in 2019, the pond has turned into a garbage dump.
Resident of the neighbourhood Karim Mia told this correspondent, "There's no way to tell this is a pond, with the sheer volume of garbage dumped in it. Its stench has spread across the area."
However, despite allegations, the municipal authorities and  Roads and Highways Department (RHD) denied their involvement in ruining of the pond.
Asked about the soil piled up beside the pond to facilitate road development work, Maruf Hasan, sub-divisional engineer of the RHD (Dhaka), said the department had no choice but to do it, but will soon remove it.
Some have raised fingers at the Savar municipality for continued garbage dumping into the pond.
Contacted, Mayor Haji Abdul Gani, said, "None of our employees have been asked to dump garbage there. We have a separate spot for that."
However, a notice has been issued by the municipality to stop dumping garbage in the pond, he claimed.
Meanwhile, Savar UNO Mazharul Islam said when the municipality was asked  to stop the dumping it assured positively. "As the road development work is going on, the RHD has piled some soil on the pond's land, but they too have assured us of its removal soon," he said.
Asked about future plans for the pond, Mazharul Islam said, "As the pond is not in its previous state and has already been filled up, we have taken up plans on using its land properly."
"Since we couldn't find a place for the Muktijoddha Complex, we have decided to build it here. We also have plans to beautify the area by renovating the pond."
According to sources, there once used be a total of 58 government ponds in Savar.
But due to poor monitoring, most of these ponds have been filled up, with only 25 remaining, all of whom were leased out by the administration.