The launch ride from hell
One year since Jhalakathi tragedy; trauma of a lifetime for everyone involved
On one fine winter evening, exactly a year ago, a launch named MV Abhijan-10 left Dhaka for Barguna around 6:00pm, with over 600 on board, although there was room for only 420.
A few hours later, the vessel's engine developed a few problems, and it started getting hotter every minute. Rather than stopping the vessel, the master decided to continue the journey, while staffers tried to fix the "minor" issues, or that's what they told the passengers during the time.
Soon, flames started emanating from the engine room and those on the roof saw fire coming out of the exhaust pipe when the vessel was around a kilometre off Jhalakathi Launch Terminal.
Instead of stopping at the terminal, the master kept going forward on Sugandha river until an explosion caused a huge fire around 3:00am. The launch was in Charkathi area of Jhalakathi Sadar upazila at the time.
The deadly blaze charred the whole vessel, leaving at least 49 dead, of whom 37 were from Barguna, and over 100 with burn injuries, while some remained missing.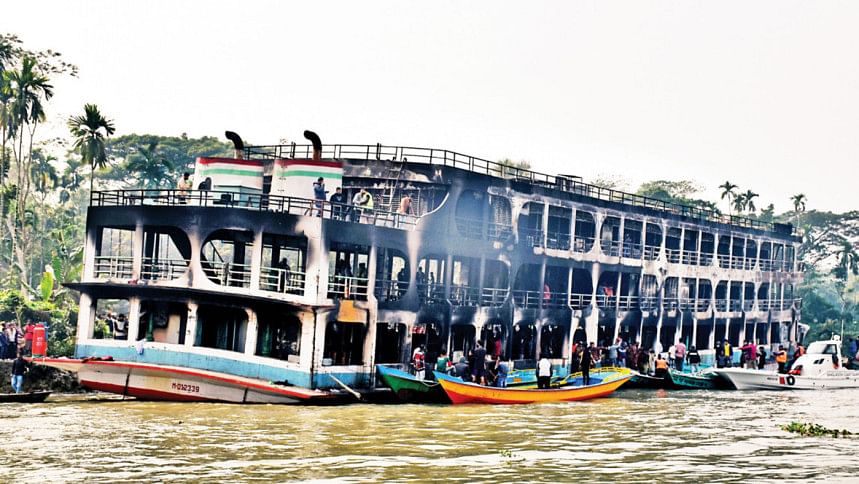 Habibur Rahman, deputy commissioner of Barguna, said 14 of the 22 victims who  remained unidentified were later identified through DNA tests.
Local authorities have not received DNA reports of eight people, Habibur said. He could not clarify the reasons behind the delay. The rest of the bodies are still missing.
THE TEARS OF RATAN BIBI
Ratan Bibi was ecstatic as she was about to meet her son Hakim Sharif and his family after a long time. Hakim and his family had boarded MV Abhijan-10 to visit her in Barguna. But they never met.
Hakim, his wife Pakhi Begum, and their 16-month-old child Nasrullah were killed in the launch fire. Their bodies were buried in a mass grave in Barguna Sadar upazila's Potkakhali area.
Hakim's three children -- Hafsa Begum, 18, Sumaiya, 16, and Fazlur Rahman, 9 -- became orphans that night. Ratan is now raising them, or rather is struggling to do so.
"We are running on loans and donations from relatives and neighbours. Hafsa is in college, Sumaiya has passed SSC, and Fazlur Rahman is a third-grader. It's difficult to manage their educational expenses," said Ratan while breaking down in tears.
"We have applied to the shipping ministry for financial assistance allocated for the victims' families. It will be handed over to them soon," said Barguna DC Habibur.
VISUALLY-IMPAIRED SON STILL LOOKING FOR HIS FATHER
Visually-impaired Hafez Mirazul Islam and his father Idris Khan were returning to Barguna on that launch following the latter's treatment in Dhaka. They were accompanied by Mirazul's mother, his wife and his only daughter. Although all of them were rescued after they jumped off the vessel, his father Idris has not been found.
"I'm the only child of my parents. Even if I had found my father's body, I would've gotten some closure," he told this correspondent.
Jannatul Ferdowsi, daughter of one Razia Sultana, is also waiting for the bodies of her mother and baby sister.
Razia and her eight-year-old child Nusrat of Barguna Sadar's Parikhal area went missing following the tragic incident.
"I pass my days waiting to see their dead bodies. If I had found my mother's grave or even a bone of her body, I would've brought it home and buried it. The DNA of 14 people matched but my mother and sister were not among them," she said.
FIRST RESPONDERS' TRAUMA
"I rushed to the river after hearing the screams of the victims. When I reached the launch with a trawler, I saw a little girl being burnt to ashes right in front of my eyes," said Md Humayun Kabir Sagar, councillor of ward-9 of Jhalakathi municipality.
Others living by the riverside shared similar stories of how the night still haunts them till this day.
"Before reaching the place, we didn't have any idea how devastating the incident was. It was the most tragic incident I've ever covered in my entire career," said Al Amin Talukder, a journalist working for a private satellite television.
Trawler driver Md Shohel Akan said, "After I came to know of the incident, I rushed to the spot amidst the thick fog, recovered many burning victims from the river and took them to the shore."
"I still shiver when I recall the night," he said.
Md Safikul Islam, station officer of Jhalakathi fire station, said, "It was the most challenging incident of my service life. There were no riverside fire stations; our rescue operations were disrupted frequently due to the thick fog."
Md Belal Uddin, assistant director of Barishal fire service station, said a proposal for establishing a river fire station in Jhalakathi has been sent to the higher authorities.
NO CHARGE SHEET YET
Manir Hossain, relative of a victim, filed a case with Jhalakathi police station over the incident, accusing eight men, including four owners of the launch. The case is currently under trial at Dhaka's marine court.
Contacted, investigation officer of the case Md Nazrul Islam said as they are yet to receive all the DNA reports of the deceased, they cannot submit a charge sheet before the court.
Two other cases were filed in Dhaka and Jhalakathi over the incident.