The hills keep vanishing
Rampant hill cutting continues in Moulvibazar under authority's nose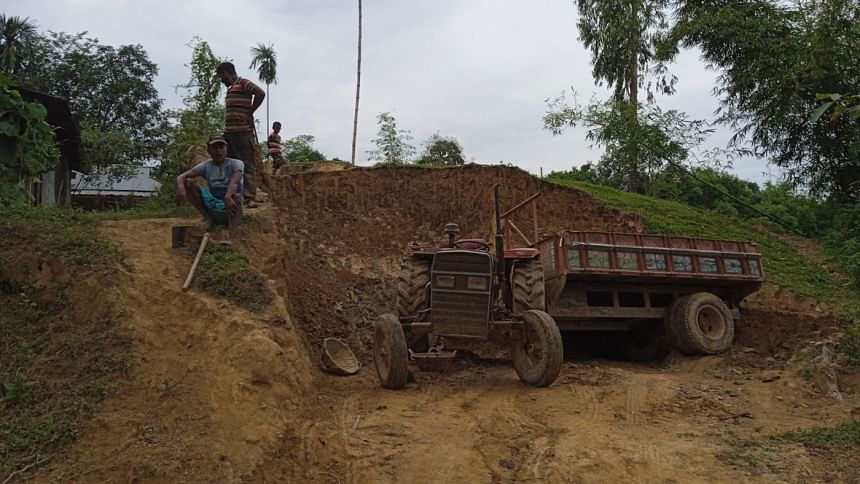 In Moulvibazar's Barlekha upazila, the hills keep disappearing, and everyone knows why. With nothing to do, residents are watching their surroundings fall apart with each passing day.
Violating environmental laws, influential individuals are cutting hills without a care in the world. Law enforcers come to stop them but leave after making underhanded deals with the perpetrators, claim locals.
When this correspondent visited different areas, including South Shahbazpur and North Shahbazpur, he found the hills being cut indiscriminately.
According to the Environment Conservation (Amendment) Act 2010, hill cutting is a cognisable offence; no government, semi-government or autonomous organisation is allowed to cut or raze hills without permission from authorities concerned.
Locals say authorities sometimes conduct raids and sentence people to jail or slap fines. Many perpetrators receive news of such raids and stop their activities for a few days. Then they return to their usual business.
On October 21, two persons were fined a total of Tk 2 lakh for cutting hills in North Shahbazpur. But that did not change the situation there.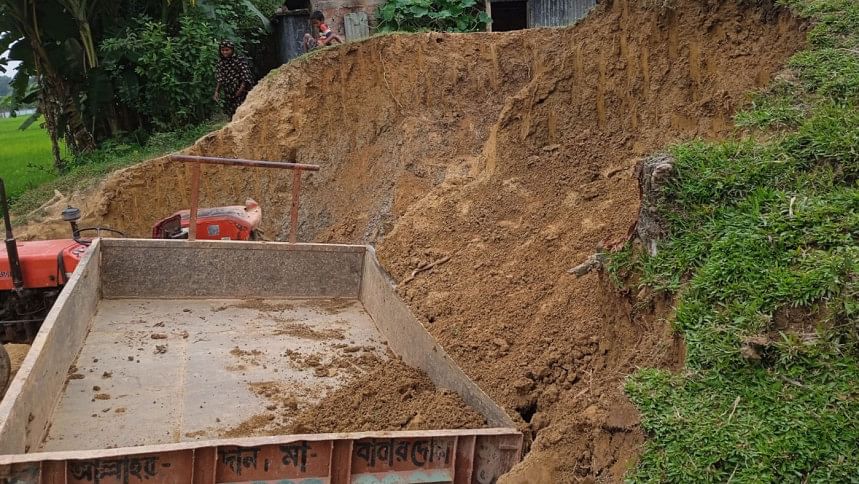 According to locals, such "public demonstrations of law enforcement" cannot really stop hill cutting. The local administration has to be stricter.
On October 23, one Faizur Rahman Faizul in Soaratal village of South Shahbazpur was cutting a hill, and a tractor of one Safar Uddin Sabur was taking the soil away.
Some of the workers there said they know about the prohibition. "We are day labourers. We came to earn our daily bread. The owner has dealt with the nearby police outpost. There will be no problem."
On condition of anonymity, the workers said Sabur invested in illegal hill cutting. Every day, the workers lift sand, and hill cutting mostly goes on in the morning. After evening, vehicles move the soil.
When asked whether the administration interferes, they said sometimes people from police and the land office meet the influentials and leave with money.
This correspondent found Sabur in the area. He said, "I'm not involved in hill cutting. Local Faizur Rahman is cutting his hill, so I gave my vehicle."
Some locals and a UP member of South Shahbazpur Union Parishad have accused Sub-inspector Masuk Ahmad, in-charge of Shahbazpur Police Investigation Centre, for taking bribes from people involved in hill cutting.
Requesting anonymity, the UP member said, "Illegal hill cutting is not stopping because of some officials of the administration. Recently, SI Masuk seized a truck but did not take legal actions for unknown reasons."
Denying all allegations, SI Masuk said, "If someone takes money by impersonating me, I will not be able to do anything." During the day, no hill gets cut, and authorities definitely take legal action if they come across violations, he added.
Shah Shaheda Akther, divisional coordinator of Bangladesh Environmental Lawyers Association, Sylhet unit, said unsustainable use of land and rampant hill cutting are two major reasons behind landslides in hilly areas.
Barlekha Upazila Nirbahi Officer (UNO) Sunjit Kumar Chanda said, "Two people were fined Tk 2 lakh last Friday. Drives to stop hill cutting are continuing. No perpetrator will be spared."
Contacted, Badrul Huda, assistant director of the Department of Environment in Moulvibazar, said they have found evidence of unlawful hill cutting.
"We have a zero-tolerance policy for hill cutting. Our higher officials assigned me recently to visit and monitor every location. We will take necessary action after investigating," he added.