In the driving seat in a man's world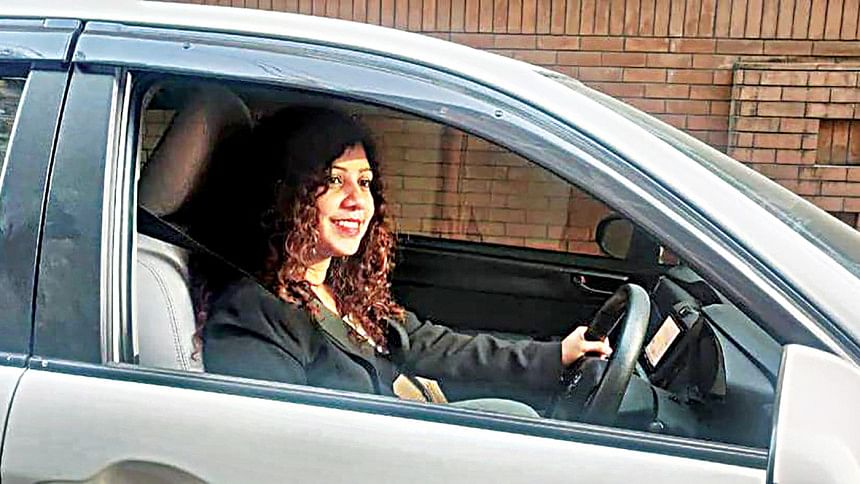 After her husband lost his job at a pharmacy in 2017, Leuza Akter Kristy's family plunged into a struggle to put food on the table.
An aspiring singer who would perform in shows occasionally, Leuza had to let go of her dream of a singing career to take care of her children.
The 34-year-old woman is also passionate about driving and bought her first car in 2007, which she would drive herself. But with the financial strains arising from the loss of her husband's job, she thought of selling the car to support her husband and children.
"But it [the car] was so dear to me that I eventually couldn't sell it. We even thought of giving it away to a rent-a-car service, but I was wary of my car getting damaged.
"A few days later, I learned that Uber started operations in Bangladesh a year ago and I immediately decided to make it my source of income as I knew driving. It was initially a challenge to convince my family as they were afraid of me driving around unknown people – knowing very well that Dhaka roads and transports are anything but safe for women.
"However, soon we all realised that if there is no food on the table, there was no point worrying about safety. They decided to let me give it a shot. I also took it as a test drive at the beginning but once I began, I started feeling the difference… I found it safe, it was time-saving, and I was earning enough to support my family."
Leuza joined in June 2017 as one of the few female Uber drivers in the country.
Since then, she has been supporting her two sons' education, her parents' medical treatment, looking after her family and job simultaneously, and inspiring other women to join Uber – many of whom have already followed her suit.
Although she initially feared negative responses, she realised that most of her passengers are pleasantly surprised to find her behind the wheel. Many of them even commented that women are better drivers, she said.
"Many men told me they felt safer [knowing I was the driver] when their wives took Uber. With a male driver, they would be nervous and either constantly be on the phone or track the location."
A religious man, however, once declined to board a car driven by a woman, she said.
"On the other hand, women get ecstatic to get me as their driver. Many even asked if there could be an option where female passengers would only get female drivers for them to feel safe and not be hounded by uncomfortable questions."
According to her, this independent profession enables her to move away from the conventional nine-to-five jobs.
"I can start work after finishing my household chores and giving time to my children. I start in the afternoon and drive till 2:00am. On days that I have other work, I can choose not to drive.
"And by driving three to four days a week, I can earn on average Tk 15,000. And if someone drives 12 hours at a stretch, they can easily earn up to Tk 6,000 a day. Uber also has a special incentive for its female drivers that helps cover fuel expenses."
Leuza also said she has not yet had any bad experience with regard to her safety. "Both Uber and my family can track my whereabouts and know who is taking the ride."
According to her, this can be a great profession for women, especially in countries like Bangladesh, where there is an existing gender gap in employment and pay, while not all working environments are women-friendly.
"Landing a white-collar job is not always easy for women. Those who, like me, love driving and have a car can easily take up this as a profession – keeping in mind that no job is big or small… In many developed countries, even female doctors sometimes take up driving to make an extra buck between shifts. Why should it be embarrassing for us?"
Contacted, an Uber Bangladesh spokesperson told The Daily Star that Uber offers lucrative incentives for women driver-partners on their platform and has forged multiple partnerships to enable more women to earn through Uber.
"Our robust in-app safety features are built keeping in mind the safety of both riders and drivers, regardless of their gender… A driver-partner like Leuza Akter Kristy inspires all of us and we hope that she serves as a role model to many other women, coming forward to join our platform for meaningful earning opportunities."
Md Ali Armanur Rahman, region head -- East India and Bangladesh -- Uber, said, "Uber is deeply committed to empowering women in Bangladesh and inspiring them to overcome social stereotypes and biases through alternate livelihood choices. This can prove to be an economic lifeline for them, providing flexible, independent and alternate earning opportunities.
"Ever since we launched our operation in Bangladesh in 2016, over 100 women driver-partners have driven on our platform. Leuza is one of our valued and highly rated women driver-partners and we are proud to have someone like her driving Uber in Dhaka."