The curious case of a submerged road
Rain or shine, 3km stretch of Tongi-Ashulia-EPZ national highway remains under water
If you are a regular commuter of the Tongi-Ashulia-DEPZ road, you must have had the experience of being stuck in heavy traffic for two or even three hours.
A lot of this can be attributed to the fact that a three-kilometre stretch of one of the major national highway has remained submerged in dirty water for the last three months, whether it's raining or not.
The road is an important pathway between Dhaka and Tangail, and as such is plied by thousands of light and heavy vehicles round the clock, which means its horrific condition is causing suffering to a substantial number of people.
As large potholes have been created along the three-kilometre stretch of the road from Norosinghopur to Shimultala, rickshaws, vans, and auto-rickshaws are frequently facing problems while moving through the area.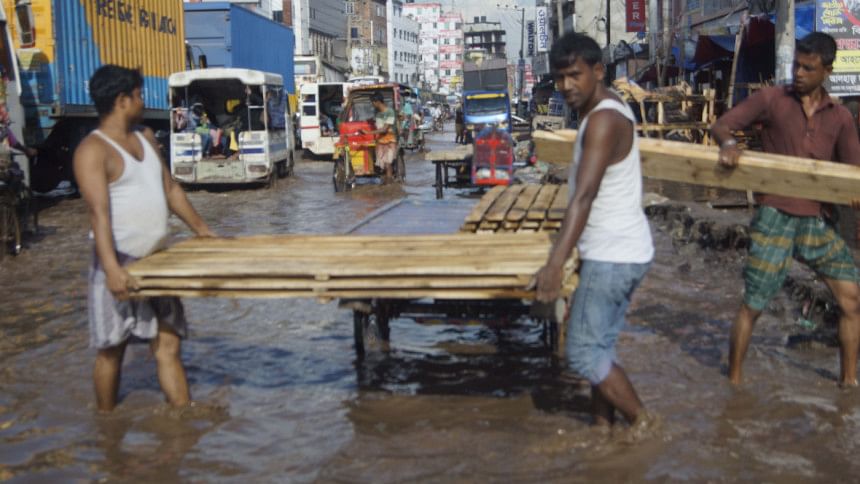 Talking to The Daily Star, locals and sources inside the Roads and Highways Department (RHD) identified the lack of a proper drainage system -- which leads to water and waste from various factory, houses, and markets to be directly discharged into narrow drains beside the road -- as the main reason.
During a recent visit, this correspondent found the condition of the road at Shimultala, Unique, Jamgora and Narsinghpur areas especially awful. Meanwhile, workers of RHD were seen repairing the road with low quality bricks, while hundreds of vehicles remained stuck in gridlock.
"I have to travel on the road every day as my job needs me to go from Uttara to Baipail," said Kamal Uddin, official of an Uttara-based buying house. "For each return journey, I have to sit through at least three hours of traffic."
Manju Ara works at a garment factory beside the road. She told this correspondent, "I walk to work everyday and have to plough through the acrid water. It's difficult as it is, and gets even harder on the days it rains."
"We do not know when this suffering will end," said Manju Ara, adding that the government should take immediate steps to improve the road.
RHD OFFICIALS BLAME FACTORY DISCHARGE AND CANAL GRABBING
Talking to The Daily Star, Abdus Salam, Savar Traffic Police in-charge, confirmed that traffic jam is being created only due to the condition of the road and water logging in Jamgarh, Shimultala and Unique areas.
"I have informed RHD officials about the poor condition of the road several times," he said. "Though they come to repair the road sometimes, they only do it with bricks."
Badiuzzaman, assistant engineer of RHD, who was a sub-assistant engineer of RHD's Dhaka Zonal office, before getting promoted and transferred recently, said locals and the factories located on the side of the road are responsible for its dilapidated condition.
"The water logging is being caused due to direct discharge of water and waste from factories, markets, shops and households into the area's drains."
He said more than 200 factories of the area directly discharge water on a narrow drain, which is one of the main reasons behind the constant waterlogging.
"We've sent several letters to these factories, but there's little we can do if they don't pay heed to our calls," he told this correspondent.
He also cited the takeover of the nearby Nayanjuli canal by influential people as another reason behind the road's condition. As the canal remains obstructed, drain water cannot flow to the river anymore, he said.
"We're constantly trying to remove water from the road, while our workers are carrying out frequent repair works," Badiuzzaman said, adding that while it is indeed the RHD's responsibility to take care of the road, locals should also be aware of their part in it.
Raju Ahmed, the current sub-assistant engineer of RHD Dhaka Zonal office, echoed Badiuzzaman.
"I went to Nayanjuli canal with a team of workers recently. It once used to be 23 to 24 feet wide, but now it has come to a mere three to four feet due to rampant grabbing," he said.
"We are currently repairing the potholes and hope to complete the works within the next five days," he told this correspondent yesterday.