The champ is getting her dream home, finally
Case that claimed ownership of land gifted to footballer Akhi's family by PM withdrawn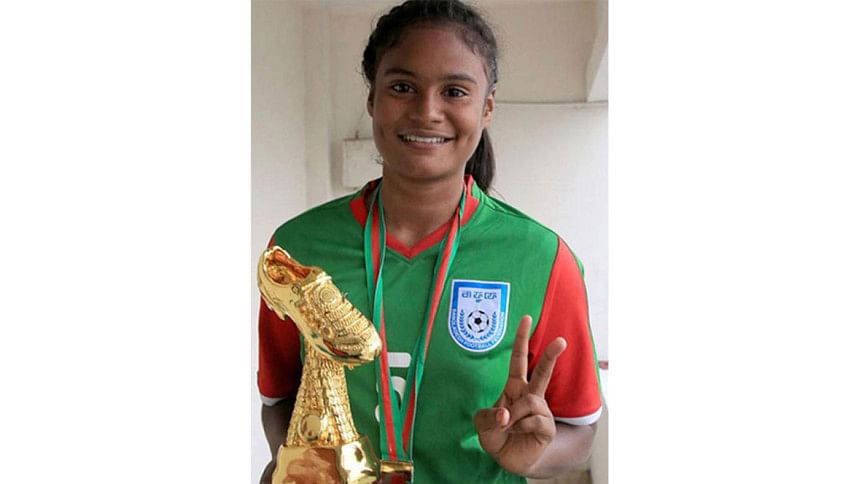 At last, a dispute regarding the prime minister's donated land for SAFF Women's Championship  winner Akhi Khatun's family has been settled.
A representative of Dabaria mosque committee in Shahzadpur of Sirajganj withdrew his case on Monday, which claimed that the land originally belonged to the mosque.
Contacted, Akhi's father Md Akter Hossain said, "We have been living in a slum-like house. After my daughter made the nation proud by playing football, the prime minister gifted us a piece of land for constructing a home we can call ours."
"But our dream almost got snatched away when a man filed a case claiming ownership of that land. Now I'm relieved hearing that he withdrew the case," he said.
Municipality mayor Monir Aktar Khan Toru Lodi told this correspondent that  the mosque used this 25-decimal land for the last few years. However, they didn't have a lease of the land.
 "When eight-decimal of that land was allotted for Akhi's family,  a mosque representative filed the case on behalf of its committee," he said.
"But when they heard that it was gifted to Akhi's family by the premier, they themselves withdrew the case," the mayor added.
He also said a grand reception awaits Akhi upon her return to Shahzadpur as she has made the municipality proud by winning the SAFF.
Shahzadpur UNO Md Torikul Alom said they have already started work on the land from Tuesday so that Akhi's family can build a house there.
"This is a wetland. We are filling it with sand first," he said.
Prime Minister Sheikh Hasina on June 4 gifted the piece of khas land to Akhi, as she won the golden boot in SAFF U-18 championship.
However, when the entire nation was celebrating another triumph from Akhi and her band of sisters for winning the SAFF championship for Bangladesh, her family was facing legal trouble over the land.
The matter came to fore after a local court on September 19 imposed section 144 on the land and ordered local administration to submit a report.
Section 144 gives power to the administration to issue an order to an individual or the general public in a particular place or area to abstain from a certain act or to take certain order with respect to certain property in their possession or under their management.
This correspondent could not get in touch with the mosque committee, despite repeated attempts.