5 years on, indigenous language books initiative yet to progress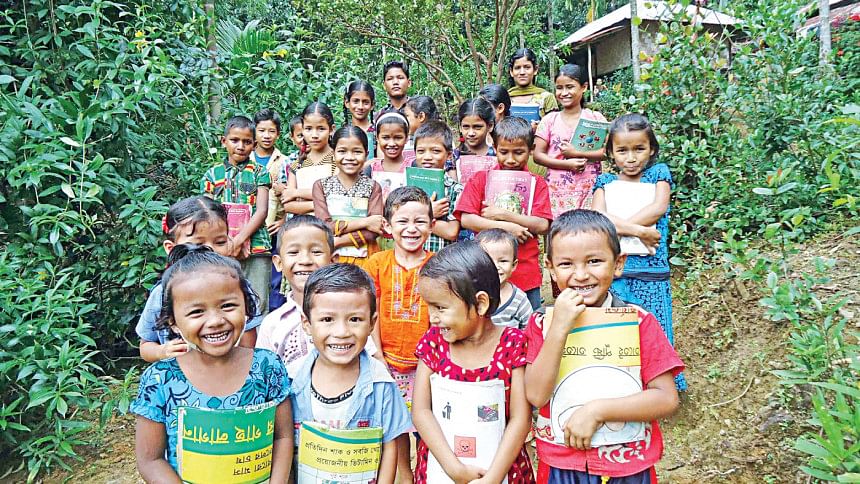 Most of the students at Sreemangal's Daluchhara Government Primary School are members of the Tripura community.
But entering the classrooms, this correspondent saw that teaching was being conducted in Bnagla. "Two-third of our students are from the Tripura community, but we only get two to three sets of books in their language," said Arun Datta, head teacher of the school.
"Last year, I only received teachers' copies for two classes, while this year we got none," he complained, mentioning that there's also no indigenous teachers at the school who could teach from the books. 
"We aren't provided any specific plans [from the government] in this regard, neither were we trained for it," he added.
But those involved with the school said students are most comfortable when they're taught in their mother tongue. "Whenever a teacher asks them to read from a Tripura language book, they show great enthusiasm," said Janak Tripura, a land donor member of the school's managing committee.
"It's their language, they know it very well," he continued. "But the teachers can't read the books themselves, and as a result cannot teach that way."
Pratiksha Debbarma, a student of the school, said, "I wish the teachers could teach us from these books, as we know the language very well."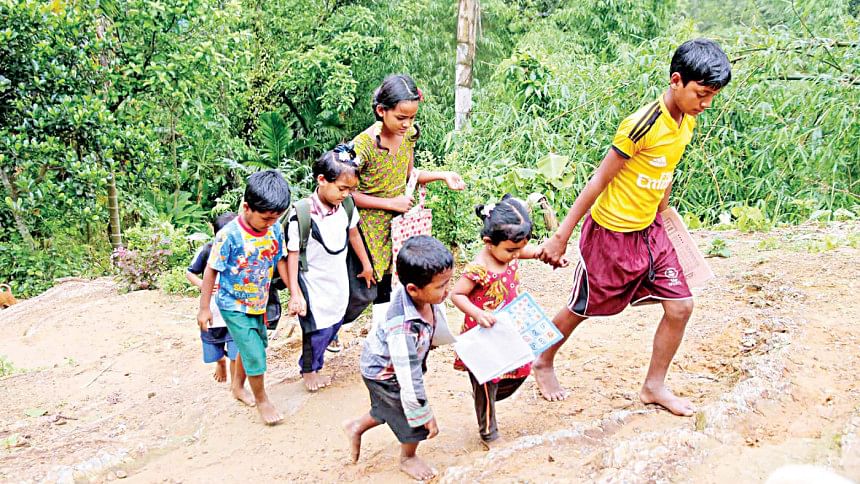 Besides Daluchhara Government Primary School, this correspondent saw the same scenario in Sreemangal's Jamburachhara Government Primary school, Bishamoni Government Primary School and Ishachhara Government Primary School in Kulaura upazila.
In 2017, the government had first introduced primary school books in indigenous languages in order to prevent dropout of indigenous students. Although the curriculum has been upgraded from pre-primary to first, second and third grades over the years, the initiative is yet to take off proper due to the lack of trained teachers.
Speaking to this newspaper, AFM Zakaria, chairperson of Shahjalal University of Science and Technology's anthropology department, said education in indigenous mother tongue is in crisis mode in the country.
He said in order to aid indigenous students as well as contribute in preserving indigenous cultures, resolving the teaching issue is a must.
Md Muslem Uddin, deputy director of primary education department in Sylhet division, said books in Tripura, Garo and Sadri languages have been distributed to 675 students in Sylhet division this year.
 "We have to talk the higher authorities about the ongoing issues marring the process of teaching in indigenous mother languages," he added.
Sanjeeb Drong, general secretary of Bangladesh Adivasi Forum, said though the initiative by the government is commendable, five years have passed without any sort of progress in this regard, which is worrisome.
"Garo language books are not taught even in my own native village," he told The Daily Star. "There is no plan or policy regarding the whole situation, neither is there any guideline on when and how to teach in these languages."
He said the government should take urgent measures to address the issue, suggesting recruitment of teachers who know or specialise in the languages as an early step. "It is necessary to make a policy in this regard, along with appropriate budget allocations for it. If not done quickly, this noble initiative by the government will surely be wasted," he added.
According to official estimates, there are 39 indigenous languages in the country, Sanjeeb said.