Teesta water crosses danger level in Lalmonirhat
Water level of the Teesta river crossed the danger level early today due to rainwater and onrush of water coming from upstream in India, inundating the riverside and homes in low-lying areas.
Teesta water has been flowing 5cm above its danger level of 52.15 metres at Teesta Barrage point at Hatibandha upazila in Lalmonirhat from 6:00am.
Meanwhile, the water of Brahmaputra, Dudhkumar, and Dharla rivers continued to rise in Kurigram, but the water of these rivers is still flowing below the danger level.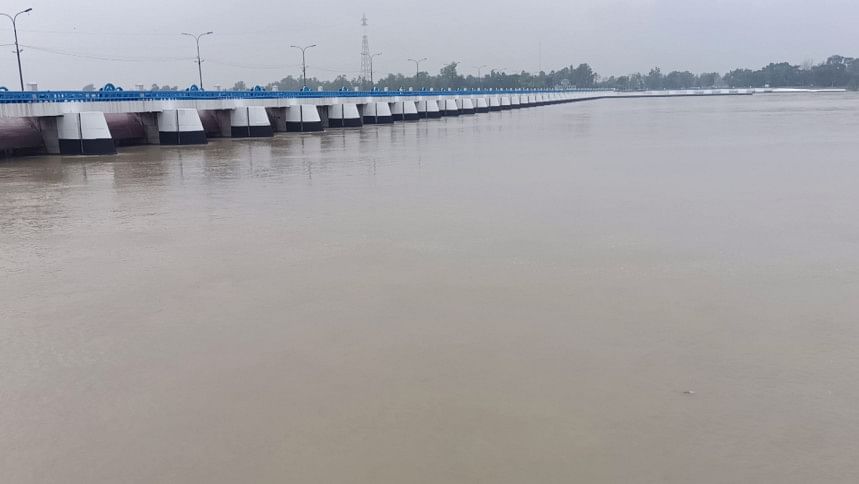 Shunil Kumar, executive engineer of Water Development Board in Lalmonirhat, told our local correspondent that due to the opening of all the gates of India's Gazaldoba Barrage, Teesta river's water in Bangladesh is increasing alarmingly. All the 44 gates of the Teesta Barrage have been opened to reduce the pressure of water coming from upstream. As the Teesta water flows above the danger level, river water has started entering the char and low-lying areas of Teesta shoal.
Nazrul Islam, 55, a farmer of Sindurna village of Hatibandha upazila, told The Daily Star that river water started entering their house since this morning. As the Teesta water rises, many char families are moving to safety in fear of floods.
Delwar Hossain, 60, a farmer of Gaddimari village of the same upazila, said that since their village is downstream of the Teesta Barrage, they are more affected by Teesta water. When the water in the Teesta rises, they are affected by floods. River water entered their village this morning. If the water in the river rises furhter, they will move to a safer location with their belongings and domestic animals.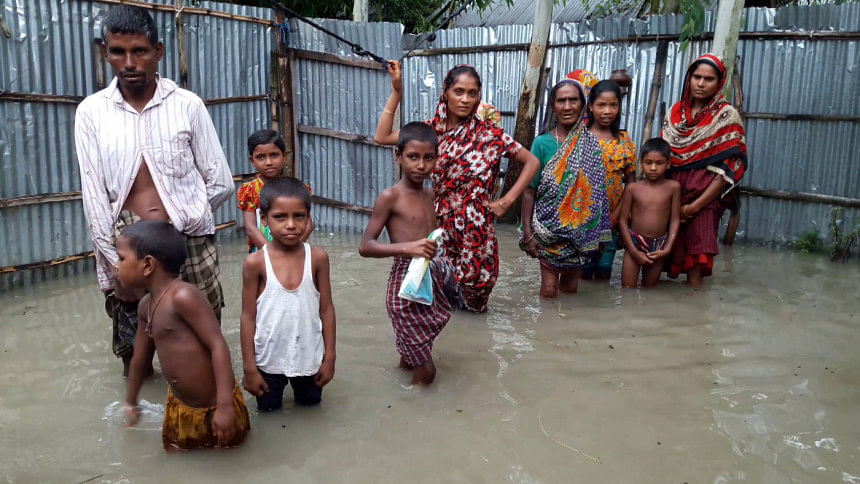 Farmer Sadek Ali, 65, of Bagdora village of Sadar upazila, told The Daily Star that the river water entered his house. They have taken shelter on the government road.
Abdullah Al Mamun, executive engineer of WDB in Kurigram, told The Daily Star that the water level of Brahmaputra, Dharla, Dudhkumar, Gangadhar rivers are all rising.
Deputy Commissioner of Lalmonirhat Mohammad Ullah said the water is rising in Teesta but a major flood situation has not yet occurred in Teesta shoal. They are prepared to deal with flood situations. Local administration and public representatives have been instructed to evacuate people safely from the danger areas.