Tea workers' wages: Many take to streets again
Block Dhaka-Sylhet highway for 2hrs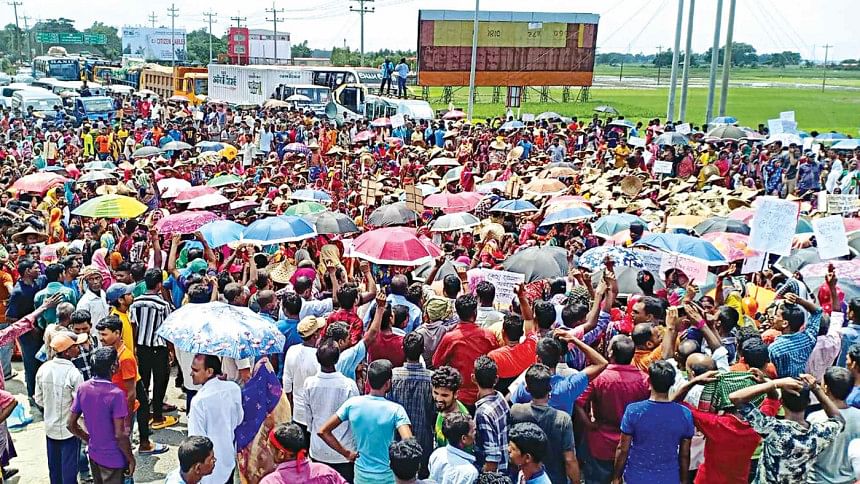 Demanding a pay hike, tea plantation workers in Sylhet, Habiganj and Moulvibazar blocked the Dhaka-Sylhet highway at least for two hours yesterday.
The protest will continue until their demand for Tk 300 daily wage is not met, said Bijoy Hazra, organising secretary of the Bangladesh Tea Workers Union (BTWU).
Hundreds of workers at 23 tea estates expressed their solidarity with the demonstration, said Aniruddha Baraik, general secretary of BTWU's Laskarpur Valley unit.
The package of Tk 145 per day has largely been refused by the workers. They vowed to continue their protest until the prime minister offers them a proper solution to the wage issue, said Kiron Suloboydo, organising secretary of the Bangladesh Tea Workers Federation.
"The tea estate managements are offering us Tk 145 per day, which is only Tk 25 higher than our current wage. We will not accept the amount," said Saroda Goala, a tea plantation worker.
"If needed, we will starve. We will not join work until our demand is met," she said.
Meanwhile, another worker Swapna Bauri said, "We work six days a week and get only Tk 600-700, with which we can't even run our family poorly. So, we will continue the strike."
BTWU General Secretary (acting) Nipen Paul said they refused the proposed Tk 145 wage a day.
"We announced to continue the strike until a wage of Tk 300 is fixed."
The workers of 167 tea estates across the country on August 9, 2022, enforced a two-hour work abstention from 9:00am to 11:00am daily demanding a pay hike.
After four days, they went on an indefinite work abstention.