Tea workers defiant
Vow to continue strike unless pay raised, stop express train in Moulvibazar
Workers of different tea estates in Sylhet, Habiganj, and Moulvibazar continued work abstention yesterday demanding Tk 300 daily wage.
A group of workers, who had resumed work in Sylhet on Monday, went back on strike yesterday.
In Moulvibazar, about 1,000 agitating workers from at least seven tea estate intercepted Sylhet-bound Paharika Express just outside Kulaura Railway Station around 4:00pm. The train left for Sylhet around 5:20pm after the workers withdrew the blockade.
Ajit Kairi, Panchayet president at Luhayuni Tea Estate, said they did not rejoin work because the central committee leaders of Bangladesh Cha Sramik Union did not instruct them to do so.
"We will join work if the committee issues instructions on its official pad, but only after ensuring Tk 300 daily wage," he said.
As the demonstrating workers continued protests at different tea estates in and around Sreemangal yesterday, the local administration was trying to solve the issue and get them back to work.
Visiting some tea estates, Moulvibazar Deputy Commissioner Mir Nahid Ahsan requested workers to rejoin work, assuring them that Prime Minister Sheikh Hasina would look into the matter.
"Upazila nirbahi officers and other officials are holding talks with the workers. I hope the workers will rejoin work soon."
Nahid said they reached a good solution in a meeting with workers' leaders in Sreemangal on Sunday night. He said the PM would soon talk to the workers via videoconferencing and fix a fair wage for them.
Around 1,25,000 workers in the country's 241 tea estates have been holding protests since August 9 demanding their daily wage be raised to Tk 300 from Tk 120.
They abstained from work from August 9-12 for two hours a day before going on a full-scale strike from August 13.
On August 21, their leaders agreed to end the strike, accepting an offer to raise the pay to Tk 145. But many workers refused the hike and continued the protest.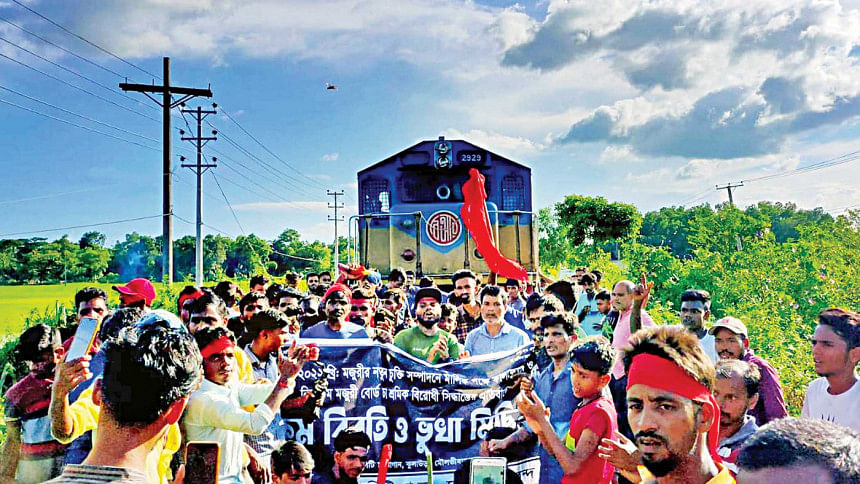 Some protesters were angry with the union leaders. Among them is Doyal Almik, who said, "Continuing the strike for 14 days, we incurred financial losses. So, no question arises of rejoining work without implementation of Tk 300 daily wage."
Biplop Mandraji Pashi, vice president of Bangladesh Cha Sramik Union, alleged that the leaders struck a "secret deal" with the owners.
"It won't work. No worker will return to work without a daily wage of Tk 300."
Rabindra Gaur, president of Bangladesh Cha Sramik Union's Habiganj Laskarpur Valley unit, said they did not join work as no clear announcement came from the government in this regard.
Siddharth Bhowmik, upazila nirbahi officer in Habiganj's Chunarughat, said the district administration will hold an emergency meeting with the workers of Chanpur tea estate this afternoon. Habiganj Deputy Commissioner Ishrat Jahan and Superintendent of Police SM Murad Ali will be present.
Raju Goala, president of the union's Sylhet valley unit, said workers of four out of 23 tea estates in Sylhet resumed work on Monday morning. They, however, went back on strike yesterday.