Tazreen Tragedy: The scars still haven't faded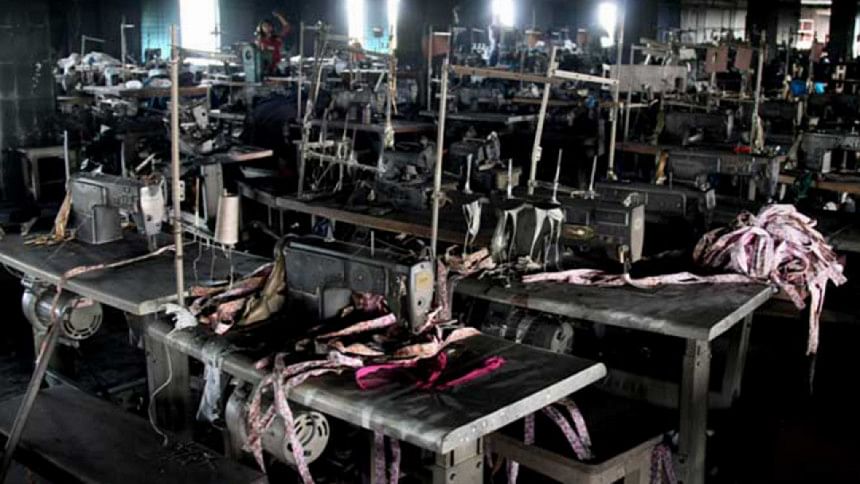 Anjuara was a worker at Tazreen factory in Ashulia. On November 24, 2012, when a deadly fire broke out at the establishment, she was working on the fifth floor of the eight-storey building.
She survived the fire with severe injuries. Ten years have passed since. Anjuara and her colleagues are yet to receive justice or any compensation.
"It was the factory authority's negligence that allowed it to happen. Over hundreds of our co-workers lost their lives, and the rest of us lost our job because of the injuries we sustained. But the government has not ensured our rehabilitation, compensation and long-term treatment," said Anjuara.
Leaders and members of at least 40 labour organisations, including Garments Shramik Sanghati, Textile Garments Workers Federation, Garments Sramik Trade Union Centre, Bangladesh Sram Institute and Bangladesh Poshak-Sramik Trade Union Federation, along with the victims and their family members and injured, paid tributes to those who perished in the tragedy,
Taslima Akter, president of Bangladesh Garment Workers Solidarity, said, "The culprits have not been punished due to the culture of injustice and cronyism."
"Even after 10 long years, the government and BGMEA could not ensure compensation for the injured workers and victims' families," said Arabindu Bepari (Bindu), president of Bipabli Garments Sramik Federation.
"The case filed over the incident remains unsolved even after 10 years. All the accused, including factory owner Delwar, are free," he added.