Tashkent wants Dhaka to buy fertiliser plants there
Offers two factories for Bangladesh's needs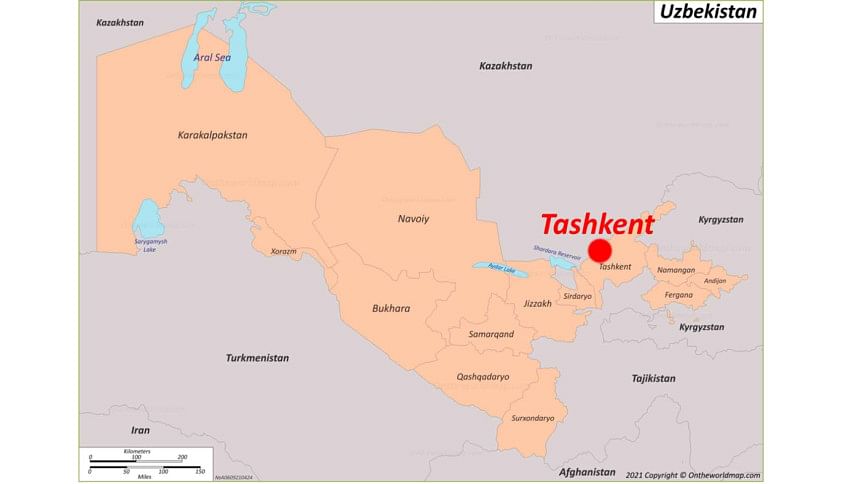 Bangladesh has received an offer from Uzbekistan of buying two fertiliser factories there and produce fertiliser as Dhaka seeks to ensure long-term fertiliser security for boosting food production.
The offer was made when Bangladesh Ambassador to Uzbekistan Zahangir Alam called on the top officials of Uzbekistan's Board of Chemical Industries in Tashkent on October 31.
"Bangladesh can buy two fertiliser factories in Fergana and Kashkadarya and produce fertiliser, subject to certain conditions," Zahangir told this correspondent over the phone from Tashkent yesterday.
Uzbekistan said that there was no bar on Bangladesh buying land, setting up fertiliser factories there and importing it, he added.
The Central Asian country has surplus gas. It produces fertiliser and exports to countries like Russia and China, and Bangladesh too can take advantage of this resource, the diplomat said.
Foreign ministry officials said Bangladesh has been looking for alternative sources of energy and fertiliser as their supplies were disrupted and prices went up in the international market due to the impact of Russia's invasion of Ukraine.
Annual fertiliser demand in Bangladesh is 55 lakh tonnes, and most of the demand is met through imports mainly from the Middle East and Morocco. Bangladesh locally produces only about 11 lakh tonnes, according to data of Bangladesh Chemical Industries Corporation.
As domestic production capacity has come down due to gas crisis, the government wants collaboration with alternative source countries.
Amid global economic recession, Prime Minister Sheikh Hasina has directed officials and ministries concerned to take necessary measures to increase food production.
Hasina discussed the possibility of joint venture projects with Uzbek Deputy Prime Minister for Investment and Foreign Economic Relations Jamshid Abdurakhimovich Khodjaev when the latter visited Dhaka in July this year.
She also stressed the need for enhancing bilateral trade and investment between the two countries.
Ambassador Zahangir yesterday said the embassy was working on understanding the details of the offer and would soon send a report to Dhaka.
"As there is ample gas reserves and the Uzbek authorities in principle agreed to that point, we hope something positive will happen," he said.
Bangladesh is also improving connectivity with Uzbekistan.
The envoy said the two countries have recently agreed to introduce code-sharing as part of greater goal of starting direct flight between Dhaka and Tashkent. An air service agreement will be signed in this regard in the next two years.
Dhaka has proposed forming a technical committee to expedite establishment of air connectivity through code-sharing, which was agreed upon by Tashkent.
Zahangir said Bangladeshi tourists now travel to Uzbekistan via Istanbul and the trip takes about 19 hours. If code-sharing is introduced between Biman Bangladesh Airlines and Uzbek Airways, tourists will be able to travel to Tashkent via New Delhi using one ticket. In that case, travel cost will reduce and the trip's duration will also be shortened to seven hours.