Taking the easy way out?
Private hospital in Savar falters with medical waste management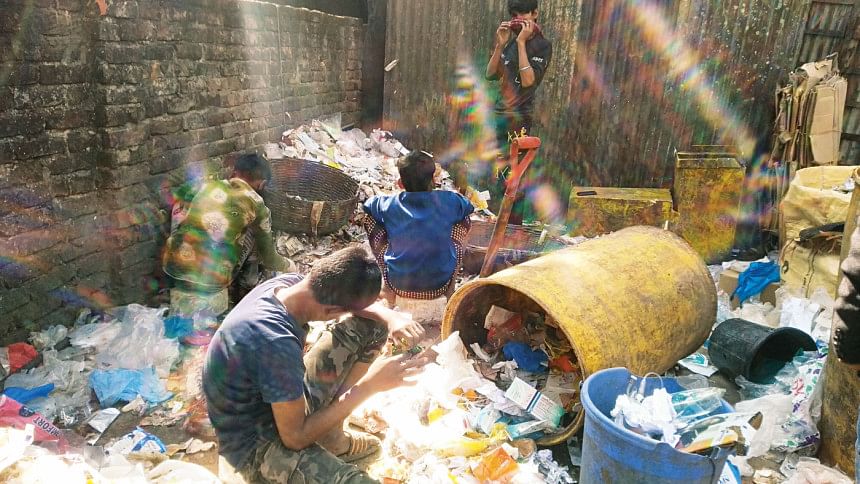 Just a few days ago, this correspondent came across four children collecting medical waste from a temporary garbage station of Super Medical Hospital, a private facility in Savar.
With bare hands, they were gathering discarded materials like saline bags, syringes and testing kits.
While it's well known that dumping medical waste in open spaces is a violation of medical waste management rules and poses various health hazards, this example helps paint the story of exactly how it can affect the most vulnerable children.
Talking to The Daily Star, one of the children said, "While separating the waste, needles pierce our hands and feet, for which we take tetanus shots three times in a year in advance."
He also said they work for one Toslim Mia, who collects all kinds of waste from the hospital.
Contacted, Toslim Mia said the hospital authorities gave him Tk 2,000 monthly for collecting their waste for the last two years. Toslim said after separating the waste, it's taken to a warehouse, from where it's sold to customers.
According to the waste management guidelines, the hospital is supposed to separate its waste into three separate bins to help with their safe disposal. But according to Toslim's claims, the hospital fails to do this and rather pays him to do it.
Md Selim Raza, managing director of Super Medical Hospital, however, said they have an agreement with Prism Bangladesh Foundation, which is tasked with collecting medical waste from the hospital every day. "We pay Prism around Tk 17,500 each month for this service," claimed Selim, adding that if any hospital worker dumps medical waste in another place, they will intervene.
Contacted, Mazharul Islam, programme coordinator of Prism Bangladesh, confirmed that they have an agreement with the hospital.
"If they (hospital authorities) give the waste to another organisation or person, they're breaking medical waste management rules," he said.
According to sources, there are more than 100 private hospitals and clinics in Savar, most of which don't follow the waste management guidelines.
While visiting several temporary garbage dumping spots under Savar municipality, this correspondent found plenty of medical waste mixed with regular garbage.
Regarding the issue, Dr Md Mostafizur Rahman, associate professor of Jahangirnagar University's Environmental Science department, said, "Dumping untreated medical waste in open spaces is a serious threat to public health as well as the environment. Medical waste producers must ensure proper waste management."
Contacted, Mobasser Hossain Md Razib, assistant director of DoE (Dhaka), said dumping medical waste in open spaces is an offense and assured of looking into the matter.