SUST admission fees nearly doubled, drawing criticism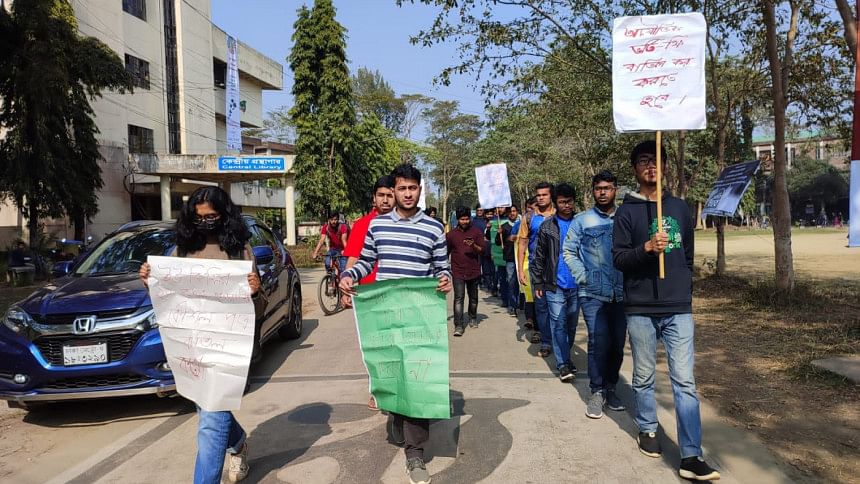 Shahjalal University of Science and Technology (SUST) almost doubled its admission fees for its undergraduate programmes for the 2021-22 session.
The admission fee was increased to Tk 15,000, which was Tk 8,060 last year.
Admission aspirants said the fees were increased all of a sudden and the admission of many students are now in uncertainty due to financial problems.
They are criticising the university authorities, saying they should have informed the students regarding the increase in fees earlier. The students had to submit Tk 5,000 as initial admission fees last month.
The university administration meanwhile said the academic council took the decision considering the fees of other universities under the cluster of 22 GST (General and Science-Technology) universities, and "to accomodate other university expenses".
After the initial admission process was completed, the university declared the date for final admission. However, out of 1,666 seats in three units, 108 seats remain vacant.
In the notification of the final admission circular, the admission committee asked students to deposit another Tk 10,000 by January 23-25 and that Tk 5,000 would be adjusted from the deposit of initial admission.
Professor Dr Md Rashed Talukder, head of the admission committee, said, "The academic council has fixed the admission fee and informed us. But I think, there will be no impact on the admission of students due to the increased fees as other universities charge even more."
An admission aspirant of the department of statistics, seeking anonymity, said, "When we deposited Tk 5,000 during the initial admission process, we thought the final fee will not be more than that of last year. But now, it's doubled, which is a huge burden for a middle-income family like ours."
Another admission aspirant of the department of forestry, preferring not to be named, said, "The university authority should have informed us that they have plans to double the admission fee. This is not a student-friendly decision and they must reconsider it."
Prof Dr Anwarul Islam, treasurer of the university, said, "SUST has been charging less than other universities in the GST cluster. As per the government instruction to reduce expenditure and increase income, and as we have many other expenses to accommodate with this admission fee, it was increased in the academic council.
"In no other country in the world, education at public universities is this cheap. Moreover, many other universities in the country charge even higher than what we have fixed. I don't think the increased fee is unreasonable. However, few students may face problems initially."
Meanwhile, students took out a rally protesting the hike in admission fees this afternoon at the university premises.