Surging inflation: Savers in a tight spot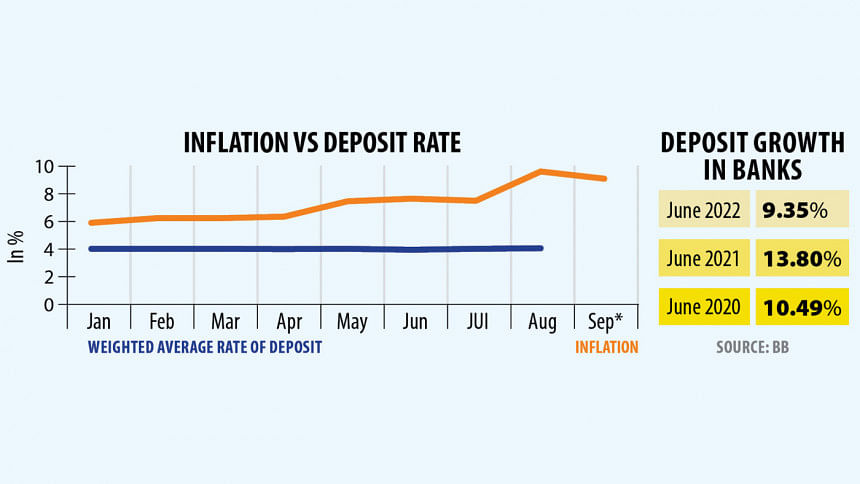 Savers are now facing losses on their deposits with banks due to surging inflation, with many solely dependent on interest earnings finding themselves in a tight corner.
Inflation in Bangladesh surged to a 10-year high of 9.52 percent in August. It, however, fell to 9.10 percent in September, shows data from Bangladesh Bureau of Statistics.
But the weighted average rate of deposits -- which is calculated based on the interest rate of all types of deposits offered by banks -- stood at 4.07 percent in August. This means the real interest rate was negative -- 5.45 percent -- as inflation was 9.52 percent that month.
The real interest rate for depositors is determined by excluding the inflation rate from the interest rate they receive from banks.
Bangladesh Bank publishes the weighted average rate of deposits every month. The data for September is yet to be unveiled.
Talking to this newspaper, a number of bankers said depositors have already turned away from banks due to high inflation, and many are forced to chip away at savings to cope with the rising cost of living.
BB data shows deposit growth in the banking sector fell to 9.35 percent in June this year from 13.80 percent in June last year.
Shamsun Nahar Rita, a schoolteacher in the capital's Mohammadpur area, said prices of almost all products rose substantially, but her earnings from deposits remained the same.
She now gets around 6 percent interest rate on a fixed deposit of Tk 5 lakh with a private bank.
"Given the price hike of commodities in recent months, I am now facing losses on my deposit at the bank. But I have no other option ...," she said.
Debapriya Bhattacharya, a distinguished fellow at the Centre for Policy Dialogue, said the central bank should withdraw or relax the 9 percent interest rate cap on loans.
Due to the cap on lending, banks cannot offer interest rate of more than 6 percent to depositors as the lenders give loans to borrowers from depositors' funds.
The BB imposed the cap in April 2020 as per a government decision.
When the cap was imposed, inflation was not a matter of concern, Debapriya said.
The central bank usually mops up money from the market to contain inflation, but the existing situation is completely different as the majority of banks now face a liquidity crunch, he said.
A hike in interest rate may not push up deposits in banks but will make it a bit easier for ordinary people to buy essentials, Debapriya mentioned.
If the BB withdraws the lending cap, banks will be able to increase interest rates on deposits, he added.
Naser Ezaz Bijoy, chief executive officer at Standard Chartered Bank Bangladesh, said  if the BB relaxes the interest rate on consumer loans, it would give the lenders room for offering higher interest rates to depositors.
About the interest rate cap on lending, Ahsan H Mansur, executive director at the Policy Research Institute of Bangladesh, said the surging inflation may compel the BB to withdraw it.
BB'S EFFORT TO CONTAIN INFLATION
The central bank on September 29 raised its benchmark interest rate (policy rate) by 25 basis points to 5.75 percent to tackle inflationary pressure.
This was the third hike since May 29, an unprecedented move on the part of the BB, as it never revised the rate upwards multiple times in such a short time.
The policy rate, also termed the repurchase agreement (repo), is a pivotal benchmark interest rate that commercial banks follow in fixing the interest rates on both loans and deposits.
Quoting the rate, cash-strapped banks take short-term loans from the BB and disburse them among borrowers.
But economists said the BB's effort would not bring any positive results in containing inflation unless the interest rate cap on lending is withdrawn.
Though a hike in repo rate makes funds costlier for banks, it will not have any impact on the end-users due to the cap on lending.