Strengthening partnership on green transition
Bangladesh, Denmark sign framework document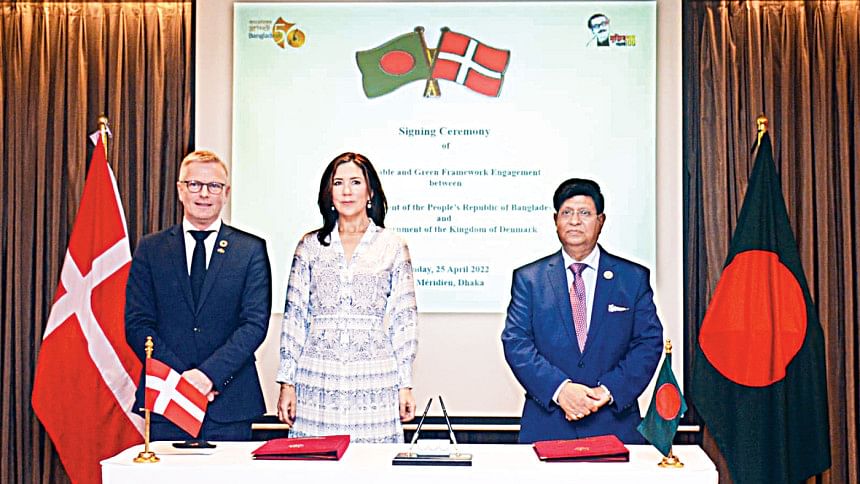 Bangladesh and Denmark yesterday agreed to strengthen partnership on climate and green transition, as Bangladesh aims to get 40 percent power from renewable energy by 2041.
It is just 3.5 percent now.
Foreign Minister AK Abdul Momen and Danish Minister for Development Cooperation Flemming Moller Mortensen signed Sustainable and Green Framework Engagement document at a city hotel towards this end.
Denmark is the first country to enter into a "framework engagement" with Bangladesh. Under it, Denmark will provide knowledge and technology towards attaining a sustainable and greener future for Bangladesh, said a joint statement.
This development takes place when Crown Princess Mary Elizabeth of Denmark is on a three-day visit to Bangladesh. She is scheduled to go to Rohingya camps in Cox's Bazar and climate vulnerable communities in Satkhira.
"Denmark would support Bangladesh to check environmental degradation in Cox's Bazar caused by huge influx of Rohingyas from Myanmar," Momen told reporters after a meeting with the Danish minister.
"Denmark has expertise in renewable energy, especially in wind power. They will oversee the potential of wind power here, and under this framework, they will support us," Momen said, terming the framework document a landmark.
The cooperation will bring all instruments into play, ranging from diplomatic action and development cooperation to climate funding and investments, trade and private sector relations, including public-private partnerships, he said.
Mortensen said signing the document signals that the two countries are ready to "walk the talk" on the commitments made in the Paris Agreement.
Dhaka and Copenhagen would also like to work together in the fishing and blue economy areas.
Momen also urged Copenhagen to firmly raise the Rohingya issue at the UN Security Council, as Denmark is going to become a member of the council.
Yesterday, the crown princess and Mortensen paid a courtesy call on Prime Minister Sheikh Hasina at her official Gono Bhaban residence.
Quoting the Danish minister, prime minister's press secretary Ihsanul Karim said they discussed stronger cooperation on renewable energy, technology transfer, Rohingya crisis and women empowerment.
Noting that Bangladesh is a country vulnerable to climate change, Hasina said the government has formed a climate trust fund, and some special programmes have been taken to face the adverse impact of climate change.
The prime minister said her government has developed Bhashanchar as a liveable place, as part of the plan to shift Rohingyas there.
The Danish minister commended Bangladesh's huge development and described it as a development miracle. Bangladesh has earned high level of respect in the international community.
Mortensen said businessmen and entrepreneurs of Denmark are now interested to invest in various sectors of Bangladesh.