Stop denial
Families of disappearance victims urge authorities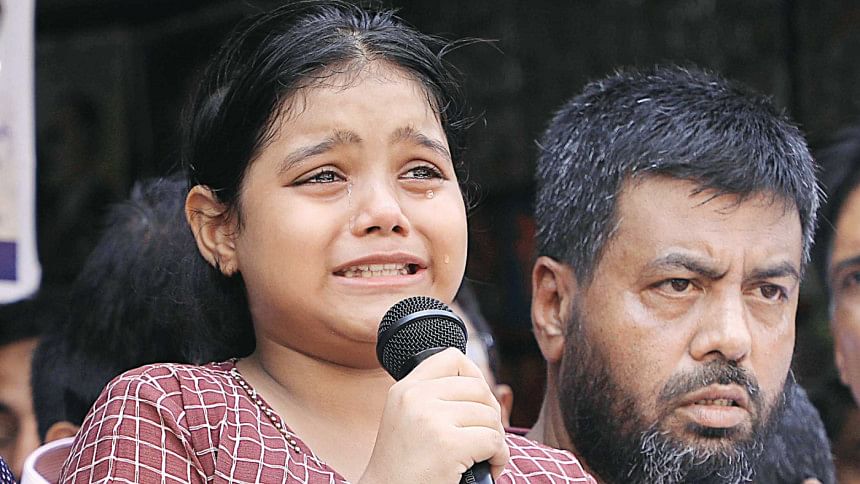 More than nine months after being allegedly picked up by men in plainclothes, Imam Mahadi Hasan Dollar returned home on Saturday, but he has not talked publicly about his ordeal.
His wife Mumta Hena Pinky had alleged after his disappearance that Dollar was picked up on November 6 last year from Mymensingh by men in plainclothes.
The family had organised a press conference on April 4 this year and publicly alleged that Rab was keeping Dollar, based on his mobile phone's last known location.
Dollar's younger brother Rezvi had said they tried to locate Dollar's cell phone using an application available on all iPhones.
The app that helps recover lost or stolen devices located the phone inside the Rab-1 compound, Rezvi said.
He had shown a screenshot taken on December 12, 2021, showing the location. In another screenshot, the phone was shown in Shayesta Khan Avenue, the road next to the compound.
But family members who had once implored the law enforcement agency to return their loved one, are now quiet.
"My brother is still recovering and not willing to talk to anyone," Rezvi said on Monday.
Dollar returned just three days before the International Day of the Victims of Enforced Disappearance, otherwise the family would have been one of the many gathered at Shahbagh yesterday to demand that their loved ones be returned.
"We want all our family members to be returned to us the way Dollar has been returned," demanded Sanjida Islam Tulee, the coordinator of Mayer Daak, a platform for the families of victims of enforced disappearance. Tulee's brother Sajedul Islam Sumon, a Bangladesh Nationalist Party leader, became a victim of enforced disappearance nine years ago.
"We want immediate release of the detainees from the secret detention cells. The authorities should stop their denial," said Tulee.
Such secret detention cells must be abolished, said Mahbubur Rahman Manna, the convener of Nagorik Oikyo.
"I once spent 40 hours inside one of these cells, so I know what the conditions are like inside," he said.
The mothers, wives, sisters and daughters of Mayer Daak yesterday took to Shahbagh to once again call out to their loved ones who had been picked up and never returned.
In the searing heat, the feeble Saleha Begum stood behind a banner, propped up from either side by others, as she demanded that her son be returned to her.
Her son Moazzem Hossain Topu, the Rampura thana president of Bangladesh Chhatra League, was allegedly picked up from Bashundhara in 2016.
"His father has already died waiting for him, and I too am on the same path," cried Saleha. As her voice trailed off, her companions led the ailing old woman to the shade of a nearby tree.
Anisha, the teenage daughter of Ismail Hossain Baten, a timber trader from Mirpur who was allegedly picked up in 2019, posed a question to the prime minister, "You understand the pain of losing a father … do you understand my pain?"
Nur Khan Liton, executive director of Ain o Salish Kendra, demanded independent probe into the cases of enforced disappearance.
"Bangladesh should ratify the International Convention for the Protection of All Persons from Enforced Disappearance," he demanded, referring to the international treaty initiated by the United Nations in 2007.
"All those involved in this crime should be identified and tried," demanded the human rights activist.
BNP organised a separate programme at their party office in Paltan to mark the day since many of the victims of enforced disappearance were politically linked to the party.
At the event, eight-year-old Safa, whose father Md Sohel was the president of the Bangshal thana unit of Bangladesh Chhatra Dal, spoke about never having been able to see her father who was taken away when she was in her mother's womb.
BNP Secretary General Mirza Fakhrul Islam Alamgir addressed the families of the victims and said, "You are not alone. You have the whole of Bangladesh supporting your struggle."