Soybean oil prices soar
Likely to go up even more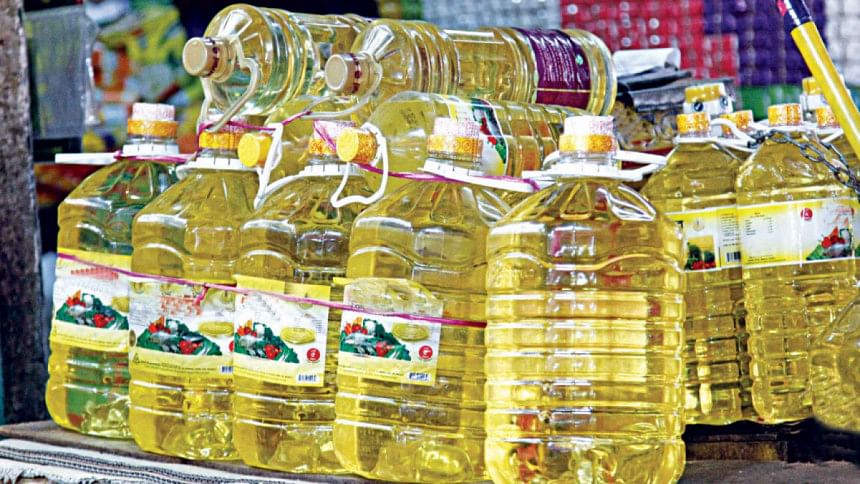 Prices of edible oil further increased at retail yesterday amid refiners move to sell the essential commodity at higher rates.
Yesterday, traders in some places in Dhaka and Chattogram cities sold 5-litre bottles of soybean oil for as much Tk 775. A week ago, consumers could buy the same bottles for Tk 760 each. Prices of one litre bottle of soybean oil also went up slightly at some kitchen markets in the two major cities.
"Companies have told us that prices of 5-litre bottles of soybean oil could go up to Tk 820. We have to place orders considering the new price," said a salesman of a store in Agargoen Banik Sambay Market of Dhaka.
"If we confirm the orders, we have to sell the oil at that high price," he added.
The market for the edible oil, which Bangladesh has to import to meet 90 percent of its annual requirement, sees fresh spikes although the commerce ministry said prices would not increase until the first week of February.
Soybean oil with new prices will be available in the market in 5-7 days, said a top official of Tk Group, one of the major importers and processors.
Biswajit Saha, director for corporate and regulatory affairs of City Group, one of the largest importers and processors, said refiners fixed each of bottle of soybean oil at Tk 165.
Officials of two refiners also said they decided to sell soybean oil at Tk 165 per litre.