A young agro enthusiast helping farmers in Tangail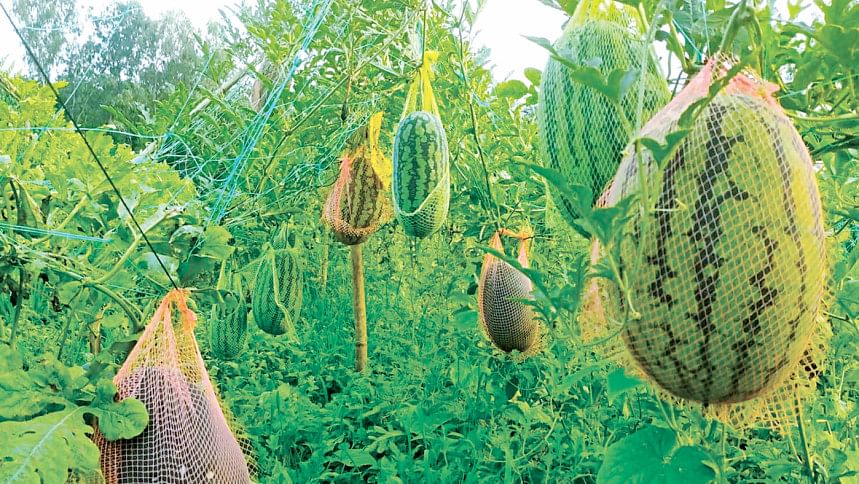 When the pandemic hit and in-person classes at universities were suspended, Shakil Ahmed, then a final-year student of agriculture department at Noakhali Science and Technology University, had returned home.
But he refused to sit idle, and so, asked his father for a plot of land to farm squash.
The yield was massive as he followed modern methods. After that, he cultivated more vegetables and fruits, including cucumber, melon and watermelon on more land. This time too, he received his expected results. Other farmers of the village were surprised and came to see how he was making it all possible. They started seeking Shakil's advice on their own farming methods. 
Now a master's student in the soil science department at Bangladesh Agricultural University, the 26-year-old is teaching other farmers at Gamjani village in Tangail's Delduar upazila various modern farming techniques. He is educating them on producing more crops at a low cost using modern methods and cultivating each crop at the right time.
Jahidur Rahman Jahid, a resident of the village, said he was sitting at home unemployed after returning from Malaysia because of Covid-19. "Following Shakil's advice, I received a good yield by planting squash in my land. He also showed me how I can profit more by cultivating wheat or maize instead of paddy," said Jahid.
 Abdul Latif Miah, a farmer from Gamjani village, said, "When I wanted to cultivate maize on my land, Shakil showed me that I can cultivate potato as an associate crop with maize."
Shakil said, "Farmers are the lifeblood of our country. They are very hard working. However, they are still very neglected. Our soil is also very fertile. But most of the farmers are still cultivating in the old way."
 "Many farmers still don't know when to cultivate any land. Many of them aren't aware of the quantity of fertilisers or pesticides they should use. In most cases, they do what fertiliser or pesticide vendors suggest, and often don't have money in hand. The government's agriculture department has a lot to do for them," he added.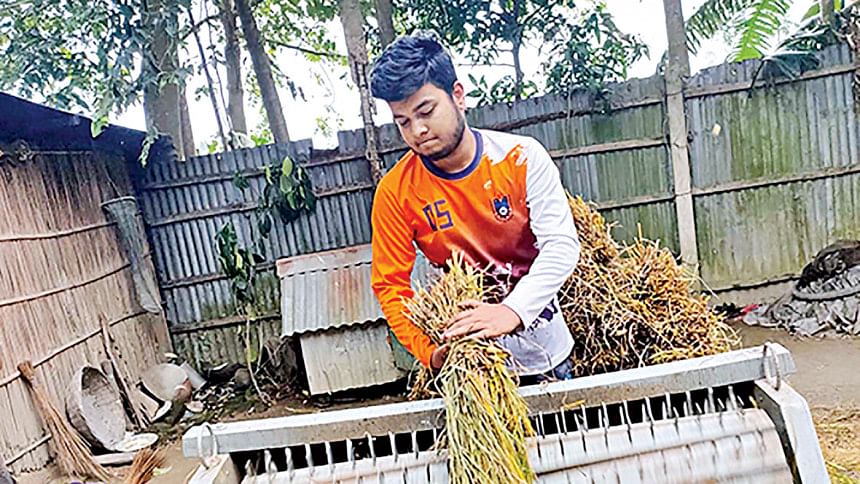 In the meantime, when the story of Shakil's agricultural achievements spread in the area, the upazila's agriculture officials came to inspect the field and praised his work.
This year, Shakil has planted watermelon, rock melon and honey melon on his land, and the yield has been good. In just two days after the start of harvesting, Shakil has sold fruits worth Tk 40,000.
"My intention was to cultivate these high-priced, delicious fruits since they had to be imported to Bangladesh. My aim is to reduce import dependence and spread this farming knowledge among marginal farmers across the country through my firm (Startup Farmnet Asia)," Shakil said.
"I have been successful since many who have tasted the fruits are now coming directly to my land and purchasing them. This is also creating interest among farmers in my area," he further said.
Delduar Upazila Agriculture Officer Shoaib Mahmud said, "If educated youths like Shakil get involved in agriculture, we will see further development in our country."