Sonai river: A victim of greed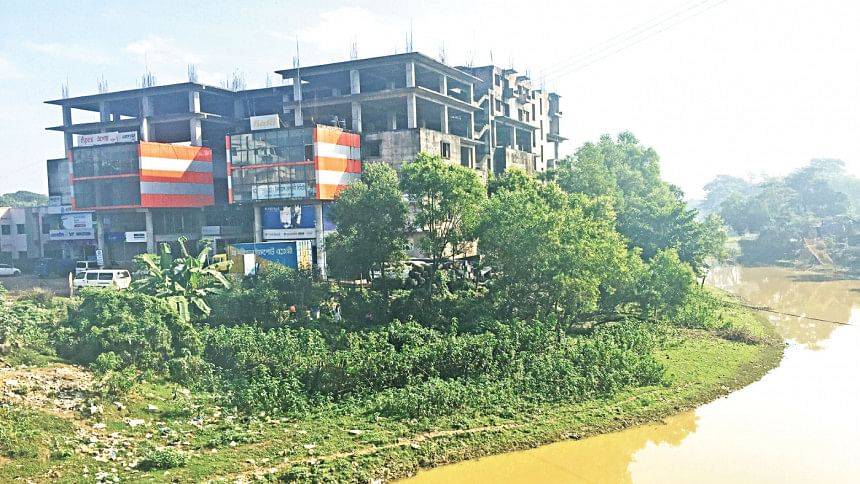 Sonai river, which flows through Madhabpur upazila in Habiganj, has almost turned into a canal due to illegal occupation and dumped trash. It now acts as a narrow drain carrying hazardous pollutants to the haor area.
Abdul Qayyum (56), environmental activist and a resident of Madhabpur's Shahpur area, said in the past, people from different upazilas, including Nasirnagar, Lakhai and Ajmiriganj, used to travel to and trade around Sonai river.
This was back when the width of the river was about 250 metres, but it has almost halved now. Its depth, presently five metres, is declining as well, as it hasn't been excavated for a long time.
"An influential circle is constantly extracting sand from the river, which is also changing its course," said Qayyum.
"The image of the most visible occupation of Sonai river can be seen in the upazila town itself. Saiham Group has built a huge building for 'Saiham Future Park' there," he added.
Sheikh Md Kamal Mia, a resident of the area, said fish can no longer be found in the river's discoloured water, thanks to  toxic waste dumped from nearby factories.
"Factories on the riverbank are also causing serious air pollution, resulting in people living nearby getting respiratory illnesses," said Dr Ali Ahsan Chowdhury Pintu, a resident of Habiganj town.
When Bangladesh Poribesh Andolon (Bapa) repeatedly protested against installing Saiham Future Park, the river commission, after several visits, instructed the district administration to evict it. But the eviction order wasn't followed through.
River pollution has not stopped even after repeated protests, Khowai river waterkeeper Tofazzal Sohel told this correspondent.
"Four or five days ago, Bapa Sylhet chapter's general secretary Abdul Karim Kim and I went to visit Sonai river. If the negligence persists, this river will die," said Tofazzal.
"We have held a public hearing on the pollution and grabbing of the river," said advocate Shah Shaheda Akhter, Sylhet's regional coordinator at Bangladesh Environmental Lawyers Association.
Fayez Ahmed, director of Biswas Builders, the company in charge of Saiham Future Park's construction, said, "We have constructed the building there as per the law."
Contacted, Md Mohiuddin, assistant commissioner of land in Madhabpur, said, "Illegal occupants have already been evicted from the Madhabpur municipal market part of Sonai river."
An eviction drive is currently being carried out in Madhabpur to recover  illegally occupied government land. The river will also be enlarged according to the map, said UNO Sheikh Moinul Islam Moin.
Meanwhile, Water Development Board has started demarcating the river.
Sharif Jamil, general secretary of Bapa's executive committee, said, "Sonai is an example of how the rich deltaic characteristic of the entire country has depleted during the economic growth over the last one decade."
"Ignoring the common people in decision making, implementation and accountability mechanisms is the root cause of such occurrences," he added.