Smart Haat: Digital cattle market gaining popularity amid Covid surge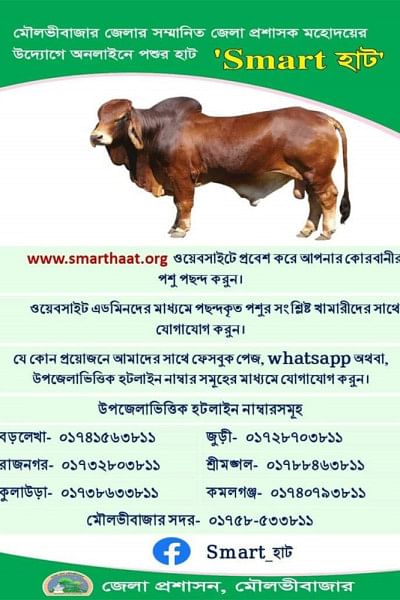 Smart Haat, an innovative digital cattle market in Moulvibazar, has started selling sacrificial animals online in an attempt to reduce the health risks of the buyers and sellers. 
The digital platform is gradually gaining popularity among the local buyers and sellers.
Moulvibazar district administration has launched the online platform, with a hotline number, in all the upazilas of the district.
According to the district administration, detail information including description of the sacrificial animals, videos, still pictures, weight, prices and even names and addresses of the sellers or farmers are added in the website.
Buyers and sellers will be able to complete their cattle purchase from home using the website.
Sobhan Mia, a farmer from Pachgaon village in Rajnagar upazila, said he sold one of his cattle in the online based platform on Saturday without any hassle.
Usually they have to stay with their cattle during the haat day.
Humayun Ahmed, a retired college teacher in Kulaura upazila, said the ongoing coronavirus infection rates are so high that managing sacrificial animal market is very risky.
Arranging such online cattle market is a timely taken initiative and also important to curb the public gathering and avoid health risks, Humayun added.
Like Sobhan and Humayun many locals said the innovative platform has made buying and selling of sacrificial animals much easier and risk free.
Moulvibazar Deputy Commissioner (DC) Mir Nahid Ahsan said a buyer can avoid the crowds by visiting the website www.smarthaat.org and select his favourite animal from different types of sacrificial animals for sale.
Then he will be connected with the seller directly through the website admins, He said.
Besides, there will also be an upazila-based hotline number so that buyers and sellers can communicate with each other, the DC added.