A small victory for a solo protest
Shohoz fined for irregularity after Mohiuddin Roni's complaint, 2-week-long protest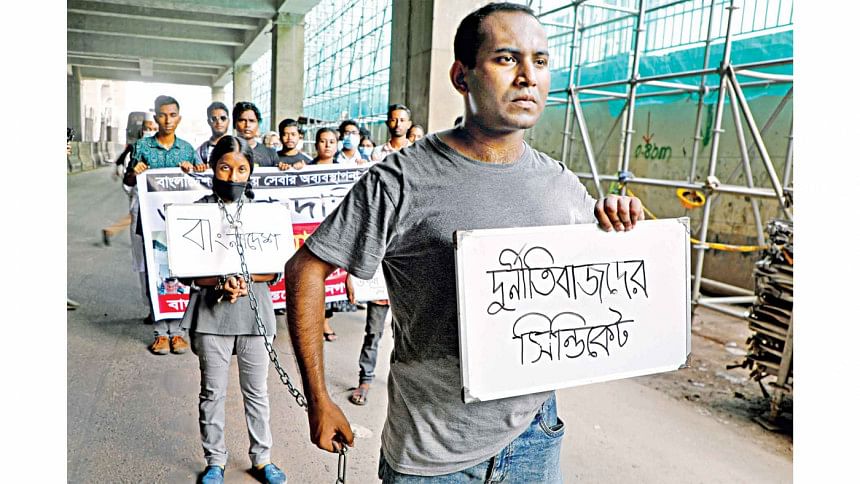 The Directorate of National Consumers Rights Protection (DNCRP) has fined e-ticketing platform Shohoz Tk 2 lakh for negligence in selling train e-tickets, more than a month after a complaint was filed by Dhaka University student Mohiuddin Howladar Roni.
The fine was imposed yesterday at a hearing -- under the Consumer Rights Protection Act-2009 -- on the complaint filed by Mohiuddin, DNCRP Director General AHM Shafiquzzaman said at a press briefing at his office. "Shohoz's negligence has been proved in the hearing. Shohoz has to pay the fine within the next five working days," he said.
The company has also been directed to submit a report on how they operate the e-ticketing system as DNCRP wants to review the whole e-ticketing process with support from technical experts. Mohiuddin will get 25 percent (Tk 50,000) of the amount.
Mohiuddin, a senior-year student of theatre and performance studies at Dhaka University, has been protesting alone in Kamalapur station against the irregularities in the railway for nearly two weeks now.
He started his solo protest on July 7 after the authorities' inaction for three weeks since the filing of his complaint on June 14.
According to Mohiuddin's account, he made a payment on June 13 on shohoz.com to purchase four tickets of Silk City Express for travelling from Dhaka to Rajshahi. Although the amount was deduced from his bKash account, neither did he get a notification receipt nor the e-tickets afterwards.
The company has the provision to challenge the verdict in the next five working days, said Shafiquzzaman. Lawyer Mirza Ragib Hasnat, who is representing Shohoz, said they will challenge the verdict. Ragib claimed the complainant failed to produce enough evidence in support of his complaint.
Talking to reporters at the briefing, Mohiuddin expressed his satisfaction with the verdict. "It was one of my six demands, I will continue my protest for the other five," he said. His other demands include the end of mismanagement in selling train tickets, stern action against irregularities, the end of black market purchases and ensuring the purchase of an equal number of tickets both online and offline.
Meanwhile, the High Court yesterday asked Deputy Attorney General AKM Amin Uddin Manik and ACC lawyer Khurshid Alam Khan to inquire about Mohiuddin's protest and inform what steps have been taken about the issue. Justice Md Nazrul Islam Talukder and Justice Khizir Hayat delivered the order following a photo of Mohiuddin and a caption about his movement published on The Daily Star.
DAG Amin Uddin Manik said he will talk to the ministry and inform the HC bench on the steps taken.
Meanwhile, train operation from Dhaka to other destinations was disrupted for three hours yesterday as students demonstrated at the airport rail station for not getting tickets. According to a BR official, the students withdrew their demonstration after rail authorities decided to run the Rajshahi-bound Silk City Express on July 24 to facilitate Rajshahi University admission test candidates.