Small steps of empathy, long strides for change
Do Something Foundation's innovative solutions for people in need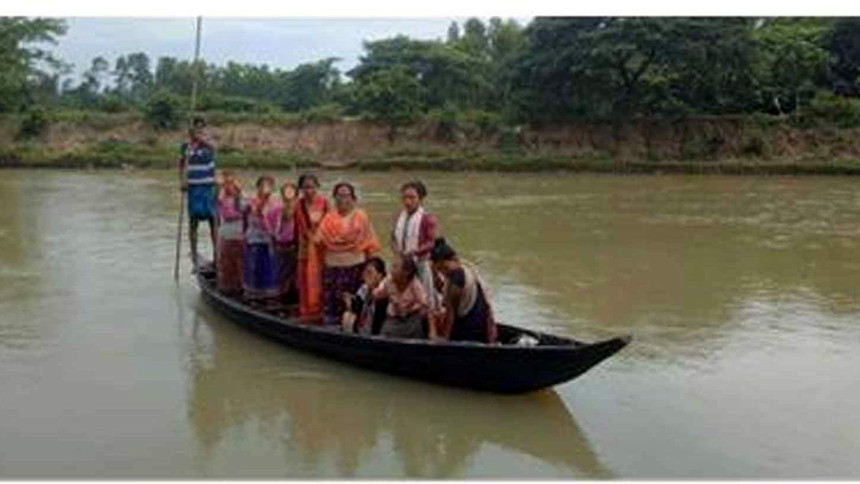 For years, members of 30 Garo families living on the bank of Ganeswari river, near India's Meghalaya border in Netrakona, had to make a laborious journey to cross the river and go to the mainland.
They either had to wade through knee-to-waist-deep water or just swim, depending on the river's water level.
But a simple gesture of "Do Something Foundation" -- which donated a medium-sized, wooden boat -- has ended their chronic sufferings.
"Now we, the women, don't need to fold up our dresses or swim during monsoon to cross the river," said Sarothi Ghagra, a 50-year-old Garo woman, while describing how the boat, received last month, has helped her underprivileged community.
In late June, a team of the foundation's volunteers learnt about this community's troubles when the volunteers went to the area to distribute relief among 400 flood-hit families. This is not the only example of some of the foundation's activities.
In 2016, it started its journey by establishing the first "O A Ka Kha School" for slum children in Savar. Ten students of Gonoshasthaya Samaj Vittik Medical College were behind the initiative.
Including this one, the foundation now runs four such schools in hard-to-reach areas of Satkhira and chars by the Jamuna in Sirajganj and Bogura.
"Our strategy is to respond to problems faced by individuals or any community -- especially those underprivileged, living in hard-to-reach areas -- and provide a long-term solution," Dr Nazmul Islam, the foundation's co-founder, told The Daily Star over the phone, while he was treating patients in their 55th medical camp in the flood-hit, remote Madhyanagar in Sunamganj.
Since the latest flood hit Sylhet division, volunteers of the foundation have so far distributed relief among hundreds of flood-affected people, mainly those living in remote areas.
"We don't have any big funds. As soon as we receive a request for help or learn about issues, we throw proposals to donors. We also help donors spend their aid as per their will," Nazmul said.
This initiative of young medical students has already given birth to many heart rendering stories through providing support to the poor, those with physical disabilities, as well as underprivileged women and minorities.
Last week, an elderly widow in Nilphamari received the foundation's 410th donated tube well. Rangpur's Jaheda Begum, whose husband has mental disabilities, received a sewing machine.
Zahima Akter of Nilphamari, who has physical disabilities, received the foundation's 431st donated wheelchair, and rickshaw-puller Dulal Mia received its 75th donated home in Panchagarh.
These are just some examples of Do Something Foundation's activities.
So far, over 30,000 people have received food and warm clothes from the organisation.
The three water plants set up by the foundation in Gabura and Koikhali unions in Satkhira's Shyamnagar -- a coastal and hard-to-reach area where many women suffer health complications due to salinised water -- are arguably the most unique initiative of the foundation.
As many as 15,000 people collect drinking water from these plants at a rate of Tk 1 for five litres every day.
In June and July last year, when the country's Covid-19 patients were gasping for oxygen, the volunteers carried oxygen cylinders and provided treatment support for around 440 Covid patients in 54 districts.
The foundation has also been providing ambulance services to patients for free or with minimal charge.
"Our organisations -- Abundance of Goods Inc and Buet'88 Club -- implemented many projects successfully through Do Something Foundation. We appreciate the organisation's utmost sincerity and efficiency in carrying out these humanitarian activities," said Mohammad Abdul Moqaddem, director general of the Department of Telecommunication, who is a well-wisher of the foundation.