Sizzling for three straight months
Average monthly temperatures in Bangladesh break records, rainfall dips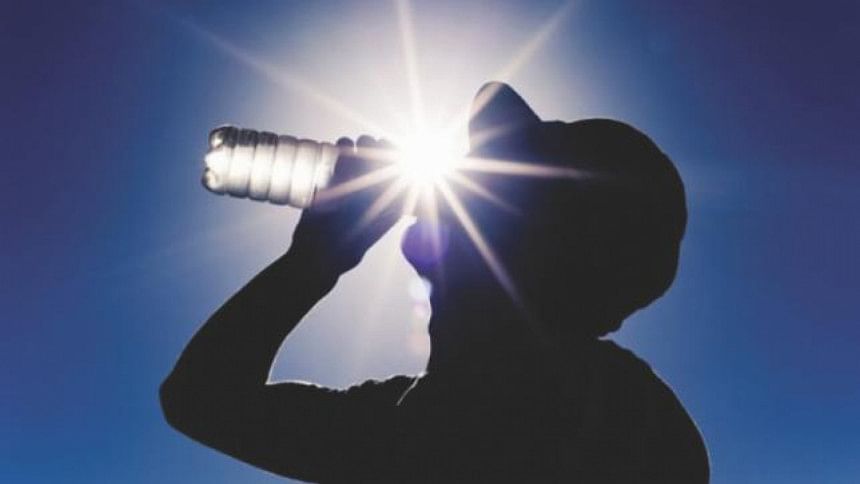 The average maximum temperature in Bangladesh for the month of August was a three-decade high.
Last month, the average was 33.4 degrees Celsius, which is two degrees Celsius higher than the average of the last 30 years, according to the Bangladesh Meteorological Department.
Chattogram division felt the heat. Its average was 2.2 degrees Celsius higher.
Meteorologists said the temperature and rainfall pattern was very unusual this year.
August was 39.6 percent dryer than the month's average in the previous 30 years.
"It is nothing but global warming. Two degrees Celsius temperature rise and at the same time low rainfall is abnormal …," Md Abdul Mannan, senior meteorologist of BMD, told The Daily Star yesterday.
The average rainfall in August was 243mm, the lowest since 1989.
The average 30-year rainfall was 402mm.
Not only August, July too was a bad month.
The maximum average temperature in July was 33.7 degrees Celsius, which was 2.6 degrees higher than the last 30 years' average. And rainfall was 57.6 percent less than the month's 30-year average and the lowest since 1981.
The average 30-year rainfall was 496mm.
June was less bad with  average rainfall seeing a 3.6 percent drop and the average temperature being 0.6 degrees higher.
Experts said the whole world was experiencing temperature rise and it was due to global warming.
According to a World Bank report styled "Hotter and More Humid with Erratic Rainfall: Climate Change in Bangladesh", the country has experienced an average rise in temperature of 0.5 degree Celsius between 1976 and 2019.
It also said changes in temperature depict a different pattern for Dhaka and Chattogram -- maximum temperature in Dhaka increased by 0.5 degree Celsius whereas the increase for Chattogram was 0.9 degree Celsius between 1980 and 2019.
"Bangladesh is associated with having six seasons; however, with the effects of climate change becoming more pronounced, the distinguishing features of these seasons are becoming increasingly blurred," the report said.
The report said mean (yearly average) temperatures across Bangladesh are projected to increase by 1.4 degrees Celsius around 2050 and 2.4 degrees Celsius by 2100.
This data correlated with a study that said major cities of Bangladesh have witnessed rising trends in day and night temperatures. It surmised that population density, lack of greenery, uneven building heights, and human activities were the main reasons behind the trend.
The study titled "Surface urban heat island intensity (SUHII) in five major cities of Bangladesh: patterns, drivers and trends" released last year found that Dhaka saw a rise in temperature of almost 3 degrees Celsius over the last 20 years.
AKM Saiful Islam, a professor at Buet's Institute of Water and Flood Management, said since the industrial revolution, global temperature rose by 1.1 degrees, and various studies suggested that the urban temperature rose by two to three degrees.
"So, like the whole world, Bangladesh's average temperature is also on the rise, especially in the urban settings. It is because of fossil fuel burning, water bodies in the urban areas vanishing, and high-rise buildings," he said.
Ainun Nishat, emeritus professor of Brac University and water resources and climate change specialist, yesterday said, "Wind directions and rainfall pattern have become erratic. It is due to global warming."