'Shocked, appalled'
Section of eminent citizens on international groups' support for Adilur, Elan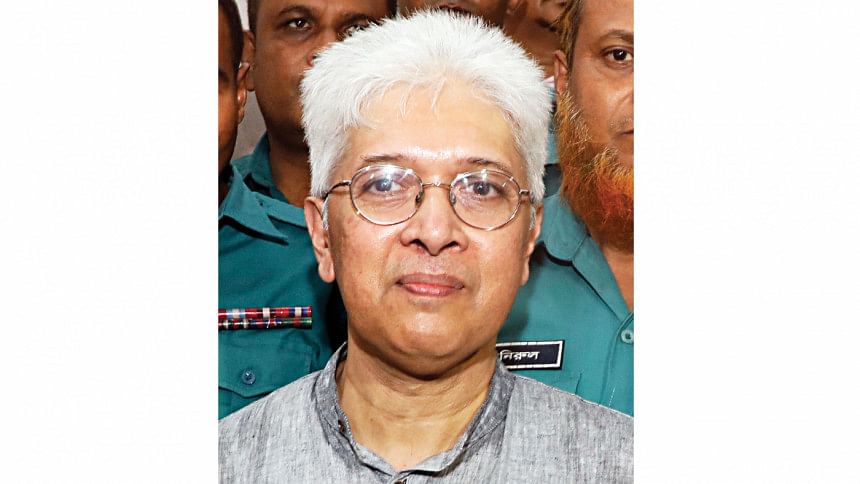 A section of eminent citizens has expressed concerns over "evil and biased" activities of some local and international quarters centring the conviction of Odhikar secretary Adilur Rahman Khan and director ASM Nasiruddin Elan.
They came up with the concerns in separate two statements yesterday.
"We are deeply shocked and appalled at the outpouring of support from different global bodies, including a resolution by the European Parliament, for Adilur Rahman and one of his associates, who have been handed two-year jail term after being found guilty of manufacturing and packaging disinformation and outright lies in a report to serve the agenda of radical religious force, Hefazat e Islam," said a statement signed by 27 eminent citizens.
A large number of people from minority communities came under attacks after the last BNP-Jamaat-led alliance government assumed state power in 2001. One year later, a group of rights activists appeared before the High Court to bring the perpetrators to justice. But Adilur Rahman, the then deputy attorney general, opposed the move, said the statement.
"We did not see these supposed bodies raise their voices in the same way when ultra-radical groups, those who joined the May 5 rally and were defended by Adilur in an Odhikar report as typical social organisations, went on the rampage against minorities in at least 32 districts between 2013 and 2015 to halt the war crimes trials," it said.
"We urge the foreign actors to abstain from inciting known radicals, emboldening radical forces, and endangering minority groups by protecting biased bodies like Odhikar and echoing extreme beliefs. Instead of depending on biased sources, we ask such agencies to check information from multiple sources," the statement read.
"Recurrence of these activities would only undermine the credibility of these global bodies and expose their double standard."
The statement's signatories include Bangladesh Hindu Buddhist Christian Oikya Parishad general secretary Advocate Rana Dasgupta, Liberation War Museum trustee Sawrar Ali, Ekattorer Ghatak Dalal Nirmul Committee president Shahriar Kabir, and eminent cultural activists Nasiruddin Yusuf and Ramendu Majumder.
In a separate statement, some 155 eminent citizens said vested quarters, acting as patrons of anti-liberation and communal forces in Bangladesh, are spreading propaganda against the court verdict convicting Adilur and Elan.
"We urge all people with conscience to remain alert against the evil activities of the vested quarters," the statement added.
The citizens who signed the statement include: Professor Khondoker Bazlul Hoque, Prof Harun-or-Rashid, Prof Anupam Sen, Prof Abul Barak Alvi, Artist Hashem Khan, Artist Rafiqun Nabi, Prof Mahfuza Khanam, Prof Zeenat Huda, Dr Kamrul Hasan Khan, Dr Pran Gopal Datta, Cartoonist Shishir Bhattacharjee and Journalist Monjurul Ahsan Bulbul.
On September 14, a Dhaka court sentenced Adilur and Elan to two years in prison in a case filed over disseminating "a distorted report and doctored images" regarding the police action during a Hefajat rally in Motijheel on May 5-6.