Shishir now first Bangladeshi trans-woman to walk PLITZS NYC Fashion Week ramp
Tashnuva Anan Shishir on Saturday became the first Bangladeshi transgender woman to walk the ramp at the prestigious PLITZS New York City Fashion Week.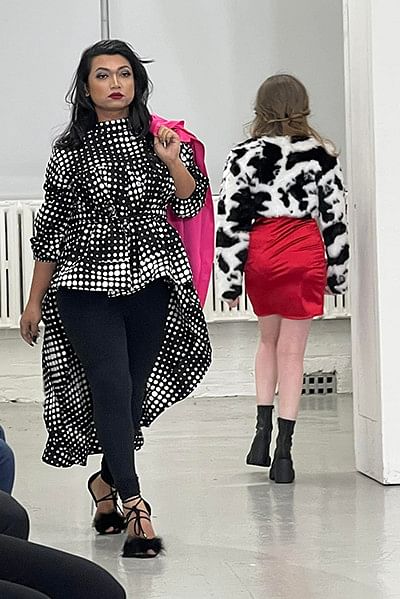 The event is held twice a year (February and September) in Manhattan, New York.
Shishir, the first transgender news presenter in the country, went to New York on December 2 to accept a Showtime Music Award as the best news anchor in North America. It was conferred on her on December 4.
She had also gone there for medical treatment purposes.
However, during her stay, she was approached by Omar Chowdhury, a strategic partner of the PLITZS New York City Fashion Week, and Md Ariful Islam, executive producer at 4M TV USA, to take part in the fashion week as a guest.
Speaking to The Daily Star, Shishir said, "I was so surprised at how I was accepted here, whereas back home, I'm treated like a demon for who I am. Here, people don't look at me like I have two horns on my head. They treat me like they treat everyone else.
"While there were other reasons for me to come here, one of my main reasons was to learn. And learn, I did. I learned how and why people here accept me more than those in my country and the answer is knowledge and awareness."
On the ramp, Shishir showcased the works of international designer Oscar Gonzalez Montañez.
About how she felt on stage, she said, "I was feeling immense pride. Not only was I representing my country, I was representing my entire community. At the end of the day, me and all those in the trans community work for the nation and to represent it, but we hardly ever get the chance. But I am thankful to have gotten a platform so prestigious to do so."
Shishir was approached for guest appearance at the event as she did not have a work permit.
Apart from her, Monalisa and Peya were two Bangladeshi models to previously walk the ramp at New York Fashion Week.