'She keeps looking for Afia all day'
Younger sister being treated at same hospital bed where older one passed away; 97 children died so far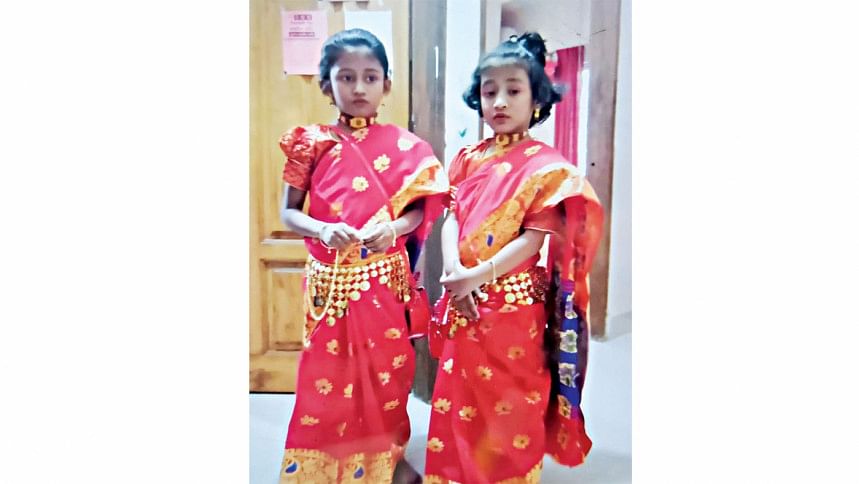 Last week, two sisters -- Afia Anjum and Tasnia Tasnim -- were pedalling their bicycle through streets; their youthful spirits undeterred by a slight fever that failed to keep them grounded.
However, things changed for the worse pretty soon. That night, Afia was rushed to Bangladesh Shishu Hospital and Institute after being diagnosed with dengue. She passed away last Friday while undergoing treatment at the hospital.
Before the grieving father, Md Alamgir Hossain, could hardly begin to process the loss of his elder daughter, he found himself facing the challenge of saving her younger daughter  Tasnia, 6. She too had to be hospitalised with dengue. Today, she lies in the same bed where her sister, Afia, 8, had taken her last breath.
Alamgir struggled to hold back tears while talking to  The Daily Star. "My younger daughter searches for Afia all day despite having a fever. She is yet to know about her sister's demise as we informed her that Afia is receiving treatment in a different ward," he said.
"Due to bed crisis, we had to admit Tasnia to the very same bed that held Afia's lifeless body just moments earlier," he added.
This tragic story of Afia and Tasnia is just one among many amid a growing health crisis as the country is grappling with the worst dengue outbreak in its history. This time, the mosquito-borne disease has emerged as a formidable threat to the little ones. The nation has already witnessed the loss of 97 children's lives to dengue this year.
According to the DGHS, at least 32,705 children, aged below 15 years, were hospitalised with dengue, constituting 21 percent of the total number of dengue cases reported this year.
Meanwhile, seven more people died from dengue in 24 hours preceding 8:00am yesterday, while 3,027 more were hospitalised.
During a visit to the Bangladesh Shishu Hospital and Institute yesterday, this correspondent observed the facility's  dedicated dengue corner was stretched to its limits, accommodating 106 patients, while the 10-seat Paediatric Intensive Care Unit (PICU) remained fully occupied.
"The hospital always has a crisis of beds in the dengue corner and PICU," said Abdul Hakim, the facility's public relations officer.
He disclosed that 17 children have so far died while undergoing treatment at the hospital. Furthermore, the hospital grapples with the arrival of a constant influx of new cases, with anywhere between 12 to 20 children being admitted daily, he added.
Among the young patients battling dengue, was 13-year-old Raisul Islam Arnab, who had been suffering with a high fever for the past few days.
Sharing their ordeal, Arnab's mother Saima Begum said, "Arnab was initially admitted to the general ward as there was no seat in the dengue corner. We got a place at the dengue ward today (yesterday)."
Abdur Rahman, father of 5-year-old Sadman Abdullah, echoed the same.
"Sadman has had a high fever since Thursday. But we couldn't secure seat until he tested positive on Saturday," he added.
HM Nazmul Ahsan, associate professor of Shaheed Suhrawardy Medical College and Hospital, said the dengue symptoms are slightly different in children compared to adults.
"While for older people, the symptoms begin with sudden fever along with body and eye pain, children first experience nausea and/or coughing."
"It takes 48 hours for the situation to become critical for adults, while children only have 24 hours, which is why we suggest hospitalisation as quickly as possible."
Children are also more prone to developing shock syndrome, which is risky for any dengue patient, he added.
Prof Muzibar Rahman, former head of the medicine department at Dhaka Medical College Hospital, corroborated the same.