She finally gets to mourn her father
Mass grave gets turned into 1971 memorial in Sylhet after 52 years
Shahrin Rahman had been longing for a place to mourn her father Lt Col Abul Fazal Ziaur Rahman, who was taken away by the Pakistani occupation army in 1971 when she was just five years old.
Her father was the principal of Sylhet Medical College. During the Liberation War, he remained dedicated to serving the people by providing medical care.
For decades, Shahrin and her family believed that her father had been taken to the Pakistan Army base in Sylhet Cadet College, where he was mercilessly killed and buried in a mass grave, which remained unmarked and unprotected. Despite the family's persistent efforts, they could never locate the grave to pay their respects.
But after 52 long years, on March 4, Shahrin finally got to sit by her father's tombstone and mourn him. She was joined by the families of 40 other martyrs, who had also come to pay homage to their loved ones.
The mass grave, located on the eastern side of the college, had been turned into the "Bangladesher Swadhinatar Saheed Smriti Udyan," with the plaque of 66 martyrs.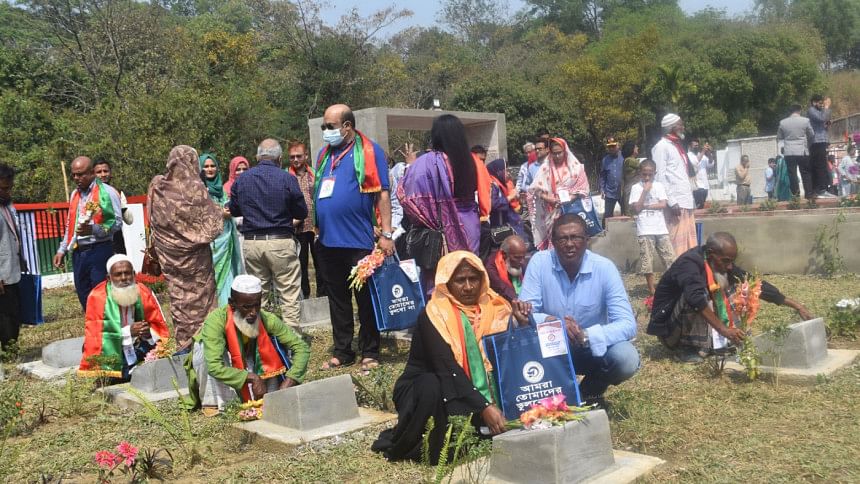 The families of Martyred Intellectual Dr Shamsuddin Ahmed and heroic freedom fighter Col (retd) Abdus Salam Bir Pratik had taken the initiative to protect the grave, with support from Sylhet Cantonment. The memorial included name plaques and tombstones of all 66 martyrs.
Liberation War Researcher Apurba Sharma was associated with the research to identify the martyrs, and the college authorities had marked the location of the mass grave in 2007.
However, it was only on March 4 that the grave was finally opened to the public, thanks to the efforts of Syeda Shakila Abdal, wife of martyr Sirajul Abdal, educationist and social activist Rasheda K Choudhury, and others.
Dr Ziauddin Ahmed, son of martyred intellectual Dr Shamsuddin Ahmed, told this correspondent about the importance of bringing to light the genocide of 1971 and the trauma that many martyrs' families still face.
"The torture cell of the Pakistan Army at the Sylhet Cadet College was the deadliest one. But after half a century of Independence, the mass grave was left into oblivion. To bring it into the light, we have taken the initiative." he said.