A school for mothers
Joint initiative of MJF, Women Without Borders helping women become agents of positive change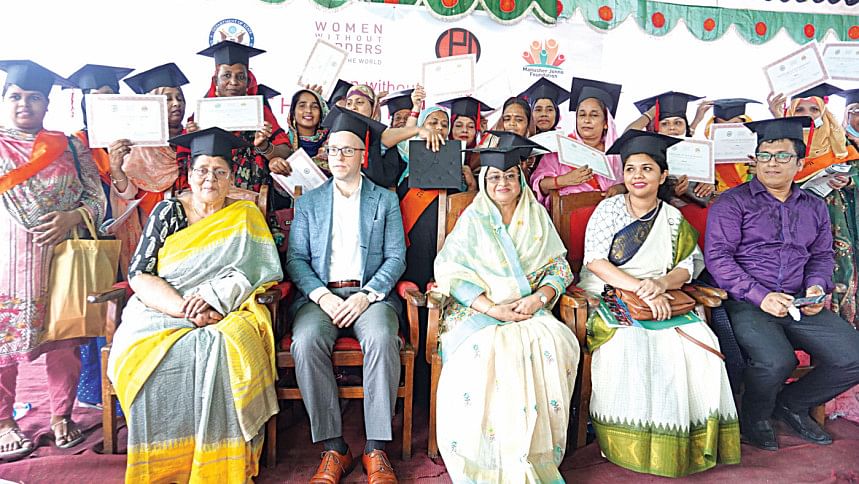 "I did not know of ways to access my basic civil rights like having a national identity card or filing for a birth certificate," said Rani Akter, a homemaker and mother of three currently living in the capital's Mohammadpur.
The 38-year-old had to rely on her husband not just for economic support but for very basic official work as she had always lived in an isolated and controlled environment in her home.
However, Rani transformed into a well-aware mother as soon as she started going to MotherSchools, a joint initiative of Manusher Jonno Foundation (MJF) and Women Without Borders (WwB), a Vienna-based international advocacy and research organisation for women, that started its journey in 2019.
"The school informed me of my rights and also guided me about parenting," said Rani, who was informed of the initiative by another mother in her area.
Since its inception, the project has worked to educate mothers from different social backgrounds and nurture them into becoming agents of positive change in the society.
The core of the project resides in its innovative treatments, which focus on helping moms who are most at risk of poverty, unemployment, and social exclusion.
Under this initiative, trainers of Community Participation and Development (CPD) conduct sessions on weekends (Fridays and Saturdays) from 3:00pm to 6:00pm in 25 wards of both Dhaka north and south city corporations.
The course modules comprise of awareness-related lectures and activities on child development, empowerment, openness, psychological security, identities, motherhood, self-esteem, emotional competency, security, psycho-social development, fostering healthy parent-child relations, spotting early warning signs of radicalisation and ways of preventing it.
Each student must attend 10 sessions over the course of five months, followed by an assessment test on the eleventh visit, in order to graduate. 
Most parents, especially those from marginalised backgrounds, are unaware of the importance of ensuring a safe and rich environment when raising a child, said Rumana Quader, deputy executive director of CPD.
"This school prepares mothers from all socioeconomic backgrounds, including the wealthy and the poor, to deal with any pressing issues brought up by their kids," she added.
"I often neglected my children when they shared their thoughts or problems and instructed them to make peace with the situation. However, the school educated me about the importance of listening to them, which led to the formation of a strong bond between me and them," added Rani Akter.
 The sessions also equipped her to identify abnormal traits and their remedies, which proved beneficial as a parent as she can now assess the mental state of her children and help them, she said.
Sharmeen Rahman, a mother from Mohammadpur, said, "The training taught me to read signs, especially in children when they suddenly become more conservative regarding their faiths. Such children may be on the verge of embracing beliefs that turn them into militants. The sessions teach us ways of protecting and guiding them to come out of such harmful practices in due time."
Laura Kropiunigg, executive director of WwB, termed this initiative a "transformative movement", committed to instilling confidence in mothers and helping them become socially aware of their capabilities and rights.
"The core of the project resides in its innovative treatments, which focus on helping moms who are most at risk of poverty, unemployment, and social exclusion," she mentioned.
Shaheen Anam, executive director of MJF, appreciated the project's emphasis on creating equal importance for women in society.
 Over 900 mothers have graduated from the school so far. However, the initiative looks to reach more families, especially the marginalised ones, to make a significant positive change in the long run.