Preservation of Pahartali Baddhyabhumi
SC verdict yet to be effective after 7yrs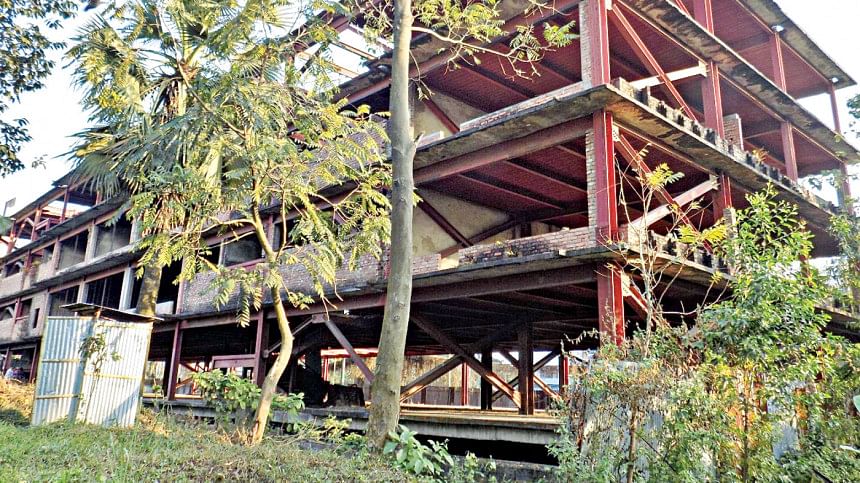 Right in the heart of the port city stands Pahartali Baddhyabhumi, the largest mass killing ground in Chattogram -- on 1.75 acres of land.
To preserve this site of immense historical value, the Supreme Court's Appellate Division passed an order seven and a half years ago. However, no effective initiative has been taken regarding this.
In March 2014, the SC ordered to acquire and preserve the Baddhyabhumi after hearing a petition of eight prominent citizens of the country, according to Manzill Murshid, their lawyer.
One of the petitioners, Prof Muntassir Mamoon, said, "We have grown old trying to realise our demand. We are no business mafia, and we have no muscle power. Even section officers don't pay heed to us."
"I don't think they care about the Supreme Court's judgment. They are employees of the republic, but now it seems like they run the country. Even if the verdicts of most of the petitions people's favour, they will not be effective if there is no monitoring cell in the High Court," he added.
Rashed Hasan, a cultural activist in Chattogram, said, "Late Dr Gazi Saleh Uddin, who was a professor of Chittagong University, even received death threats on multiple occasions as he protested to save the Baddhyabhumi."
In his book "Pramanyo Dalil Muktijodde Chattogram", Dr Saleh Uddin mentioned that more than 5,000 people were killed there. "It is very unfortunate that despite the Supreme Court direction, the implementation is being delayed for so many years. The departments or individuals responsible for the delay should be brought under accountability," said Rashed.
"In 2004, the then government formed by BNP-Jamaat alliance built a memorial in another place instead of the actual Baddhyabhumi site. Later, University of Science and Technology Chattogram constructed a building at the site," said Prof ABM Abu Noman of CU. "The Appellate Division ordered to preserve the Baddhyabhumi after acquiring the land from USTC in 2014. We have been demanding it's preservation for a long time," he added.
Contacted yesterday, Prof Md Jahangir Alam, vice chancellor of USTC, said they bought 1.73 acres of land in the area in 2001. "We donated 20 decimals of the land, where a monument was built to mark the killing site."
He declined to comment further on the issue or the SC order.
Regarding the land acquisition, assistant commissioner Ehsan Murad of Chattogram district administration, said, "We have sent a letter to the Liberation War ministry asking for allocation of around Tk 6.5 crore for acquisition and preservation of Pahartali Baddhyabhumi."
"Had the ministry allocated the money, we could have started working on it," he added.
"We also sent a letter to Chattogram district administration last month excusing the time extension to start working on the project. They sent us a letter a year ago, which is no longer valid," said Md Zahangir Alom, deputy secretary of the ministry. 
Regarding the letter, Masud Kamal, additional commissioner of land acquisition department in Chattogram, said, "We don't get why the ministry sent us a letter excusing time extension. There is no need of this."
"The acquisition and requisition of immovable property act 2017 mentions that individuals or organisation concerned shall pay the estimated amount within 120 working days after receiving the estimation," he added.
According to Liberation War researcher Dr Mahfuzur Rahman, there were around 100 such mass graves in Chattogram, but not a single one of them has been preserved.
However, the district administration website mentions 61 Baddhyabhumi in the city.