US sanctions on Rab an abominable move: PM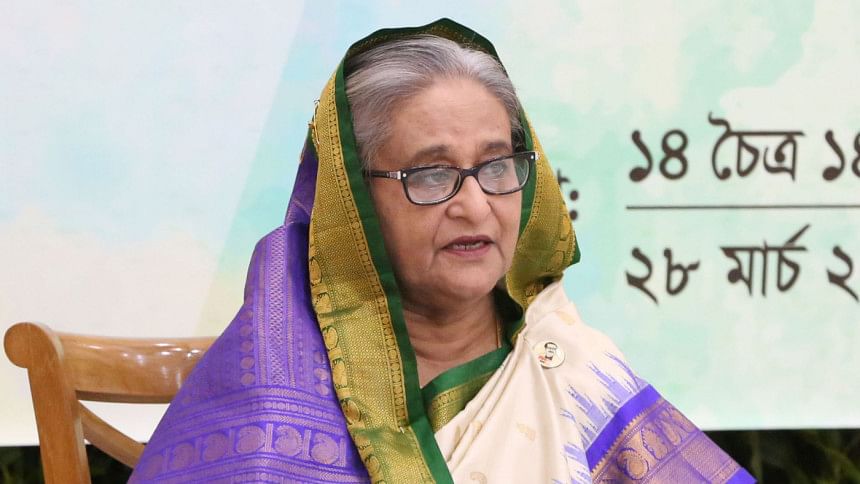 Prime Minister sheikh Hasina today came down heavily on the USA for imposing sanctions on Rapid Action Battalion and some of its officials, terming it an "abominable move".
"I think imposing sanctions (on RAB and some of its officials) after all these successes (containing militancy, drugs, pirates and terrorists) is very much an abominable act," she said.
The prime minister was speaking at the 18th founding anniversary of the Rapid Action Battalion (RAB) at Shaheed Lt Col Azad Memorial Hall of Rab Forces Headquarters.
The PM joined it from her official residence Gono Bhaban.
She said that Bangladesh has provision of punishment if a member of a law enforcement agency gets involved in any kind of crime.
"But it's a matter of regret that they imposed sanctions on some Rab members without any fault or cause. In their country they do not take any action against any member of their forces for their criminal activities," she said.
In this connection, she mentioned that in the US one child was shot dead just for putting his hands into pockets and in another incident a law enforcement agency member strangled one person on the street.
"For that reason they did not get any punished," she said.
She said Bangladesh is the lone country around the world where anyone engaged in any crime faces punishment.
Hasina said that she does not know whether the US are hurt by the successes achieved against these social menaces like militants, drugs, pirates and terrorists.
"I cannot tell that, but Bangladesh registered success to contain militants, drugs, pirates and terrorists and it is true," she asserted.
The prime minister said that the most regretful matter is that some people of the country are engaged in making various types of moves including propaganda against Bangladesh.
"All of them are criminals, they lost their jobs for some faults or left the country."
Criticising America for giving shelter to war criminals and killers of the Father of the Nation, the prime minister said, war criminals and convicts of Bangabandhu Sheikh Mujibur Rahman are staying in the USA.
She said that the US gave the convicted criminal citizenship. Bangladesh is repeatedly requesting them and sent letters to the Presidents and Justice departments stating that they are criminals, killers, they killed women and children.
"We told them you have to send them (war criminals and killers) back. They gave shelter to them in their country protecting the criminals. And impose sanction on some Rab officials without any crime," she said.
Home Minister Asaduzzaman Khan and RAB DG Chowdhury Abdullah Al-Mamun also spoke at the programme.
The US Treasury Department in last December slapped sanctions on RAB and seven of its serving and former officials for alleged grave violation of human rights, triggering protests from Bangladesh.
Former Rab director general Benazir Ahmed, now the inspector general of police, are among the sanctioned officials.