Salinity Tolerant Rice: Full genome sequence unveiled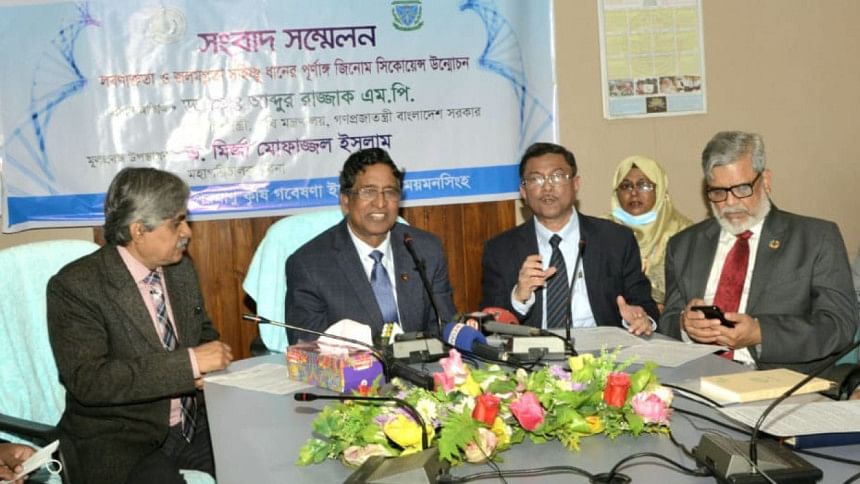 A complete genome sequence of salinity and submergence tolerant rice has been unveiled by the scientists of the Bangladesh Institute of Nuclear Agriculture (BINA) and Bangladesh Agricultural University for the first time in Bangladesh.
This will open a new horizon in salinity and submergence-tolerant rice research in the country, the researchers said while disclosing the matter at a press conference in the BINA headquarters in Mymensingh yesterday.
The scientists of BINA and BAU said they have identified three advanced mutants in M6 generation after various tests by applying different levels of gamma radiation and producing more than 50,000 mutants.
The obtained mutants have advanced features than the parent and tolerate salinity of 8 dS/m (decisiemens per metre) and 15 days submergence, they said.
From the beginning of its journey, BINA has developed various varieties of crops through imposed mutations. In such studies, improved mutations were identified by looking at the desired changes in crop phenotype under the influence of imposed mutations.
But it would not be possible to explain what kind of DNA sequence in the genome caused such a desired feature.
In 2019, genome sequencing of parent and selected mutant rice was completed, which is the first in Bangladesh.
By analysing the researched theories and data, the joint efforts of BINA and BAU scientists have unveiled the first life secret of salt and waterlogged tolerant paddy.
The scientists disclosed the complete genome sequence at a time when more than 10 lakh hectares of land in coastal districts of Bangladesh are affected by various levels of salinity, which is considered a major obstacle to increasing cropping intensity in the area.
The coastal belt accounts for 25 per cent of total land and 93 upazilas of 18 coastal districts are affected by various levels of salinity in Bangladesh, according to data presented at a seminar on World Earth Day.
"Salinity is a big problem in the country," Agriculture Minister Muhammad Abdur Razzaque said at the programme recently.
Complete unveiling of the genome will facilitate the invention and propagation of rice varieties tolerant to salinity and submergence in the country, Razzaque said.
About 2 million hectares of land in the country is saline, where only a single crop is cultivated per year.
"To make food security sustainable and to meet the growing demand for food in the future, we are emphasising on the production of 2-3 crops a year in adverse areas including saline and haor areas," he said.
BINA Director-General Mirza Mofazzal Islam, Bangladesh Agricultural Research Council Executive Chairman Sheikh Md Bakhtiyar, BAU Vice-Chancellor Lutful Hasan, Bangladesh Rice Research Institute Director General Md Shahjahan Kabir and others were present.