Safe workplace crucial for sustainable development
Says law minister, urges all stakeholders to maintain int'l standards in every sector of production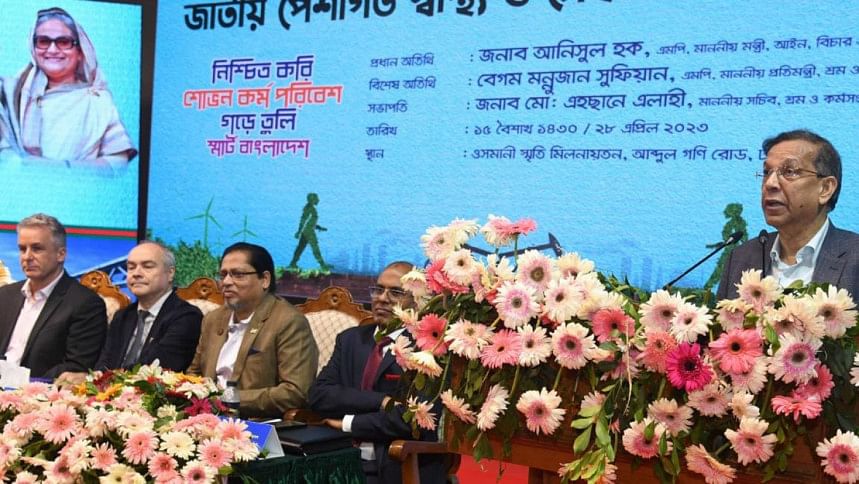 Law Minister Anisul Huq today urged all stakeholders to ensure a safe work environment, terming it a fundamental right of every worker and a prerequisite for sustainable development.
He highlighted the importance of a safe and decent working environment for the realisation of this right, while speaking as the chief guest at a discussion meeting on 'National Occupational Health and Safety Day' organised by the Ministry of Labor and Employment.
This year's theme for the day was 'Ensure a decent working environment, build a smart Bangladesh.'
"It is very urgent to maintain international standards in every sector of production including ensuring the health security of the labours and welfare measures at the workplace. For this purpose, there is no alternative to a safe and decent work environment," he said.
He stressed that the observance of safety rules at workplaces and ensuring a decent working environment is crucial for sustainable development, reports UNB.
He emphasised that ensuring occupational safety in factories and establishments is not solely the responsibility of the government or factory owners. Instead, it has become a liability for the factory owners.
The Bangladesh Labor Act and Bangladesh Labor Regulations mandate that workplaces be safe and dignified for workers, and this requirement is now recognized internationally, he said.
As Bangladesh moves towards becoming a developed country, occupational safety should be given great importance, he added.
The minister urged all stakeholders, including workers, owners, and the government, to work together to establish occupational health and safety as a national culture.
He emphasised the need for joint initiatives to ensure a decent working environment, including the proper implementation of the Bangladesh Labor Act and Bangladesh Labor Rules.
He called for working sincerely towards ensuring a decent working environment for workers.
The implementation of these measures will go a long way in protecting workers' rights and promoting sustainable development in Bangladesh, he added.