Rohingyas for stronger US role in repatriation
Urge visiting US under secy to increase aid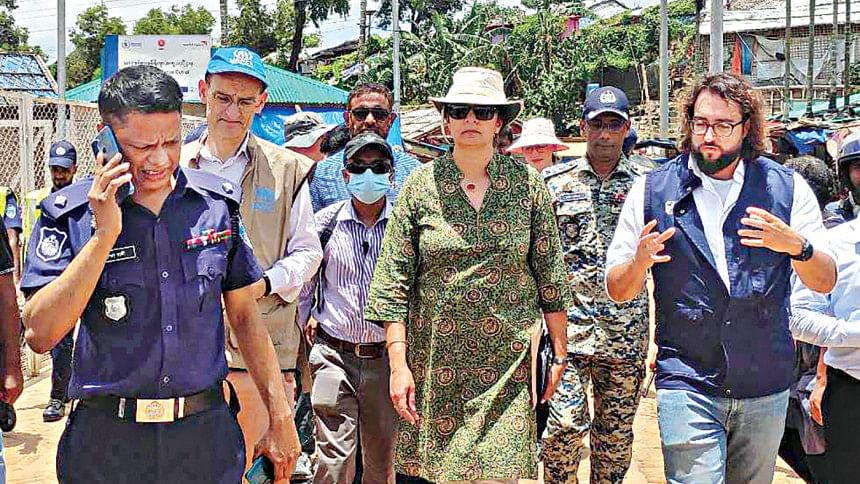 Rohingyas have urged a stronger US role for their safe and sustainable repatriation to Myanmar when Uzra Zeya, under secretary for civilian security, democracy and human rights, visited the camps in Cox's Bazar yesterday.
They expressed gratitude to the Bangladesh government and the people for sheltering more than a million Rohingyas who fled a brutal military campaign in the Rakhine State of Myanmar six years back, but said they were now leading a miserable life in camps.
Despite repeated efforts, repatriation has not been possible yet, with the Rohingyas saying the situation in Rakhine was not safe and they had no guarantee of citizenship.
Myanmar faces a genocide case at the International Court of Justice, while the US determined atrocities against Rohingyas as genocide.
The delegation, which flew to Cox's Bazar yesterday morning, reached the Rohingya camps in Ukhiya around 10:50am.
The delegation members, who also include Donald Lu, assistant secretary of state for South and Central Asia, visited a Rohingya registration centre, a food distribution centre and then held meetings with Rohingya men and women at a community centre for an hour.
"The Rohingyas expressed their desire to return to Myanmar as soon as possible, describing the camp life as like life in prison," said Md Yusuf, a Rohingya leader.
The Rohingyas also urged the US to put pressure on Myanmar for speedy repatriation. The delegation also talked to the Rohingyas about their education system, food and security in the camps.
Mohammad Ismail, another Rohingya who joined the meeting, said they informed the delegation that the education system in the camp is limited and there is no opportunity for higher education.
They also shared their concerns over security, saying that the measures for security are not enough, he added.
Another Rohingya Mohammad Idris said they expressed their dissatisfaction over cutting the food ration and demanded that the amount be increased to the previous level.
Food ration per Rohingya a month was cut to $8 in May this year from $12.
During the delegation's visit, a group of Rohingyas led by Mohammad Zubair, chairman of Arakan Rohingya Society for Peace and Human Right, submitted an application to Zeya, demanding speedy repatriation of the Rohingyas to Myanmar.
The application said Rohingyas lived in Myanmar for centuries, but their ethnicity was not recognised by the Myanmar junta.
"Yet, the world is silently watching those games without making a noise ... So, we Rohingyas hope that the US will continuously stand by us and work for the Rohingyas," it said.
The US delegation also met Mohammad Mizanur Rahman, the refugee, relief and repatriation commissioner, at his office in Cox's Bazar in the afternoon before flying to Dhaka.
Mizanur later told journalists that the delegation discussed the cuts in food ration and assured of continuing humanitarian assistance.
He added that they also talked about dignified and voluntary repatriation and improving law and order as well as checking Rohingya trafficking.
The delegation flew to Dhaka in the evening.
Today, Zeya is scheduled to hold meetings with Prime Minister Sheikh Hasina, her Private Sector Industry and Investment Adviser Salman F Rahman, Law Minister Anisul Huq, Home Minister Asaduzzaman Khan and Foreign Secretary Masud Bin Momen, and civil society groups to discuss democracy, human rights, labour rights and freedom of expression.